Tyga's Surgically Altered Hairline Gets Dragged Into Nicki Minaj and Safaree's Twitter Fight
Nicki Minaj and ex-boyfriend Safaree Samuels, also a rapper, got into a heated Twitter fight on Tuesday through a series of indirect tweets about their relationship. Samuels alleged Minaj attacked him in 2014.
In the midst of this social media frenzy, fellow rapper Tyga was unknowingly dragged into the fight when his name was mentioned by both sides. Well it wasn't actually the complete Tyga—just his hairline.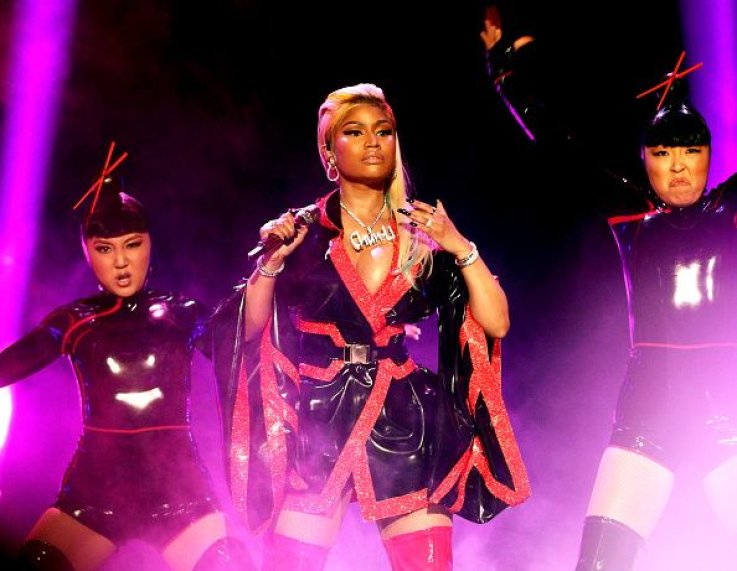 During the Twitter argument, Minaj said of Safaree: "I should've never paid for that gyatDamn [sic] hairline!!!! It fell back out cuz God don't like ugly!!!! You used me but God had other plans!!!!!"
Minaj claims that Safaree's hairline surgery didn't work, unlike another rapper she knows. "Tyga shit ain't fall back out!!!! Y'all went to the same doctor!!! Yours fell out cuz GOD DONT LIKE UGLY!!!!!" she said, revealing that Tyga has had some work done. At least he had better results than Safaree, according to Minaj.
"First off, me and Tyga didn't go to the same doctor. We did it the same day. Diff doctors," Safaree responded.
"Listen," he continued. "I don't know if this has to do with first week sales but you need to finish your zen. And don't talk about VH1 checks cuz the way you're acting it's like your auditioning to be on LHH."
Minaj and Safaree had a similar fight on social media when they broke up in 2014 after 12 years of dating.
Minaj released her anticipated fourth studio album, Queen, on Friday. Since then she has been calling people out. The third track on Queen, "Barbie Dreams," is a roll call of over 20 celebrities, producers and other rappers. She also posted a series of tweets about DJ Self regarding comments he made while interviewing her earlier that day for DJ Clue and Self's Power 105.1 show. Minaj is no stranger to beef, even if the person isn't famous.
Tyga's name is now trending on Twitter, which he has acknowledged by tweeting a screenshot of the doctor he consulted about his hair.
Despite the vitriol from Minaj and Samuels, the comments provoked some humorous responses on social media.
Tyga's Surgically Altered Hairline Gets Dragged Into Nicki Minaj and Safaree's Twitter Fight | Culture