12 Pleas for U2's Next Album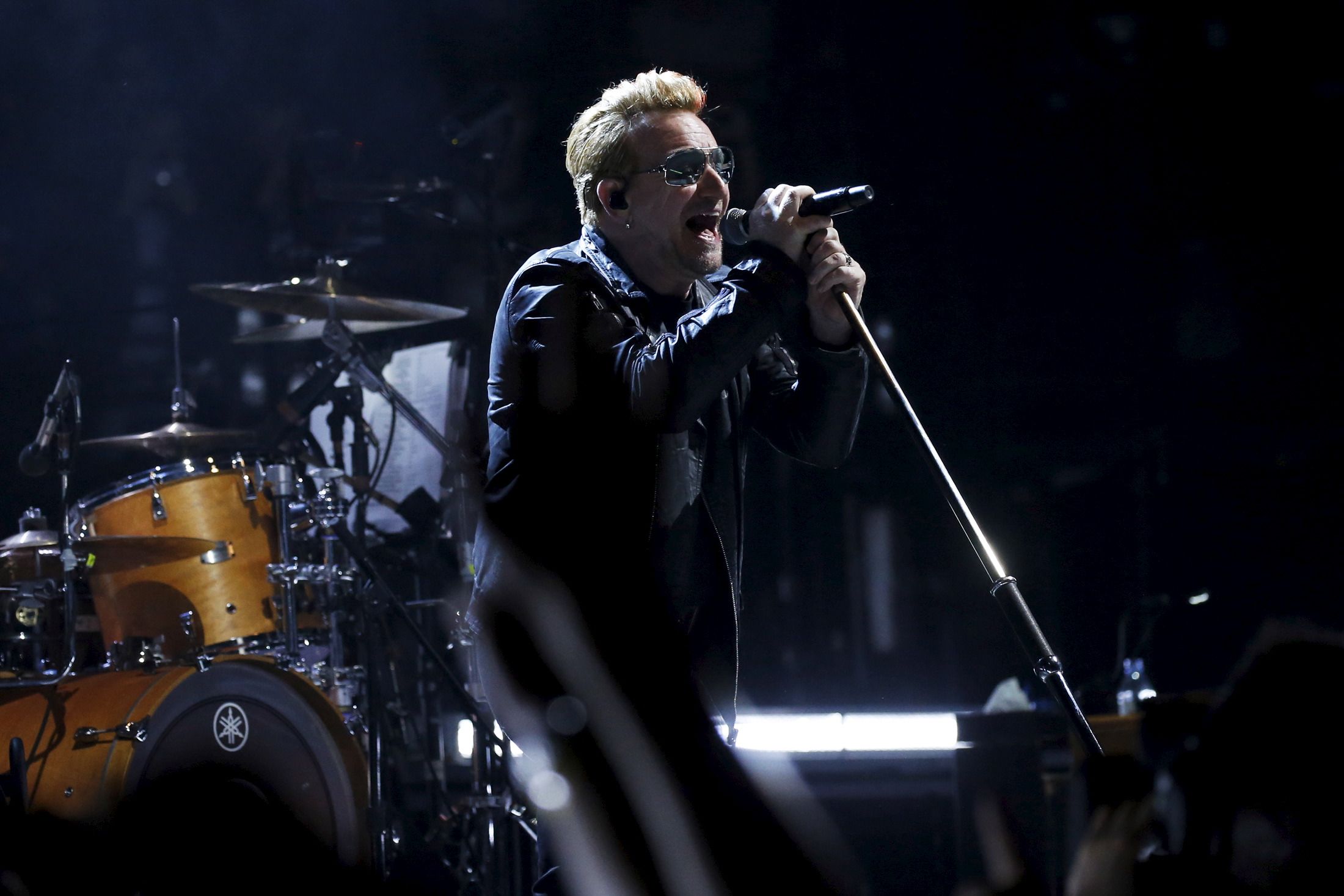 U2 hopes to release a new album by the end of 2016, which is either great news or a triggering reminder of 2014's less-than-stellar Songs of Innocence.
Guitarist the Edge told Q that the band is at work on a follow-up and compared the process to 1993's beguiling, dance-inspired Zooropa. "[Brian Eno] would love to see us making albums a bit more like that," The Edge said. "Where we go, 'You know what? We're not going to second-guess any of this. Let's just go for it.'"
Zooropa (as well as its predecessor, Achtung Baby) revealed U2 at its most daring and provocative. The band's recent output has strayed far from the Zoo TV attitude, but the next album (tentatively titled Songs of Experience) could yield surprises.
Taking lessons from U2's illustrious career to date, we've jotted down some advice for the band.
DO: Sound like a rock band again. Playing instruments, in a room. Remember Boy? War? You made those albums! Songs of Innocence made a big show of taking inspiration from U2's Irish youth, but the finished product betrayed none of the guitar-and-drums urgency of those early records. (The most blaring rock cut, "The Miracle [Of Joey Ramone]," frankly sounds like a toy guitar plugged directly into a MIDI console.) Listen to "Like a Song..." or "Bullet the Blue Sky." Do that again.
DON'T: Get so hung up on punk. Songs of Innocence contained tributes to the Ramones ("The Miracle") and the Clash ("This Is Where You Can Reach Me Now") that feel forced and baffling because of how far they stray from punk vitality. Be yourself; resist the urge to pay tribute to Motörhead's recently departed Lemmy in song.
DO: Hurry. Songs of Innocence took half a decade to make, to little benefit—the album feels overworked and underfocused. Zooropa, by contrast, was written and recorded quickly in 1993, amidst the pressures of tour (it began life as a mid-tour EP). The album sounds like the result of feverish and risky inspiration. If the Edge is to be believed, U2 is bringing back that spirit of "Let's just go for it" instead of endless false starts.
DON'T: Worry about writing songs to tour behind. U2's recent albums have been full of grand, anthemic songs that feel designed for the stadium but lack memorability. If you listen back on the band's daring '90s releases, Zooropa and about half of Pop seem shockingly unfriendly in the live department. Zooropa wasn't really toured behind; it was recorded in the middle of a tour-in-progress. Having just completed a lavish tour, U2 probably isn't itching to hit up the stadium circuit again so soon. Let's see if these circumstances shape the new material.
DO: Ditch the "Woah-oah-oah" choruses. Leave it to Arcade Fire and Imagine Dragons, bands that have been cribbing notes from U2 since the beginning.
DON'T: Try to please everyone. U2's last two albums were torn between the urge to write classic U2 choruses, the desire to remain innovative and the misdirected ambition to reinvent the record industry. Just choose one thing and do it well.
DO: Take a lesson from R.E.M. When R.E.M. fell into a creative rut after the tepid Around the Sun, the band hired producer Jacknife Lee (on the Edge's advice, actually), worked out some new songs live and recorded its next album at a breakneck pace in three different cities. "I work really well under pressure, and the guys know that all too well," singer Michael Stipe said at the time. "So the pace forced me to kind of spit stuff out." The intense creative process resulted in the Athens band's most immediate and invigorating album in years, 2008's Accelerate.
DON'T: Hire so many expensive producers. Maybe Songs of Innocence was overloaded with creative input. Danger Mouse, Paul Epworth, Ryan Tedder, Declan Gaffney and Flood all had a hand in the production process. Production-by-committee rarely seems to work; one of the record's most refreshing cuts, "Sleep Like a Baby Tonight," was the result of Danger Mouse working alone. Speaking of which...
DO: Bring back Brian Eno. The producer-maestro and ambient pioneer was behind the scenes for most of U2's most daring and enduring projects, from The Joshua Tree to Achtung Baby. Eno wasn't involved with the last one, but perhaps he can bring a sense of focus and adventure to LP14.
DON'T: Keep trying to rewrite "Vertigo" again. iPod-commercial success aside, "Vertigo" wasn't exactly a great song to begin with. Secondhand faux-rock rewrites—"Get On Your Boots," "Volcano," et. al—are ineffectual at best and embarrassing at worst. Just let this urge go.
DO: Let Bono step away from the mic for a song or two. Zooropa is the rare U2 album with lead vocals that aren't by Bono—the Edge takes over for the weird, hypnotic "Numb" while the late Johnny Cash appears on the story-like closer "The Wanderer." It's a bold move that signals "This isn't just another routine U2 album," and even if it fails miserably, it won't be boring.
DON'T: Release it for free on our iPhones. Enough said. Just put it out the old-fashioned way. Let the music—and not the release strategy—be the most innovative aspect of the new record.