Uber and Lyft Ban Right-Wing Activist Laura Loomer for Complaining About Muslim Drivers After New York Attack
Uber and Lyft have banned a right-wing U.S. commentator from their platforms after she complained at not being able to find a non-Muslim cab driver.
Laura Loomer, who describes herself as a journalist and has more than 100,000 followers on Twitter, posted several messages in the wake of the truck attack in New York City on Tuesday that killed eight people.
"Someone needs to create a non Islamic form of @uber or @lyft because I never want to support another Islamic immigrant driver," Loomer tweeted on Wednesday.
"I generally try not to support Muslim owned businesses companies here in NY. That shouldn't be hard to do in US, but w/ immigration it is."
"Nearly every cab @uber @lyft driver in NYC is Muslim. It's extremely unfortunate and this is a conversation we need to have for our safety.
Loomer later complained that she was running late to an New York Police Department press conference because "I couldn't find a non Muslim cab or @Uber @lyft driver for over 30 min! This is insanity."
Uber confirmed to Business Insider that it had banned Loomer from its platform for violating community guidelines.
Uber's community guidelines state that riders can lose access to the platform for a variety of reasons, including "making comments or gestures that are aggressive, sexual, discriminatory or disrespectful."
The company also says that "any behavior involving violence, sexual misconduct, harassment, discrimination or illegal activity while using Uber can result in the immediate loss of access to your account."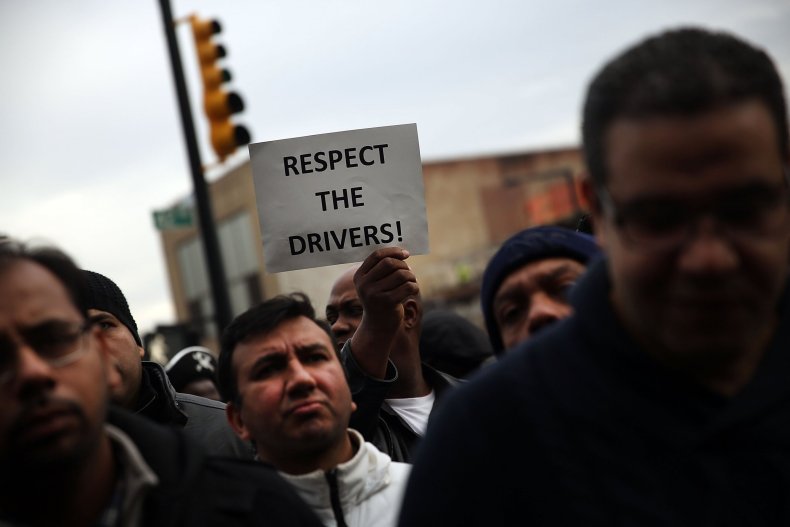 Lyft also told Business Insider that it had deactivated her account. Newsweek has contacted both Uber and Lyft for comment.
Loomer's comments came after Sayfullo Saipov— a 29-year-old immigrant from Uzbekistan who came to the United States in 2010—was arrested and charged on suspicion of carrying out the attack in Lower Manhattan on Tuesday.
Saipov worked as an Uber driver for over six months, passing a background check and recording more than 1,400 trips on the platform. After the attack, Uber said it was "horrified by this senseless act of violence" and that it had "reached out to law enforcement to provide our full assistance."
Lyft also confirmed on Wednesday that Saipov had drove for its app, but did not say how long for. Lyft said that it deactivated Saipov's account as soon as it became clear he was a suspect in the New York attack.
Saipov told authorities that he had been inspired to carry out the attack by a call from Abu Bakr Al-Baghdadi, the leader of the Islamic State militant group (ISIS), for Muslims to perpetrate atrocities in the West in vengeance for Western intervention in Iraq. A document written by Saipov and found close to the truck used in the attack expressed support for ISIS.
Read more: Why ISIS may not claim the New York attack
Loomer, a vocal supporter of President Donald Trump, has previously attracted attention for disrupting a staging of Julius Caesar in New York's Central Park, claiming that it "normalized political violence against the right." In the New York City Public Theater production, the protagonist—who resembles Trump—is assassinated, in line with the plot of William Shakespeare's original play.
Loomer was heavily criticized for posting a picture of two women in hijabs on Wednesday. "Muslims are out in full force at the scene of the NYC #ISIS attack today rubbing it in everyone's face. Aimlessly walking around in hijabs," she wrote.
Among those to criticize her was model Gigi Hadid, who tweeted: "Laura, I hate to give you the attention, but I need to tell you- You're a f**king moron."