Trump Says Sayfullo Saipov 'Should Get Death Penalty' After New York Attack Suspect Asks to Hang ISIS Flag in Hospital Room
President Donald Trump fired off a tweet on Wednesday evening calling for the death penalty for the Uzbek immigrant suspected of driving a truck down a New York City cycle path, killing eight people.
Trump referred to a criminal complaint filed against Sayfullo Saipov—the 29-year-old suspect who was shot and arrested after Tuesday's attack—in which Saipov asked the hang the flag of the Islamic State militant group (ISIS) and said he "felt good about what he had done."
Saipov has been charged with one count of providing material support and resources to a foreign terrorist organization and one count of violence and destruction of motor vehicles causing the deaths of eight people.
New York does not have the death penalty and there has been no executions in the state since the 1960s. But Trump's intervention may actually make it harder for prosecutors seeking a tough sentence for Saipov—who told FBI investigators that he had been inspired to carry out the attack after watching a video of ISIS leader Abu Bakr Al-Baghdadi calling for Muslims in the United States to avenge the deaths of Muslims in Iraq.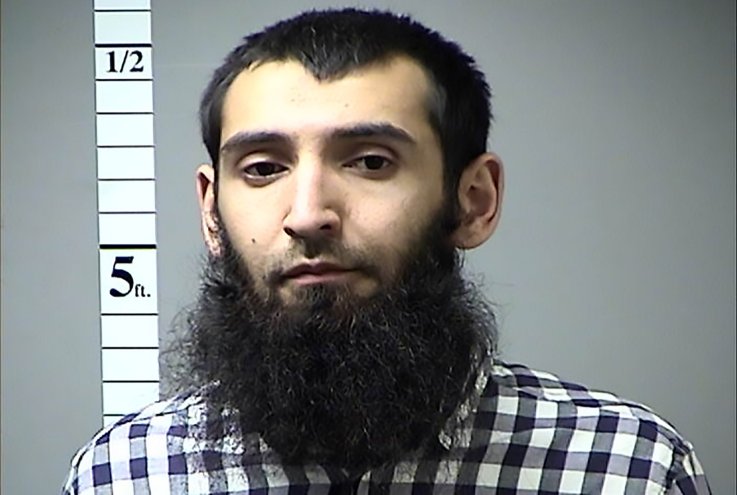 Comments such as Trump's can be used by defense lawyers to argue that their defendant cannot get a fair trial. That argument will only be bolstered by the fact that the person making the comments is the president of the United States.
Read more: Why ISIS may not claim the New York attack
Trump has been quick to politicize the New York attack, blaming an immigration policy known as the Diversity Visa Lottery Program for allowing Saipov into the United States. The lottery awards 50,000 green cards each year to immigrants from countries with low rates of immigration to the United States. The purpose of the program is to increase the diversity of the U.S. immigrant population. Saipov was awarded a permanent resident visa in 2010.
The president has pointed the finger at Chuck Schumer, the Democratic leader in the Senate, for the policy. The lottery was created in 1990 by a bill supported by Schumer but that was passed by bipartisan votes and signed into law by George H. W. Bush, a Republican president.
Schumer responded in the Senate on Wednesday, calling for the president to work for unity and not division. "President Trump, instead of politicizing and dividing America, which he always seems to do at times of national tragedy, should be bringing us together and focusing on the real solution—anti terrorism funding, which he proposed to cut in his most recent budget," said Schumer, according to the New York Times.
As well as calling for the death penalty, Trump also suggested that he would be willing to send Saipov to Guantanamo Bay, the U.S. military prison in Cuba that is reserved for high-value detainees captured abroad.
No one arrested in the United States has ever been sent to Guantanamo Bay, and the last time a person arrested abroad was sent there was in 2008.
"I would certainly consider that," said Trump at the start of a cabinet meeting on Wednesday. "Send him to Gitmo, I would certainly consider that, yes."
White House Press Secretary Sarah Sanders later qualified Trump's remarks about Guantanamo Bay. "Look, the point he was making is that he supports, or would support that. But he wasn't necessarily advocating for it, but he certainly would support it if he felt like that was the best move," said Sanders when asked whether Trump has the authority to send any prisoner to the military prison.
Trump Says Sayfullo Saipov 'Should Get Death Penalty' After New York Attack Suspect Asks to Hang ISIS Flag in Hospital Room | U.S.