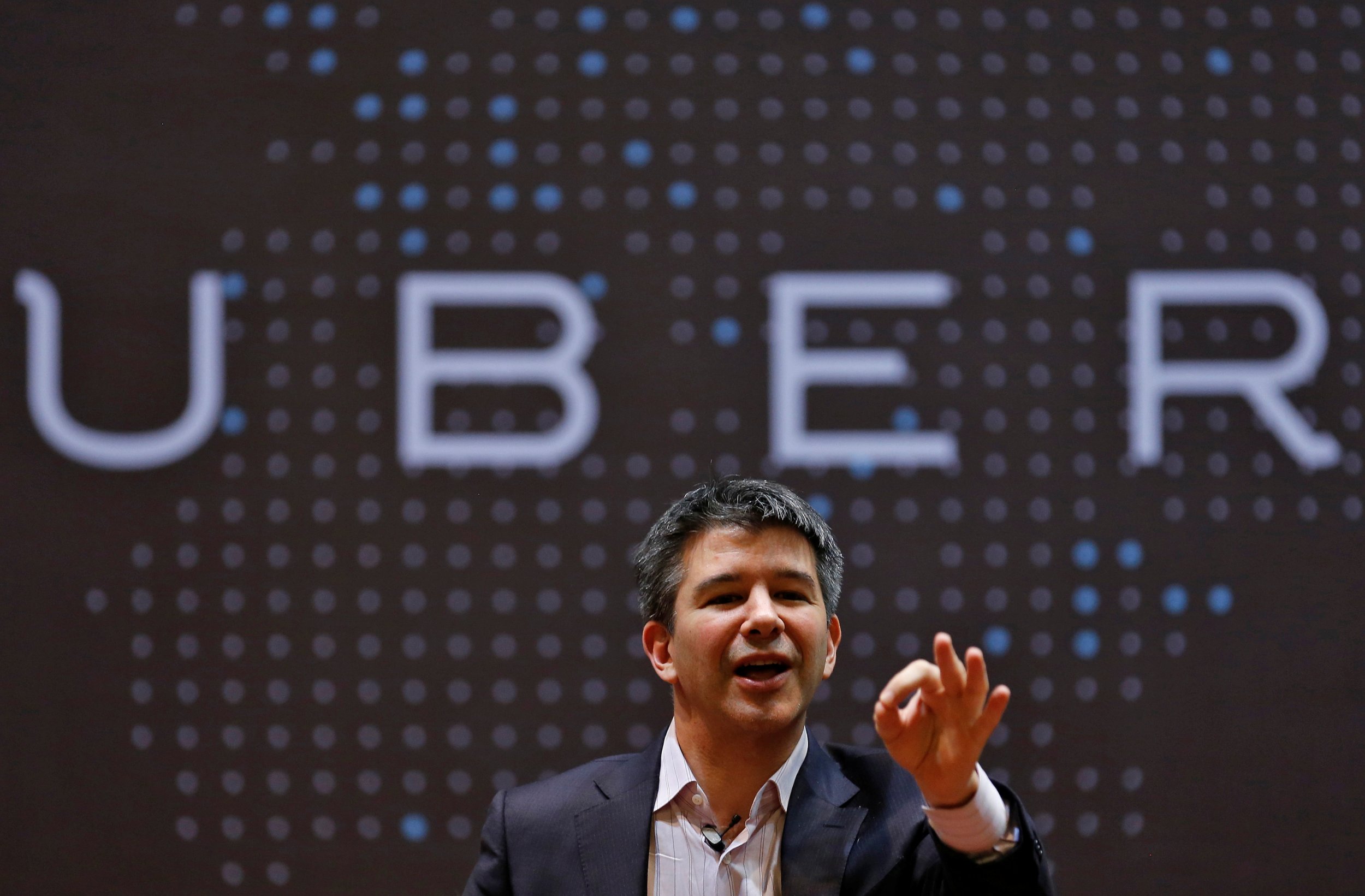 Updated | Uber CEO Travis Kalanick is leaving President Donald Trump's group of policy advisers following days of pressure, according to an internal memo obtained by Newsweek.
Uber and Kalanick came under fire last Saturday after the ride-sharing company said it would turn off its surge pricing fare system during a protest at John F. Kennedy International Airport (JFK) in New York City. The company meant well, it later said, but the New York Taxi Workers Alliance was striking at the time, and opponents saw Uber as breaking that strike. A movement #DeleteUber followed. The taxi workers strike was part of massive demonstrations at JFK against Trump's executive order that halts entry to people from seven Muslim-majority countries as well as the U.S. refugee resettlement program, among other actions.
Related: A Taxi Union Takes on Trump Ban, and Uber Suffers
People connected that incident with Kalanick's invovlement on Trump's Strategic and Policy Forum, which he joined in December. Other business leaders, including SpaceX and Tesla CEO Elon Musk, are also part of that group. Others from the technology sector met with Trump in New York City in December, a gathering that some rank-and-file tech employees criticized.
"Earlier today I spoke briefly with the president about the immigration executive order and its issues for our community," Kalanick said in the memo. "I also let him know that I would not be able to participate on his economic council. Joining the group was not meant to be an endorsement of the president or his agenda, but unfortunately it has been misinterpreted to be exactly that."
The first meeting of that forum was scheduled for Friday. Kalanick initially said he would voice concerns during that meeting over the recent executive order and defended his involvement in the group. He wrote in an email to employees, later made public, "We've taken the view that in order to serve cities you need to give their citizens a voice, a seat at the table.... This is why I agreed in early December to join President Trump's economic advisory group."
Uber later came out more forcefully against the executive order and said it would create a legal defense fund for people affected, among other measures. The company is also reportedly drafting an open letter to Trump, along with Facebook, Microsoft, Google and Amazon, opposing the order, according to Recode.
Since last weekend, groups have called for Kalanick to leave the advisory group. The New York Taxi Workers Alliance, a union with 19,000 members, including Uber drivers, had scheduled a demonstration outside of Uber's New York City headquarters on Thursday. News of Kalanick's departure came shortly before that demonstration began.
"It's celebratory, but it's also like, give me a break," says Bhairavi Desai, executive director of the taxi union. "You don't get credit because you corrected a wrong thing that you did. There's no one out here rolling out a thank-you banner for Travis right now." Desai says her group will continue to challenge Uber's business practices, and also that the union's main concern at the moment is against the executive order. That order remains in effect, though a federal judge issued a stay on deportations under it. "We're keeping our eye on the prize," Desai says.
The Independent Drivers Guild, which represents 50,000 drivers in New York City, had also launched a petition calling for Kalanick to leave the Trump group. Jim Conigliaro, Jr., founder of the Guild, said in a statement following news of the CEO's departure, "This is an important show of solidarity with the immigrant drivers who helped build Uber and number over 40,000 in New York City alone. We are heartened that Uber has listened to the drivers and the community on this important issue that is so integral to the promise of the American dream."
Musk, another member of the advisory group, has criticized the executive order in recent days and said he would voice his concerns to Trump on Friday. Following the news of Kalanick's departure, Musk released a statement saying he would still attend the Friday meeting and express his concerns. He added that his participation in the group "does not mean that I agree with actions by the administration."
It was not immediately clear if other members of Trump's group would also step down.
This article has been updated to include details from a statement by Elon Musk.