Scientist on NASA's UAP Panel Shares Thoughts on Lake Huron UFO
In the wake of four mysterious objects being shot down over North America, a member of NASA's Unidentified Anomalous Phenomena (UAP) panel—set up to study unexplained sightings in the sky—has weighed in on what these latest objects could be.
The last object, said to be octagonal in shape, was shot down over Lake Huron by U.S. military fighter jets on Sunday.
The first of the four objects, identified as a Chinese surveillance balloon, was shot down on February 4. But China has denied any involvement with the other objects, including one shot down over Deadhorse, Alaska, on February 10 and another over the Yukon in Canada the following day.
"The object recently shot down over Lake Huron was described by one of the pilots as octagonal and hovering at 40,000 feet with no obvious means of propulsion or lift," Joshua Semeter, a professor of electrical and computer engineering and director of the Center for Space Physics at Boston University, told Newsweek. "This account bears some resemblance to previous accounts by Navy pilots. I believe we will learn a lot if the vehicle can be recovered and examined."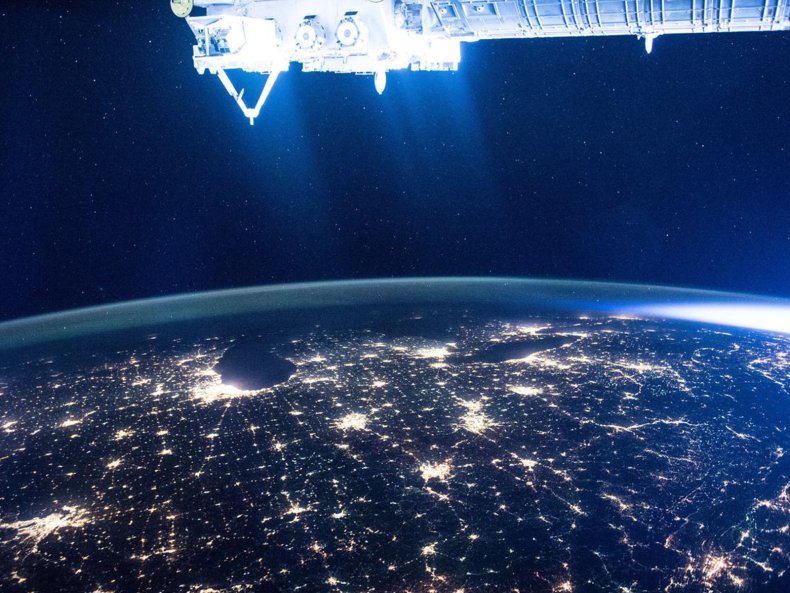 UAPs, which used to be known as UFOs or unidentified flying objects, are aerial phenomena that cannot be immediately explained.
The U.S. government has not yet said what the mysterious objects are but it was quick to reassure the public that they are not of alien origin.
"I know there have been questions and concerns about this, but there is no ... indication of aliens or extraterrestrial activity with these recent takedowns," White House Press Secretary Karine Jean-Pierre told reporters on Monday.
Semeter is part of NASA's independent panel to study UAPs and analyze how data collected by civilians and a variety of other sources can be used to gain more insight into UAPs and what they are. The study began on October 24 last year, and results are due to be released in mid-2023.
Semeter himself researches interactions between Earth's ionosphere and the space environment, and develops optical and magnetic sensor technologies, which will give him good insight into detecting mysterious objects in our atmosphere.
Exactly what these objects are is still unknown.
Between March 2021 and January 2023, the U.S. government received over 350 new reports of UAPs. Only around half of this number could be explained, 163 of the objects being identified as "balloon or balloon-entities".
"The majority of UAPs can be accounted for as balloons, drones, or drifting aerial junk. In some cases, the visual impression is impacted by 'perspective bias,' where a slow nearby object looks like a large, rapid, distant object," Semeter said.
"That said, there is a small percentage of observations that remain unexplained. These cases generally involve an object that exhibits unusual flight characteristics—for instance, rapid acceleration, rapid velocity, or extreme maneuverability—characteristics that cannot readily be accounted for through known technologies."
U.S. Air Force General Glen VanHerck, head of North American Aerospace Defense Command (NORAD) and Northern Command, told Reuters that he would not rule out aliens or any other explanation. However, Semeter and other experts are convinced that the objects are not from anywhere else but Earth.
There have been countless sightings, dating back hundreds of years, of what today might be called UFOs. Many of these have been explained as strange but natural phenomena or hoaxes, but many remain unexplained. As long ago as in 218 B.C., Roman historian Titus Livius or Livy recorded seeing "ships in the sky". One notable hoax occurred in 2009, where five red lights in the sky over Morristown, New Jersey turned out to be a hoax designed by two local men as a "social experiment".
Area 51, a top-secret U.S. military facility in the Nevada desert, has for decades been at the center of conspiracy theories involving extraterrestrials and UFOs.
"I think these encounters capture the imagination differently for different people," Semeter said of the most recent cohort of strange objects. "As a technologist, my speculation is that some form of advanced technology may be at play. But I remain confident that it is human technology. There are next-generation propulsion systems that could account for the unfamiliar flight characteristics observed."
"For me, the leap to speculations about aliens is a leap too far. But it is important to retain an open mind as we solve this mystery."
Do you have a tip on a science story that Newsweek should be covering? Do you have a question about UFOs? Let us know via science@newsweek.com.