UFO Map Shows Locations Where U.S. Shot Down Mysterious Objects
Following a recent stint of UFOs being shot down across the U.S. and Canada, maps showing the locations of these incidents have begun to circulate on social media.
The White House has repeatedly confirmed that unidentified flying objects (UFOs) have been spotted across the country this month.
This current spate of sightings began with an event in South Carolina on February 1, which was later confirmed to be a Chinese surveillance balloon.
This high-altitude object was eventually shot down on February 4 and would become the first of many over the following days.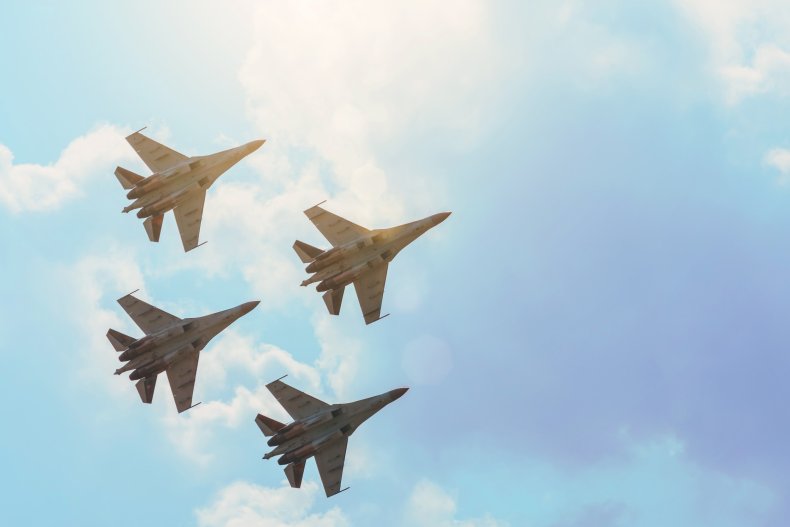 The Live Crisis Intel Twitter page, a page dedicated to live updates of events around the world, shared a map on Sunday showing the location of shot down UFOs at the time.
The map showed that the Chinese spy craft was shot down on February 4, just off South Carolina.
The map also showed the location of an unidentified flying object shot down on Friday February 10, in northern Alaska.
In addition to this, the map showed a "radar anomaly" that was detected and shot down on Saturday, Febuary 11 in northern Montana, though no object has yet been found.
The map also showed the estimated location of another UFO that was shot down on the same day in Canada's Yukon territory.
Twitter user Jay Cuda also shared an updated map that detailed the location of the latest shot down UFO.
The White House confirmed on Sunday that the military had shot down an unidentified flying object near Lake Huron in Michigan. The White House has not officially given details regarding the origin of the UFO.
After the spy balloon's destruction, China's foreign ministry spokesperson, Mao Ning, held a briefing where they claimed it was an "unmanned Chinese civilian airship".
The Pentagon has dismissed these claims and insisted it had surveillance capabilities.
Pentagon press secretary Brig. Gen. Pat Ryder said it was not possible the object was a civilian weather monitoring balloon.
He said: "I can assue you this was not for a civilian purposes. We are 100 percent clear about that."
He added that any "responsible nation" would have notified government before an aircraft crossed into another's sovereign airspace.
He continued: "The [People's Republic of China] did not do that. They didn't respond until after they were called out."
U.S. officials believe that the balloon was part of a larger Chinese surveillance balloon program. Since the first interaction with the spy balloon, U.S. forces has been put on greater alert.
General Glen VanHerck, head of the North American Aerospace Defense Command (NORAD), spoke to the media on Sunday about the recent incidents.
He confirmed that NORAD had been put on "heightened alert" since the first aircraft was sighted.
"We have been more closely scrutinizing our airspace at these altitudes, including enhancing our radar, which may at least partly explain the increase [in interceptions]."