UK Tells Citizens to Leave Ukraine While Commercial Options Still Available
The United Kingdom updated its travel advisory for Ukraine on Friday amidst increasing tensions at the Ukraine-Russia border, telling U.K. citizens to leave Ukraine while commercial options are still available.
The Foreign, Commonwealth and Development Office has advised citizens against "all travel" to Ukraine. While the embassy is still open, it is unable to give in-person consular assistance, according to the travel advisory. It urges British nationals to leave while there remain commercial options.
While Russia has repeatedly insisted it is not planning an invasion of Ukraine, there are as many as 130,000 troops stationed along the Ukrainian border, Newsweek reported. New satellite images Thursday from Colorado-based technology company Mazar also show deployments of troops and equipment on the Russian fronts of Crimea, Belarus, and western Russia.
The U.K. travel advisory stated that if citizens do decide to stay in Ukraine, they should "remain vigilant due to potential combat operations, keep your departure plans under constant review and ensure your travel documents are up to date." Should there be any Russian military action in Ukraine, British nationals should not expect help from the British Embassy in Kyiv.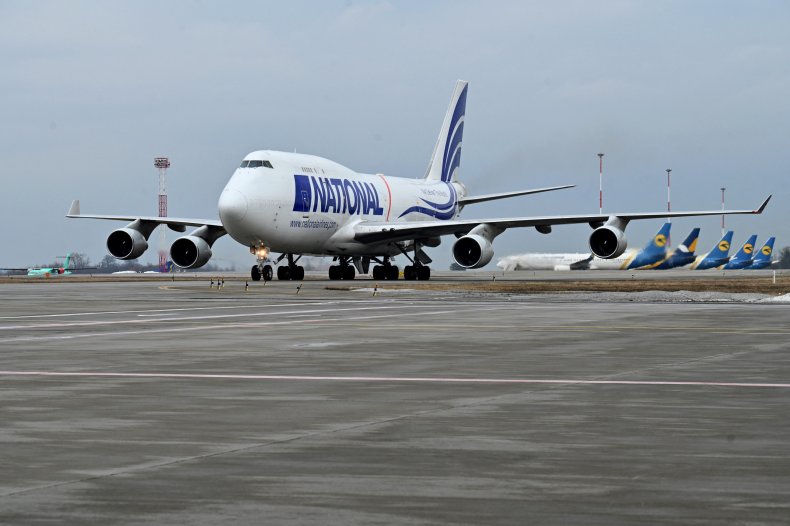 Other countries have issued updated travel advisories regarding Ukraine, as well. The South Korean Ministry of Foreign Affairs announced Friday a ban on travel to Ukraine. Any South Korean citizens who wereplanning to travel to Ukraine are required to cancel their trip, as the country will soon have a level 4 travel alert—the highest in South Korea's four-tier system.
The United States also updated its travel advisory on Ukraine to a level 4, the highest in its four-tier system, on Thursday.The U.S. Department of State urged Americans not to travel to Ukraine "due to the increased threats of Russian military action and COVID-19." Americans currently in Ukraine were told to leave immediately via private or commercial means.
The U.S. travel advisory also stated that the U.S. government will be unable to evacuate Americans if Russian military action occurs in Ukraine. The White House also issued a warning Friday that any U.S. citizens still in Ukraine should leave in the next "24 to 48 hours."
Newsweek previously reported that the U.S. has begun deploying troops near Ukraine, as well as an additional 1,700 additional troops to be stationed along the nearby Polish border.
U.S. troops are being sent to reinforce NATO allies on the eastern flank, as well, according to Romanian Defence Minister Vasile Dincu. Dincu said the first troops arrived in Romania on Tuesday.
An expert on the Russian military and fellow at the Foreign Policy Institute, Rob Lee, told The Moscow Times that "the Russian military, as of this week, has all the military capabilities to actually conduct a large-scale invasion."
Update 02/11/22, 2:36 p.m. ET: This story was updated with additional information and details from the U.K. travel advisory.