Zelensky Makes Public Plea to China's Xi Jinping After Calls Unanswered
President Volodymyr Zelensky of Ukraine has urged China to reorient its position on Russia and use its political and economic clout to help bring an end to the ongoing war in his country.
In an interview with Hong Kong's South China Morning Post published on Thursday—his first with an Asian news outlet—Zelensky said he had sought a direct line to his Chinese counterpart, Xi Jinping, since the Russian invasion began more than 160 days ago.
"I would like to talk directly. I had one conversation with [President] Xi Jinping that was a year ago," he told the Post's Amy Chew. "Since the beginning of the large-scale aggression on February 24, we have asked officially for a conversation, but we (haven't had) any conversation with China even though I believe that would be helpful."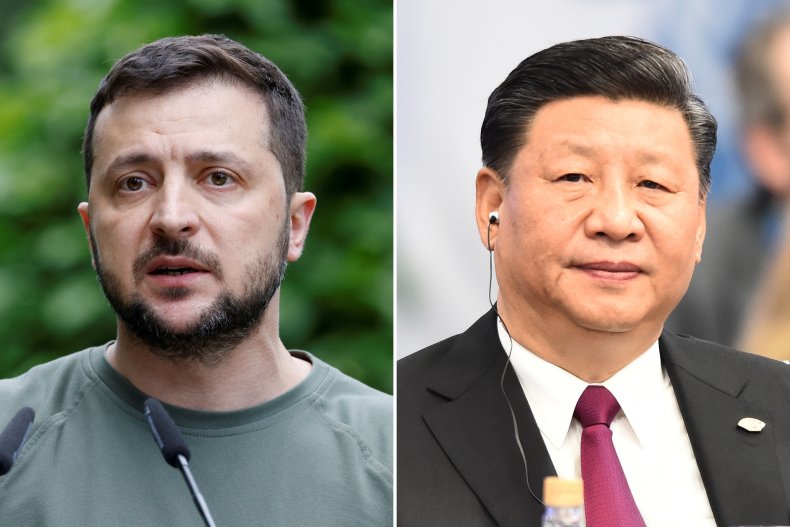 An adviser to the Ukrainian leader told Newsweek's David Brennan as early as March that Kyiv was expecting talks between Zelensky and Xi "to take place very soon." The call never happened.
Meanwhile, President Vladimir Putin of Russia has spoken with his opposite number in China at least twice since February 24, according to readouts published by Moscow and Beijing.
They included one conversation less than 24 hours later, after which the Russian Embassy in Beijing said Xi had expressed his "respect" for Putin's decision to attack Ukraine. After they spoke again in June, the Kremlin said the Chinese leader endorsed "the legitimacy of Russia's actions to protect fundamental national interests."
The UN Human Rights Office said on Monday that at least 5,327 civilians had been killed and a further 7,257 injured since the war began. Meanwhile, a rolling tally by the UN Refugee Agency showed more than 6.3 million Ukrainians had fled the country as of August 3.
Zelensky is asking Beijing to be more sympathetic to its plight.
"The Russians are the invaders...this is a war on our territory, they came to invade. China, as a big and powerful country, could come down and sort of put the Russian Federation [in] a certain place," he was quoted as saying. "Of course, I would really like China to review its attitude towards the Russian Federation."
Xi and Putin cemented their geostrategic partnership in the weeks before the invasion began; Beijing and Moscow—comprising two-fifths of the UN Security Council's permanent members—view one another as complementary advocates of an international order free of Western liberal influence in general and American leadership in particular.
Zelensky, 44, believes the Chinese leadership understands that the economic upheaval caused by Putin's war won't benefit Beijing either.
"It's a very powerful state. It's a powerful economy...So (it) can politically, economically influence Russia," Zelensky told the Post.
"I'm confident, I'm sure that without the Chinese market for the Russian Federation, Russia would be feeling complete economic isolation," he said. "That's something that China can do—to limit the trade (with Russia) until the war is over."
Zelensky and Xi last spoke in 2021. In early January this year, the two leaders exchanged pleasantries via Telegram to mark 30 years of formal bilateral ties between the two countries. According a readout published by the Chinese Foreign Ministry at the time, Xi told Zelensky their countries enjoyed "deepening political mutual trust."
"I attach great importance to the development of China-Ukraine strategic partnership," the Chinese leader said, describing the relationship as "mature, stable and resilient." Three weeks later, Beijing publicly sided with the Kremlin against NATO for the first time.