New satellite images show the aftermath of Ukraine's strike on a Russian naval base in Crimea on Wednesday, marking one of the most significant assaults on Russia's Black Sea fleet in the more than 18 months of all-out war.
New satellite images, shared with Newsweek by Planet Labs, show a satellite view of a Russian naval shipyard in Sevastopol that Ukraine targeted with a missile barrage on Wednesday.
The images, captured on Tuesday and Wednesday, show what appears to be damage to the vessels in the dry dock. Newsweek has reached out to the Russian Defense Ministry for comment via email.
On Wednesday, Ukraine launched 10 cruise missiles at Russia's naval facilities in Sevastopol, with Russian air defenses intercepting seven of the missiles, Moscow's Defense Ministry said. Ukraine also used three uncrewed naval drones against Russian ships in the Black Sea, the Kremlin added.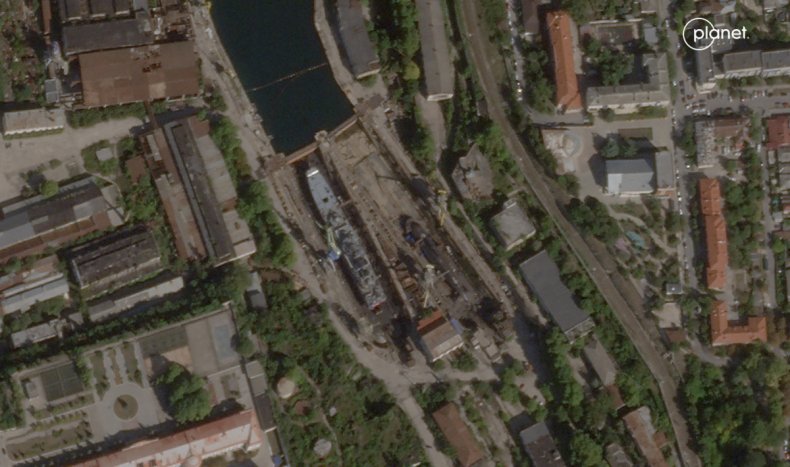 Ukraine used British-supplied Storm Shadow air-launched cruise missiles in the attack, Britain's Sky News reported, citing a Western and Ukrainian source.
The missiles, which Ukraine can launch from its combat aircraft, have a range of more than 150 miles, and France has also sent its version of the Storm Shadow. Lieutenant General Mykola Oleshchuk, the head of the Ukrainian Air Force, said in a post to social media that he wanted to thank Ukraine's pilots "for excellent combat work."
The missile strikes damaged Moscow's Rostov-on-Don submarine—thought to be the first Russian submarine hit during the war—and the Minsk landing ship at the Ordzhonikidze shipyard, Ukraine's military intelligence agency told Ukrainska Pravda.
Ukraine has increasingly targeted Russia's Black Sea Fleet in Crimea, which Moscow has controlled since it annexed the peninsula in 2014. Kyiv has vowed to reclaim the territory to the south of mainland Ukraine, and has upped attacks on Russia's bases and key bridges connecting the peninsula to Russia in recent months. Moscow has used Crimea to launch attacks on Ukrainian territory throughout the war, including cruise missile strikes.
Taking out one Kilo-class Russian submarine in Crimea "won't materially affect Russia's ability to launch cruise missile attacks from the Black Sea," according to Frederik Mertens, a strategic analyst with the Hague Center for Security Studies.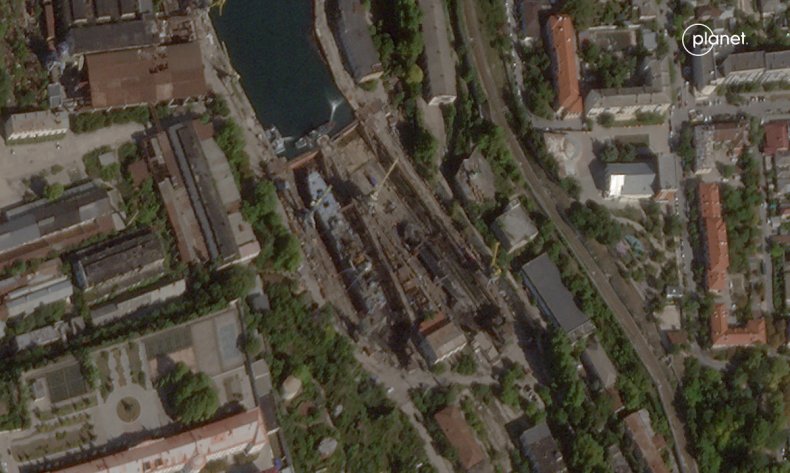 Russian missile attacks from the Black Sea are more restricted by Russian missile production, he told Newsweek, but added: "Knocking out that dock will hurt though. Maintenance is already a big problem for the Russians."
Once Ukraine receives U.S.-made F-16 fighter jets, it could make a bid for at least temporary air superiority in the Black Sea "where it is far less hindered" by Russian ground-based air defense, Mertens said. If Ukraine succeeds in this further down the line, the Western-made aircraft and missile capabilities will "become a deadly threat to the Russian surface fleet," he argued.
The damaged vessels were undergoing repairs in Sevastopol, Russia said, adding they "will be fully restored and continue combat service in their fleets." However, Ukrainian military intelligence spokesperson, Andriy Yusov, said it was "highly likely" Russia's vessels "are beyond repair."
"It really is the biggest attack on Sevastopol since the beginning of the war," Andriy Ryzhenko, a retired Ukrainian navy captain, told Reuters.
Russia's forces now fear that its established bases in the Black Sea "are no longer as safe as they previous thought," Natalia Humeniuk, a spokesperson for Ukraine's southern command, said in comments reported by RBC Ukraine.
"Now we can observe their dispersal across the Black Sea," she said, in the remarks reported on Thursday.
The Moscow-backed governor of Sevastopol, Mikhail Razvozhaev, said in a post to social media that a fire was raging in the city, adding that 24 people had been injured.
Early on Thursday, Russia's Defense Ministry said Ukraine had attacked a Black Sea Fleet patrol vessel with five uncrewed naval drones. The drones were destroyed by the patrol ship, the ministry added in a statement. Kyiv also launched 11 aerial drones over Crimea overnight, Russia said.
Update 09/14/2023, 9:49 a.m. ET: This article was updated with additional images.