Ukraine may disappear from the world map if a ceasefire isn't eventually agreed in Russian President Vladimir Putin's war, former top Pentagon advisor and retired Army Colonel Douglas Macgregor suggested Wednesday.
Macgregor, who served as a senior advisor under former President Donald Trump, made the remarks during an interview with Sky News Australia. He has received bipartisan backlash for seeming to take a stance favorable toward Russia and Putin.
"The longer this [war] lasts, the more people are going to be needlessly slaughtered, the more damage will be done to Ukraine," said Macgregor.
"It's [Ukraine] already effectively a failed state, it could be erased completely from the map. I would argue that we need a ceasefire," he said.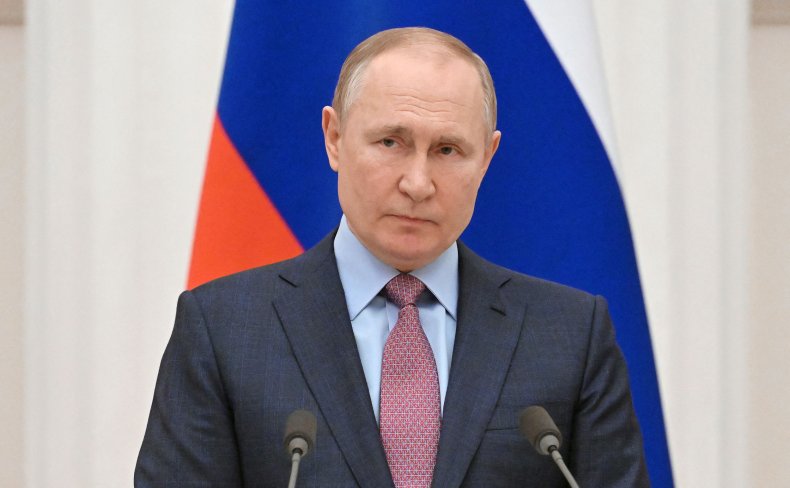 Macgregor said he has heard from people in Berlin, Paris and London, that there is growing support for calling for a ceasefire, and for coming to "some sort of an arrangement."
"Because we can't afford to fight this until there are no longer any Ukrainians left," he continued.
The former adviser to the U.S. Secretary of Defense also said he believes Putin is "not going to withdraw" from the Ukraine conflict and claimed that the Russian president "was never interested in all of Ukraine."
"He's not going to withdraw, that's out of the question, so if you're unwilling to come to some sort of an arrangement on a territorial basis—the longer this lasts, the larger the probability of a wider, regional war."
He added: "The Russians are holding most of the cards at this point."
Ukrainian President Volodymyr Zelensky has repeatedly said that the country won't give up any of its territory to put an end to the war. Numerous rounds of peace talks between Ukraine and Russia have stalled since Putin launched his invasion on February 24.
Zelensky has said that Ukraine will not negotiate away its own territory and national sovereignty.
In an interview in April on CBS News' 60 Minutes, Zelensky said that Ukraine was "not ready to give away our country."
"I think we've already given up a lot of lives, so we need to stand firm for as long as we can. But this is life, different things happen," he said.
"We understand the Russian side. We understand one of their provisions has always been to recognize Crimea as Russian territory. I would definitely not let them recognize that," he added.
Kremlin spokesperson Dmitry Peskov told Reuters on Sunday that the Ukraine war could end "immediately" if Ukraine agreed to four conditions, namely, being blocked from joining the military alliance NATO, recognizing Crimea as Russian territory and the Luhansk and Donetsk regions as independent; and ceasing all military action.
Zelensky told ABC News on Monday that acknowledging the territories is "more difficult" than it may seem and that Moscow's conditions amount to an "ultimatum."
"We are not prepared for ultimatums but we have the possible solution, resolution for these three key items," Zelensky told ABC News. "What needs to be done is for President Putin to start talking instead of living in the information bubble without oxygen."
Newsweek has contacted Ukraine's foreign ministry for comment.