Long-Range HIMARS Missiles Not Needed in Ukraine Yet: Pentagon
The U.S. will not be providing Ukraine with long-range missiles amid Russia's invasion, with the Pentagon believing the precision-guided missile systems already provided are "the most relevant munitions for the current fight."
Speaking to reporters Wednesday after President Joe Biden announced an additional $3 billion in military aid to Ukraine, Defense Under Secretary Colin Kahl said long-range Army Tactical Missile System (ATACMS) munitions, which are capable of hitting targets at a distance of more than 280 kilometers, are not currently needed.
Since June, the U.S. has provided 16 High Mobility Artillery Rocket Systems (HIMARS), which have played a vital part in Ukraine's ability to fight off the Russian invasion. Currently, Ukraine fires Guided Multiple Launch Rocket Systems (GMLRS) from HIMARS, which have successfully targeted key Russian military targets such as command posts and ammunition depots.
Ukraine has also called for further support by way of potentially hundreds more HIMARS systems, which can also be used to fire ATACMS munitions, that the U.S. has so far not agreed to.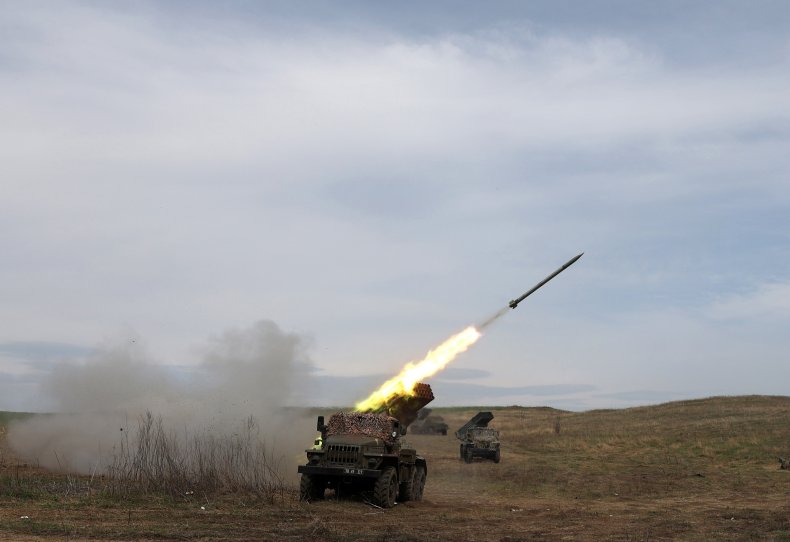 Kahl said during Wednesday's press conference that the GMLRS provided by the U.S., which have a range of around 70 to 80 kilometers, are still the best form of attack for Ukraine, rather than the longer-ranged ATACMS.
"We have provided them with hundreds and hundreds of these precision guided systems, and the Ukrainians have been using them to extraordinary effect on the battlefield," Kahl said.
"It's our assessment that the most relevant munitions for the current fight are the GMLRS. We have prioritized getting the Ukrainians the GMLRS they need, not only to hold in the east, but may generate some momentum elsewhere in the country.
"It's our assessment that they don't currently require ATACMS to service targets that are directly relevant to the current fight," Kahl added. "We'll obviously continue to have conversations with the Ukrainians about their needs, but it's our judgment at the moment that we should be focusing on GMLRS, not ATACMS."
While speaking at the Aspen Security Forum in July, U.S. National Security Advisor Jake Sullivan said the U.S. will not supply ATACMS to Ukraine over fears they will be used to target Russian territory, thus escalating the conflict and potentially resulting "down the road towards a third world war."
On August 19, a senior Defense Department official also told reporters during a background meeting that the U.S. will not be complying with Ukraine's request for ATACMS, despite pledging not to fire into Russian territory, as the country is currently able to "successfully target Russian key capabilities, key command-and-control nodes, logistic nodes" with the existing GMLRS fired from HIMARS.
The U.S. had already provided Ukraine with billions of dollars in military aid before the last $3 billion injection—the biggest package so far—to mark six months since Russia invaded Ukraine.
According to the Center for Strategic and International Studies, each ATACMS would cost more than $1 million to fire, but the system has been out of production for more than a decade.
In comparison, GMLRS—which the U.S. have sent hundreds of to Ukraine—cost around $160,000 each but are still in production.
Newsweek has contacted the Ministry of Defense for Ukraine for comment.