Ukraine 'Must Win' War With Russia, Macron Says After Backlash for Remarks
French President Emmanuel Macron declared Thursday that Ukraine "must be able to win" the war against Russia after traveling to the country for the first time since the conflict broke out in late February.
Along with German Chancellor Olaf Scholz and Italian Prime Minister Mario Draghi, Macron arrived in Kyiv for the high-profile visit to the sound of air raid sirens in the Ukrainian capital, the Associated Press reported. They then headed out for a tour of Irpin, a suburb of Kyiv that saw heavy destruction from Russia's assault in the earlier stages of the war, before a meeting with Ukrainian President Volodymyr Zelensky.
Macron posted a brief video on Twitter showing several of the city's destroyed or severely damaged buildings, with a caption reading: "We saw a devastated city and traces of barbarism. And also the heroism of Ukrainian men and women who stopped the Russian army when it went to Kyiv. Ukraine is resisting. She must be able to win."
Macron's urging that a Ukrainian victory is necessary came after the French leader has faced a backlash in recent weeks for his rhetoric on the war and Russia. There were some mixed reactions to a speech he delivered Wednesday that urged negotiations between Zelensky and Russian President Vladimir Putin. Dmytro Kuleba, Ukraine's minister for foreign affairs, and some U.S. lawmakers also sharply criticized Macron earlier this month for saying in an interview that Russia should not be humiliated by the end of the war.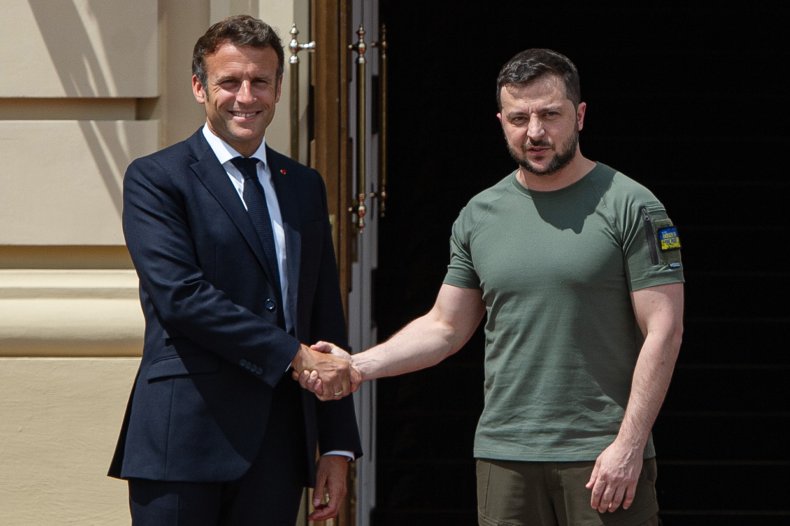 "Calls to avoid humiliation of Russia can only humiliate France and every other country that would call for it," Kuleba tweeted. "Because it is Russia that humiliates itself. We all better focus on how to put Russia in its place. This will bring peace and save lives."
Even though Macron has supported Ukraine throughout the conflict and condemned Russia's invasion, calling it a "historic and fundamental mistake" at one point, the French president has also called for a diplomatic resolution to the war and maintained dialogue with Putin.
But in his first visit to Ukraine since the war began, which he described as "a message of European unity toward Ukrainians," according to Politico, Macron and his German and Italian counterparts appeared to be struck by the extent of the destruction.
Similar to Macron's message decrying the "barbarism" in Irpin, Scholz said while touring the damaged suburb that the destruction "says a great deal about the brutality of the Russian war of aggression, which is simply out for destruction and conquest," according to the AP.
Draghi said that Ukraine would have Europe's help in rebuilding "everything" that was destroyed.
Romanian President Klaus Iohannis, who also visited Ukraine Thursday but arrived separately from the other European leaders, said that he struggled to find words to describe the "unimaginable human tragedy and horrible destructions" they viewed in Irpin.
"I strongly renew my appeal for all Russian perpetrators to be held responsible by the international criminal justice, which Romania fully supports," he added.
Newsweek reached out to the foreign ministries of Russia, Ukraine and France for comment.