Ukraine's 'Best Pilot' Anton Lystopad Killed in Combat—Report
One of Ukraine's top air force pilots has been killed in combat, officials announced on Sunday.
Anton Lystopad, who was awarded the title of the best pilot of the Air Force of the Armed Forces of Ukraine in 2019, was reportedly killed in battle, nearly six months into Russian President Vladimir Putin's war against Ukraine, the Physics and Technical Lyceum of Ivano-Frankivsk Regional Council said in a statement on Facebook.
The statement said Lystopad studied at the lyceum from 2005 to 2008.
"Anton Lystopad, a graduate of the Physics and Technical Lyceum, died defending the Ukrainian state," the lyceum said.
Just days before his death, he was honored by Ukrainian President Volodymyr Zelensky with a prestigious award, the Order for Courage, 3rd class, for his "courage, bravery and professionalism."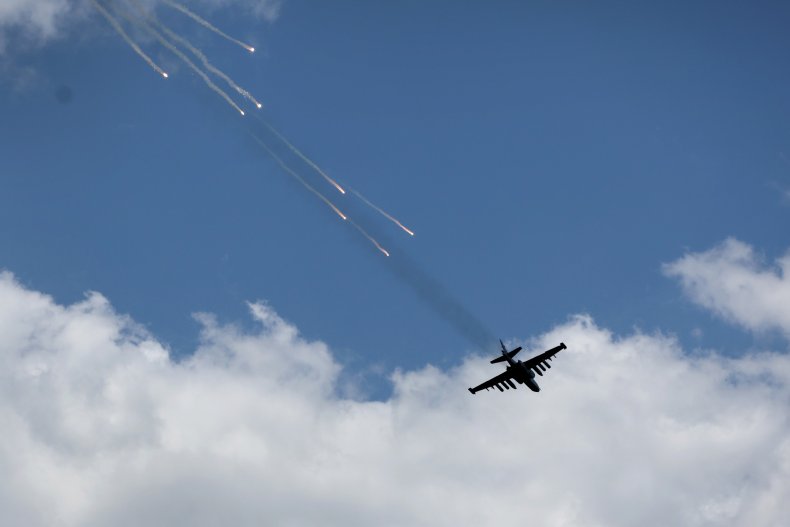 The lyceum's statement remembered Lystopad as capable and "very persistent."
"Millions of Ukrainians with delight and pride watched on the day of the 30th anniversary of Independence the flight of an aviation column of the parade of troops over Khreshchatyk. Our Anton was the leader of this column," the statement said. "Anton's path behind the helm of a fighter was difficult but meaningful. However, the young man stubbornly pursued his dream—to become a pilot, fly high in the sky like a bird, and contemplate the beauty of the Earth with an eagle's eye."
The institution said Lystopad defended Ukraine "from the first minutes" of Russia's full-scale invasion of Ukraine.
Lystopad "rightfully belongs to the number of the most popular among the current generations of lyceum graduates of our educational institution," the statement said.
Local news outlet Ukrinform reported that he studied at the Ivan Kozhedub National Air Force University from 2013 to 2018, and became a fighter pilot of the highest rank.
Earlier this month, the General Staff of the Armed Forces of Ukraine said in a tweet that Ukraine's Air Force was "reliably" defending the sky against Russia.
"The Air Force reliably defends the Ukrainian sky and gives a worthy rebuff to the Russian aggressor in it," the August 7 post said. "Thank you for your professionalism and dedication to the defense of Ukraine!"
A day earlier, Ukrainian President Volodymyr Zelensky also released a video celebrating Air Force of Ukraine Day.
Anton Gerashchenko, advisor to the Minister of Internal Affairs of Ukraine, posted the video on social media, and expressed his "eternal gratitude" to Ukraine's "sky defenders."
The Pentagon has assessed that Moscow is struggling to gain air superiority in the war against Ukraine because of Washington-supplied HIMARS (High Mobility Artillery Rocket Systems).
Ukraine's air force command said Monday that it had downed a third Russian helicopter in three days over the eastern Donetsk region.
Newsweek has reached out to Ukraine's defense ministry for comment.