Ukraine Posts Video of Russian Tank Erupting in Flames Before Explosion
The Ukrainian Armed Forces shared a video on Sunday of a Russian tank bursting into flames before it exploded.
In its Facebook post, the Ukrainian Armed Forces uploaded a video of a tank that was moving across a large field that was covered in patches of snow. The clip, which was filmed at a significant distance, shows the armored vehicle on fire as it continues across the field before coming to a halt.
Seconds later, a larger flame could be seen coming from the tank with smoke being carried over the field. The video then cuts to show the same tank exploding with a large plume of black smoke being launched into the sky.
A caption for the video, which was translated into English from Ukrainian read: "This is how Russian equipment in Ukraine becomes scrap, and the occupiers are missing. The 72nd separate mechanized brigade, named after Black Zaporozhets, knows how to do it perfectly. Let's stand and win."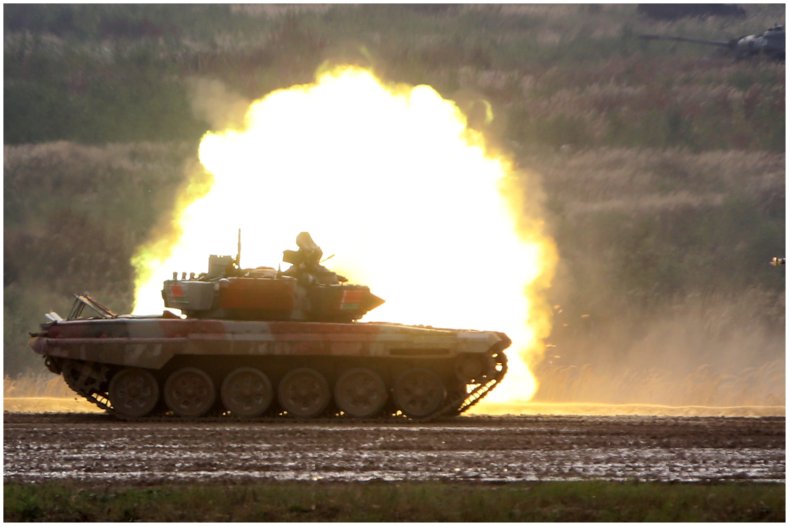 Since being shared, the video has been seen more than 25,000 times and has attracted some 2,000 likes.
Ukraine's 72nd Mechanized Brigade has been heavily involved in the war since Russia launched its invasion nearly one year ago.
According to another Facebook post, Ukraine's Armed Forces said that 3,310 Russian tanks have been destroyed by the nation's military since the start of the war. According to warfare research group Oryx, 277 Ukrainian tanks have been destroyed, although it was part of a larger total of 467 also listed as abandoned, captured, or damaged.
Newsweek has been unable to independently verify the figures presented by the Ukrainian military or Oryx.
There have been numerous examples where videos of Russian vehicles being destroyed by Ukrainian forces have been shared online.
A video shared on Twitter by Russian opposition outlet Grani.ru shows at least four Russian vehicles, namely tanks and armored personnel carriers, moving through a minefield. Additional explosions could be seen affecting two other vehicles in the video. The location of the video was listed as Donetsk in eastern Ukraine.
In the clip, military personnel could be seen leaving the vehicles before the video cut to an explosion that happened at the same time.
The International Institute for Strategic Studies (IISS), a think tank based in the United Kingdom, said in its assessment last week that 50 percent of Russia's T-72B and T-72B3M tanks as well as many of its T-80 tanks had been destroyed by Ukrainian forces.
The think tank also estimated that 1,700 Russian tanks had been lost since the war began, an estimate lower than the Ukrainians have published. However, Henry Boyd, a research fellow at IISS, said that his research does indicate the number could be larger.
Newsweek has contacted the Ukrainian Armed Forces for comment.