Ukrainian Forces Destroy Another Russian Ammo Depot
Explosions lit up the night sky as Ukrainian forces reportedly destroyed yet another Russian ammunition depot.
This fits the ongoing Ukrainian strategy of targeting Russian ammunition warehouses in recent weeks.
Their goal is to deprive the Russian forces of the valuable ordnance they need to continue to carry out their invasion.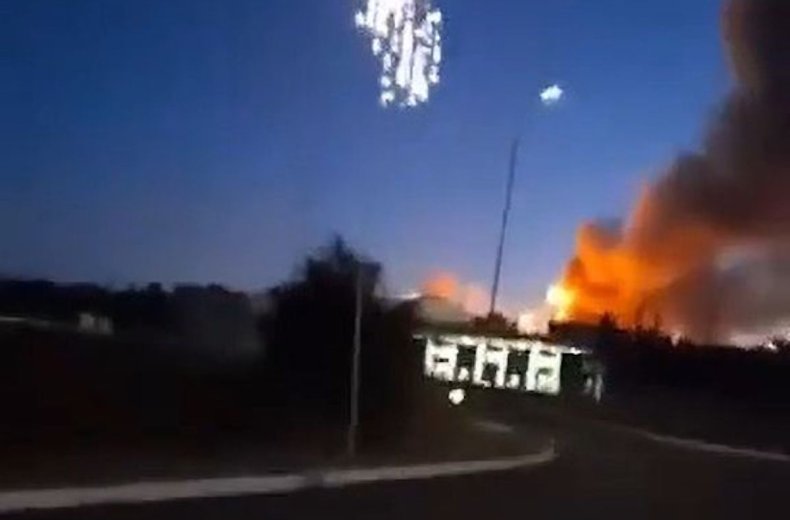 The images were obtained from the Chernihiv Regional Territorial Center for Recruitment and Social Support on Monday, along with a statement saying: "Ukrainian troops struck another blow at the warehouses of the occupiers.
"This time, enemy shells detonated in Kadiivka (Stakhanov district), which is temporarily controlled by Russian terrorists and their terrorist quasi-organization, the 'LPR' [Luhansk People's Republic]."
The images were also relayed by the Office of Strategic Communications (StratCom) of the Armed Forces of Ukraine.
Zenger News contacted the Chernihiv Regional Territorial Center for Recruitment and Social Support for further comment, as well as the Russian Ministry of Defense, but had not received a reply at the time of writing.
Russia invaded Ukraine on February 24 in what the Kremlin is calling a "special military operation." Monday marks the 145th day of the invasion.
The General Staff of the Armed Forces of Ukraine reported that between February 24 and July 18, Russia had lost about 38,450 personnel, 1,687 tanks, 3,886 armored combat vehicles, 849 artillery units, 248 multiple launch rocket systems, 113 air defense systems, 220 warplanes, 188 helicopters, 690 drones, 166 cruise missiles, 15 warships, 2,753 motor vehicles and fuel tankers, and 70 units of special equipment.
Other developments in the Russia-Ukraine war:
President Volodymyr Zelensky has dismissed Ukraine's head of the security service and its prosecutor general, saying that over 60 of their employees have been "working against" the country in territories currently occupied by Russia.
Ukrainian military officials have said that Russia is preparing the next stage of its invasion after Moscow said that its forces in Ukraine will increase military activities in "all operational areas."
Ukraine has said that Russia appears to be preparing its units for an attack on the city of Sloviansk, in the eastern region of Donetsk.
The British Ministry of Defense has said that Russia is also reinforcing its defensive military positions in areas that it currently occupies in southern Ukraine.
The British MoD has also said that Russia has used the private military company Wagner to reinforce frontline forces and to mitigate manning shortfalls and casualties. The MoD believes that Wagner has played a key role in recent fighting, including in the capture of Ukrainian cities, but they also said that this fighting has inflicted heavy casualties on the group, which has caused them to lower their recruitment standards.
The British MoD also said that the head of Wagner, Russian oligarch Yevgeny Prigozhin, has recently been made a Hero of the Russian Federation for Wagner's performance in Luhansk. The MoD said that this took place "at a time when a number of very senior Russian military commanders are being replaced" and is therefore "likely to exacerbate grievances between the military and Wagner. It is also likely to impact negatively on Russian military morale."
European Commission President Ursula von der Leyen is traveling to Azerbaijan in a bid to secure a supply of natural gas for the EU as the bloc attempts to reduce its reliance energy supplied by Russia.
The EU is also meeting to discuss increasing sanctions against Russia.
This story was provided to Newsweek by Zenger News.