Ukrainian Man Calmly Shaves Next to Unexploded Russian Rocket in Kitchen
In a video capturing how life strangely continues during war, a Ukrainian man was filmed shaving next to a Russian missile that ripped through his roof last week.
The United Nations Security Council is meeting on Tuesday after Russia's missile strike on a shopping mall in the central Ukrainian city of Kremenchuk killed at least 18 people. Ukraine's Ministry of Internal Affairs reported that 21 people are still missing as of Tuesday morning.
Ukrainian President Volodymyr Zelensky shared videos of the mall in flames and said that over 1,000 civilians were inside during the attack. The strike was condemned as a "war crime" by world leaders united against Russian president Vladimir Putin, whose isolated country just defaulted on its foreign debt for the first time since the Bolshevik revolution in 1918.
Against the backdrop of the brutal attack in Kremenchuk, Alexandr Kolomiets's video of himself shaving next to an unexploded Russian rocket has gone viral this week.
The 43-year-old gardener lives in Kharkiv, according to Caters News Agency. The northeastern city nearly fell to Russia early in the war before Ukrainian forces halted their advance and has sustained relentless shelling. In the past two weeks, Kharkiv has seen some of the heaviest bombardments since the war began, leading to fears of a renewed Russian offensive, The Guardian reported.
In a TikTok video with 1.8 million views, Kolomiets chuckled while shaving his beard before a mirror in his kitchen. He pointed to the unexploded missile that crashed through the house and landed right next to him, leaving a gaping hole in the roof.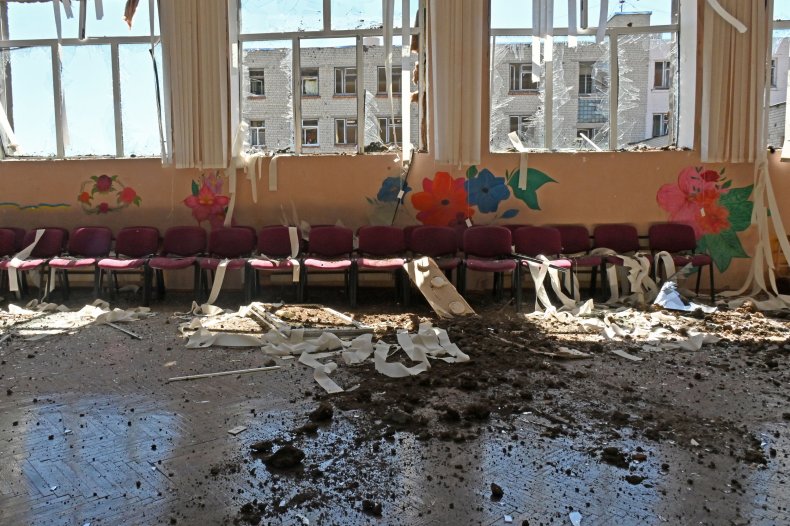 The man's blase attitude captivated viewers, who jumped to participate in his humor.
"[A]hhh new air conditioner...with free modern art...," noted one user.
"Did Putin try to [denazify] your kitchen sink?" asked another, referencing the Russian president's baseless assertion that he invaded to rid Ukraine of Nazis.
"I also hate when my razor bugs," another viewer laughed.
Kolomiets told Caters that his godfather, a military man, had sent him a similar image of a missile that struck a home at the very start of the war.
"I looked at the photo and did not believe in its plausibility, because the damage from the rocket was unrealistically clear, following the shape of the rocket, and did not cause much damage," Kolomiets said.
His own video served as an apology to his godfather for his initial disbelief, he said.
Newsweek reached out to Kolomiets for comment.