Ukrainian Troops Continue to Strike Russian Ammo Depots
Ukrainian forces continue to blow up Russian ammunition depots, with the latest one in the Kharkiv region going up in smoke, as can be seen in footage released Tuesday.
The images were obtained from the Office of Strategic Communications (StratCom) of the Armed Forces of Ukraine, along with a short statement saying: "In the Kharkiv region, another field ammunition store and personnel were destroyed."
Ukrainian forces have had considerable success in recent weeks blowing up Russian ammunition depots in a strategy that is geared toward hobbling the invader's ammunition supply chains.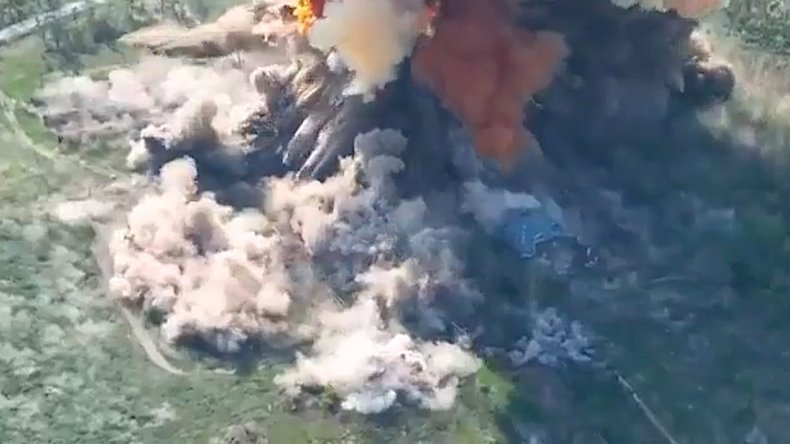 Ukraine said Monday that it has destroyed 50 Russian ammunition depots using U.S.-supplied HIMARS light multiple rocket launchers.
The Ukrainian authorities have credited the systems, which were delivered in late June, with having helped them turn the war in their favor by helping them to undermine Russian logistics and slow down the invader's offensive ability.
Zenger News contacted the StratCom of the Armed Forces of Ukraine for further comment, as well as the Russian Ministry of Defense, but had not received a reply at the time of writing.
Russia invaded Ukraine on February 24 in what the Kremlin is calling a "special military operation." Wednesday marks the 154th day of the invasion.
The General Staff of the Armed Forces of Ukraine reported that between February 24 and July 26, Russia had lost about 39,870 personnel, 1,737 tanks, 3,959 armored combat vehicles, 880 artillery units, 258 multiple launch rocket systems, 117 air defense systems, 222 warplanes, 189 helicopters, 722 drones, 174 cruise missiles, 15 warships, 2,835 motor vehicles and fuel tankers, and 75 units of special equipment.
Russia has claimed that its casualties have been much lower, but provides infrequent updates on its latest figures.
Other developments in the Russia-Ukraine war:
The Armed Forces of Ukraine have said that they have hit the Antonivskyi Bridge in the Russian-occupied region of Kherson in southern Ukraine in a bid to disrupt enemy supplies destined for the occupied city of Kherson.
Kharkiv Oblast's regional governor Oleh Syniehubov has said that Russian forces resumed strikes on civilian infrastructure in the city of Kharkiv on the morning of Tuesday.
Turkish President Recep Tayyip Erdogan will visit the Russian resort of Sochi on August 5, his office has said. It is expected that he will meet with Russian President Vladimir Putin.
Turkey's Ministry of Defense has said that a Joint Coordination Center (JCC) for Ukrainian grain exports, operating under an U.N.-brokered deal, is set to open in Istanbul. Ukraine has said that it hopes to begin exporting grain again via its ports in the coming days.
The European Union has watered down plans to ration gas in winter in a bid to avoid exacerbating the energy crisis caused by Russian supply cuts. The energy ministers of 27 EU member states, with the exception of Hungary, have backed a voluntary 15-percent reduction in gas consumption over the coming winter.
Ukraine's President Volodymyr Zelensky has accused Russia of cutting natural gas supplies to cause a "price terror" against Europe. He said: "Using Gazprom, Moscow is doing all it can to make this coming winter as harsh as possible for the European countries. Terror must be answered - impose sanctions."
This story was provided to Newsweek by Zenger News.