The Umbrella Academy creator and showrunner Steve Blackman knows how he wants the story to end, he told Newsweek.
Netflix's show about a dysfunctional family of superheroes returned on Wednesday June 22 for its third season, but Blackman is already thinking ahead to Season 4 and beyond.
He also explained that he's spoken with original comic creators Gerard Way and Gabriel Bá about his plans for the show's ending because he's keen not to "do any disservice" to their work.
'The Umbrella Academy' Creator Steve Blackman Knows How Show Will End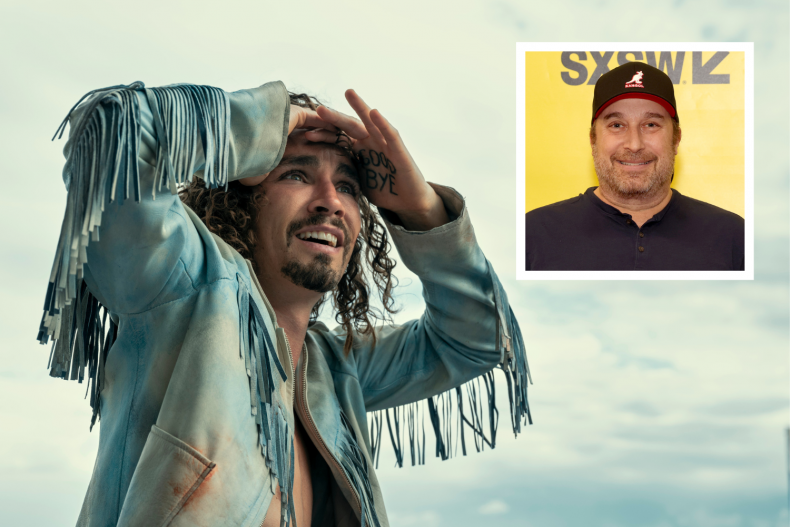 The Umbrella Academy's third season is loosely based on Way and Bá's third volume of their comic "Hotel Oblivion," which ends with the introduction of the Sparrow Academy.
In the show the superhero team—the Umbrella's replacements after they altered the timeline—are introduced from the end of Season 2, and they play a major part in the third season.
When asked if he knew where he wanted to take the story next now he's caught up to the comics, Blackman said: "I do. I do. We've deviated from the graphic novel to some degree, probably more this year than other years.
"You know, I love what Gerard and Gabriel do with "Hotel Oblivion." Some of it was hard to sort of translate financially, as well as sort of how we would turn it into storylines, but I do have a very, very good idea of what I want to do next season."
At the time he claimed that The Umbrella Academy had not been picked up for a fourth season yet, as he went on: "I'm not sure how many more seasons we have, but I do have a Season 4 that I think the fans will love and, you know, a great ending, if it is to be our last season."
Blackman did add, though, that he was keen for the show to continue and that he did "wish [to have] seven seasons" if possible.
On Working With Gerard Way and Gabriel Bá and their Helpful Advice
Blackman often speaks to Way and Bá, and he told Newsweek that he's told the pair about the ideas he has in mind for the show, and they have shared their thoughts and advice with him in turn.
"We're all very good friends and they are two of the most generous people I've ever worked with creatively," Blackman said. "You know, they very much have told me they know that the graphic novel and the TV show are not the same but, you know, we're sort of mutually helping each other, [there are] things that I think the show has done that they're putting into the graphic novel.
"Of course, I have great discussions with them about where I would like to go and make sure, you know, it doesn't do any disservice to where the graphic novel will go, and I think Gerard has many, many volumes of graphic novel comics in his head with Gabriel.
"I don't know how many years of graphic novels they are going to do, but we really do work well together and I luckily get to talk with them when I can.
"Gerard's a very busy man, he's on tour now with My Chemical Romance, a world tour. I don't remember where, he was emailing me from somewhere I think in Europe [but] we still keep up with each other.
"They're great supporters and I feel very fortunate to have people like that who kind of really are fans of myself, the cast and crew."
The Umbrella Academy Season 3 is out on Netflix now.