The Umbrella Academy Season 3 launched on Wednesday, June 22, which saw Elliot Page's character Viktor Hargreeves come out as transgender.
The actor has now spoken about his character's transition, saying he is "proud" of the storyline and the way creator and showrunner Steve Blackman approached it.
Elliot Page is 'Proud' of Umbrella Academy Season 3 and Viktor's Transition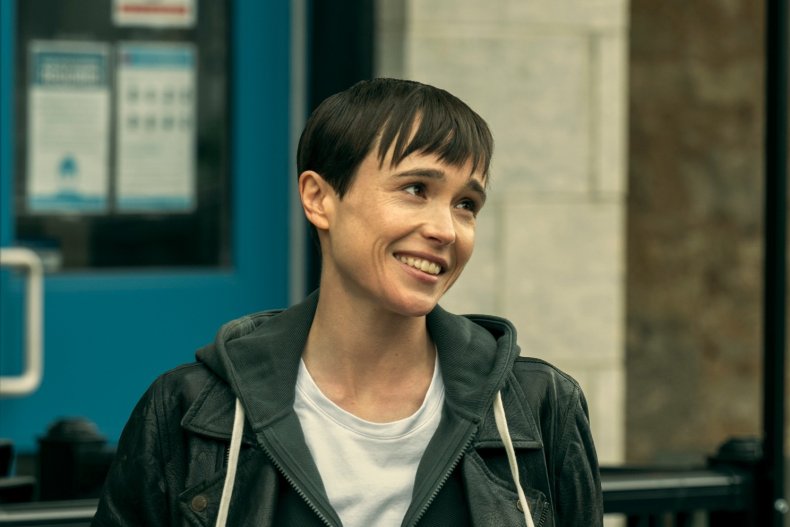 Making an appearance on Late Night with Seth Myers, Page reflected on how he spoke with the writers about the way Viktor transitioned on the show, and how his experience helped impact the story.
Page said: "Really, with Steve Blackman, the showrunner of The Umbrella [Academy], is an incredible and such a wonderful person so when we first talked about it he seemed really excited about incorporating it into the show.
"And then an incredible writer, journalist Thomas Page Mcbee, who I met working on Tales of the City, he wrote an extraordinary book called Amateur that I highly recommend for everybody to read, he was the first trans man to box in Madison Square Garden.
"His book and his work in general is so much about masculinity and what it means, and exploring that, and Thomas came on board and helped out and I feel proud of it and excited for people to see it."
Blackman previously spoke to Newsweek about working with Page and Page McBee to ensure Viktor's transition felt as "authentic" as possible, adding that he also spoke with GLAAD Vice President Nick Adams.
"I'm very proud to have a cast led by one of the most prominent trans actors of his generation, Elliot Page," Blackman told Newsweek. "It's always an honor to work alongside him to tell this story that is, to me, so relatable, and so personal to so many.
"I think the story we told was very honest, I was lucky enough to be able to consult with Nick Adams at GLAAD who helped me enlist a writer named Thomas Page Mcbee who was really my guide, [and] had a lot of expertise about the trans community and transitioning.
"And of course, I have Elliot to ensure the storyline was really authentic and the right sensitivity. It was really an incredibly collaborative process, but I think it's a very honest story and the fans will appreciate how we dealt with it."
Page publicly came out as transgender on December 1 2020, announcing that his pronouns were he and they and that his name is Elliot, that day Netflix changed his name to Elliot on the credits for The Umbrella Academy and other projects.
His co-stars and Blackman also shared support of Page on social media, as well as a number of other celebrities.
The Umbrella Academy is out now on Netflix.