David Castañeda and Justin H. Min Completely Improvised Spanish-Korean Fight
David Castañeda and Justin H. Min completely improvised the moment their characters Diego and Ben Hargreeves start arguing in Spanish and Korean in The Umbrella Academy Season 3.
The scene appears in Episode 8 of the new season, and it sees Diego and Ben break into their respective languages while arguing about what to do to stop the impending disaster caused by the Kugelblitz.
Castañeda and Min burst into laughter when the scene was brought up by Newsweek, with the pair sharing their shock over the improvised scene being kept in the show.
David Castañeda and Justin H. Min Completely Improvised Spanish-Korean Fight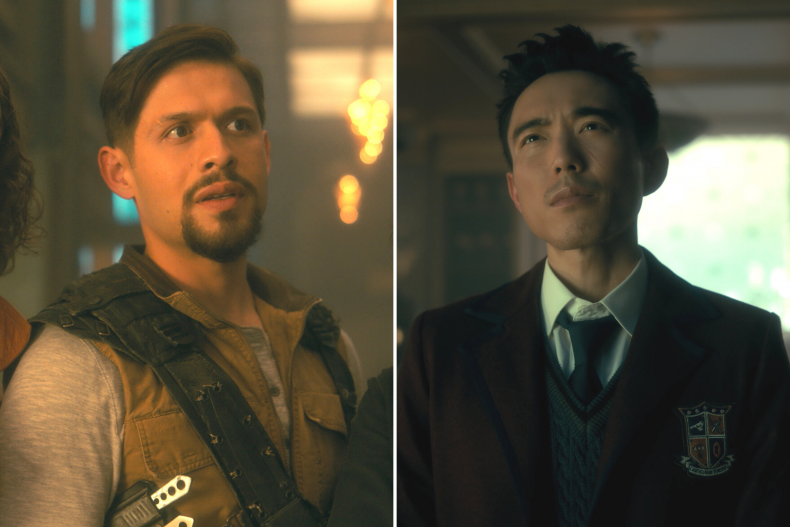 The scene was an idea that Castañeda had had while the pair were running through different versions of the scene on set, Min explained.
"It was completely improvised. That was a great suggestion of Mr. Castañeda here, we did that scene multiple times with many different improv lines, improvised lines and ad libs," he said.
"And then one of the takes, he just comes over and whispers to me, he's like, 'Hey, I'm going to start speaking Spanish, you should start speaking Korean.' I was like, 'Alright, let's do this.'"
Castañeda then added: "Yea, 'let's do it' and they kept it! I remember Justin sent me a text months later, because he went to an ADR session, and he's like, 'they freaking kept that scene!'
"We were like 'it's gonna get cut, [they'll cut] it before, you know, we start arguing' but no they kept it."
Min also added: "We were shocked. We for sure thought it would hit the [cutting room floor]."
Justin H. Min on Ben and The Sparrow Academy
Season 3 of The Umbrella Academy sees Min portray a completely new version of Ben, who he has played since the first season.
Not only is he alive, but the superhero is more argumentative and snappy with both the Umbrella Academy siblings and his brothers and sisters in The Sparrow Academy this time around.
Min admitted it was "kind of sad but fun" to play this non-ghost version of Ben because he could interact with more characters than Robert Sheehan's Klaus.
He said: "[It was] so, so nice. I've been getting to watch these incredible actors do their thing for the past few seasons, but I never got to really interact with them and so it was such a joy to be able to, like, look people in the eye for the first time and act alongside them.
"Although this time around, you know, it had to be in a more adversarial way, which is kind of sad, but it's fun, it's nice."
As well as his regular co-stars, Min was also joined by a whole new team in Season 3: Justin Cornwell, Britne Oldford, Genesis Rodriguez, Cazzie David, and Jake Epstein who are all a part of The Sparrow Academy.
Saying it was "so fun" to work with his fellow Sparrows, Min went on: "I mean, in many ways I felt like I was almost on a different show because I was playing a very different version of this character, as well as primarily shooting most of my scenes with the new cast.
"So it was a lot of fun, and I was just so thankful that we sort of had chemistry right away and we always, you know, felt like the banter was both real on and off screen just like the same with The Umbrellas.
"One of the first big scenes that we filmed was that [opening] scene. So because of that, it was a big bonding experience for all of us collectively."
The Umbrella Academy is out on Netflix now.