'The Umbrella Academy' Season 4 Will Be Show's Last—Here's What We Know
On Thursday, August 25 Netflix confirmed that The Umbrella Academy had been renewed, but that it would be coming to an end with its fourth season.
The sci-fi show is based on Gerard Way and Gabriel Bá's comic book series of the same name, and showrunner Steve Blackman will be at the helm once again.
In an announcement shared by Netflix's TUDUM, Blackman said: "I'm so excited that the incredibly loyal fans of The Umbrella Academy will be able to experience the fitting end to the Hargreeves siblings' journey we began five years ago.
"But before we get to that conclusion, we've got an amazing story ahead for season four, one that will have fans on the edge of their seats until the final minutes."
Why Is 'The Umbrella Academy' Ending After Four Seasons?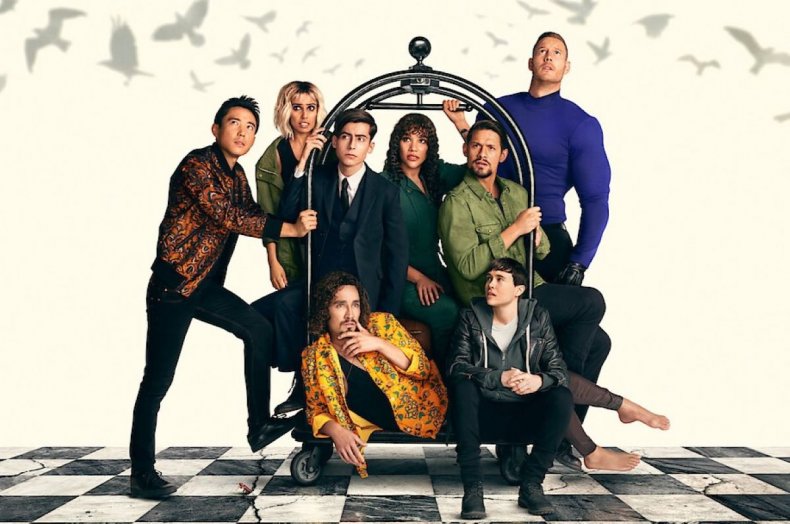 The showrunner previously told Newsweek about his plans for the show, revealing prior to Season 3's release that he already had a fitting end in mind if the show was renewed for one more season.
When asked about how the story had caught up to the comics and if he knew where he wanted to take the story next, Blackman said: "I do. I do. We've deviated from the graphic novel to some degree, probably more this year than other years.
"You know, I love what Gerard and Gabriel do with 'Hotel Oblivion.' Some of it was hard to sort of translate financially, as well as sort of how we would turn it into storylines, but I do have a very, very good idea of what I want to do next season."
At the time he claimed that The Umbrella Academy had not been picked up for a fourth season, but he went on: "I'm not sure how many more seasons we have, but I do have a Season 4 that I think the fans will love and, you know, a great ending, if it is to be our last season."
Netflix confirmed in its announcement that it had also extended its creative partnership with Blackman, and he will be showrunner for the platform's Horizon Zero Dawn adaptation and he is developing a new sci-fi show called Orbital.
What Will 'The Umbrella Academy' Season 4 Be About?
The Umbrella Academy follows a dysfunctional family of superheroes, the Hargreeves, as they try to stop the world from ending multiple times.
Season 3 saw the siblings contend with altering the future and being replaced by a new team of heroes, The Sparrow Academy, which also led to a Kugelblitz—an apocalyptic blackhole that began erasing the universe because of their actions.
In the finale, the Hargreeves were saved when the timeline was reset, though now they no longer have their powers.
Though the plot of Season 4 is well under wraps, Blackman also told Newsweek about how the events of the finale will impact the characters.
Explaining that he wanted to test the Hargreeves both emotionally and physically, Blackman explained that he "wanted to set a challenge for myself, and the writers, to find a way obviously to bring back their powers, which will be an interesting thing to do next year.
"So you know, I want to see what they're like without them. I want to see if they're truly happy or not."
Who Will Star in 'The Umbrella Academy' Season 4?
Netflix has confirmed that the show's lead cast will all return to reprise their roles for the show.
Elliot Page, Tom Hopper, David Castañeda, Emmy Raver-Lampman, Robert Sheehan, Aidan Gallagher, Justin H. Min, Colm Feore, and Ritu Arya will be back as Viktor, Luther, Diego, Alison, Klaus, Five, Ben and Reginald Hargreeves, and Lila Pitts, respectively.
The streaming platform also confirmed that the show would have additional cast members, but that these would be "announced at a later date."
The Umbrella Academy is available to stream on Netflix now.