A Nobel Peace Prize winner is calling on President Joe Biden to reverse his predecessors' nuclear buildup and give up his strategic arsenal entirely, as a landmark United Nations treaty outlawing the world's most powerful weapons of mass destruction comes into effect.
The Treaty on the Prohibition of Nuclear Weapons (TPNW) entered into effect Friday, amounting to the world's first legally binding international agreement to ban the development of nuclear weapons and seek their total elimination.
It comes into force just two days after the inauguration of a new U.S. president.
And now, Nobel Prize-winner Beatrice Fihn, executive director of the International Campaign to Abolish Nuclear Weapons (ICAN), tells Newsweek she wants Biden to join it, breaking with policies pursued by former Presidents Donald Trump and Barack Obama.
"If Joe Biden wants to secure his place in history and secure the United States' place in the future, he needs to reverse course not just of Trump, but also of Obama and stop developing new nuclear weapons at a cost of $1.7 trillion," Fihn said.
Fihn accepted the Nobel Peace Prize in 2017 on behalf of ICAN, which played a crucial role in the U.N. adopting the TPNW that same year. Also in 2017, Trump came to office with an avowed affinity for the very weapons that ICAN sought to ban.
Trump would go on not only to expand and modernize the U.S. nuclear weapons program but also to pull the country out of milestone treaties with Russia. That left the top two world nuclear powers with only one remaining non-proliferation agreement: the New Strategic Arms Reduction Treaty (New START).
Despite Moscow's offers to immediately extend the deal, the Trump administration sought added conditions that brought the two to a stalemate that threatened the pact's collapse on Feb. 5.
On his first full day in office, Biden announced he would seek to quickly and unconditionally renew New START, a move welcomed by the Kremlin and anti-nuclear weapons activists.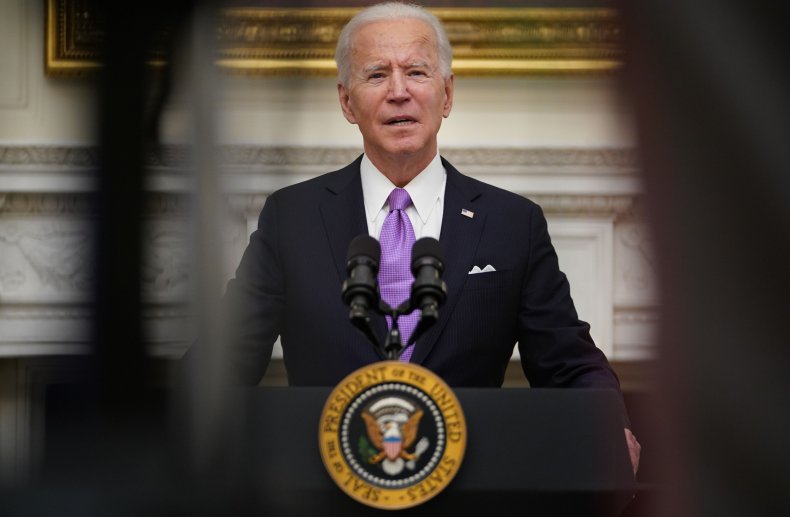 Biden has drawn acclaim from a number of arms control advocates for his historic efforts to limit the development of nuclear weapons. The Council for a Livable World, which says on its website that it is an " advocacy organization dedicated to eliminating the U.S. arsenal of nuclear weapons," was the first national organization to endorse Biden when he first ran for Senate in 1972.
In 2020, the leading disarmament think tank broke with their tradition of not endorsing presidential candidates by supporting his 2020 run for president. Biden's official policy sheet says he seeks to limit the role of nuclear weapons.
"President Biden would take other steps to demonstrate our commitment to reducing the role of nuclear weapons," the policy reads. "As he said in 2017, Biden believes the sole purpose of the U.S. nuclear arsenal should be deterring—and if necessary, retaliating against—a nuclear attack. As president, he will work to put that belief into practice, in consultation with our allies and military."
On Friday, Biden appointed Alexandra Bell, the Obama-era senior advisor to the State Department Under Secretary of State for Arms Control and International Security, as deputy assistant secretary to the office. Last May, Bell acknowledged the lasting significance of the TPNW in a tweet, writing: "TPNW is here to stay. Time to find common ground."
But Fihn said she wants the Biden administration to go further, and sign the TPNW.
"A plan to limit nuclear weapons is not enough," Fihn told Newsweek. "It's time for a commitment to complete abolition rooted in international law with the Treaty on the Prohibition of Nuclear Weapons. That is the leadership needed from the U.S."
She cited support from a top official of former President Bill Clinton's administration in her call for the U.S. to join the U.N. pact.
"Former U.S. Secretary of Defense William Perry has called on the United States to join the TPNW, to be the first nuclear-armed state to do so, and we fully agree," Fihn said.
The nine world nuclear powers are Russia, the U.S., France, China, the United Kingdom, Pakistan, India, North Korea and Israel (although Israel will neither confirm nor deny its widely-suspected arsenal). So far none has signed the TPNW that would commit them to extra measures toward forfeiting their nuclear weapons, a goal already envisioned in the Non-Proliferation Treaty (NPT) signed by Moscow, Washington, Paris, Beijing and London.
The Russian Foreign Ministry was quick to express its disapproval of the TPNW.
"We respect the views of those who support an early renunciation of nuclear weapons," Russian Foreign Ministry spokesperson Maria Zakharova told reporters Thursday. "However, we do not share approaches to achieving this goal that presuppose the artificial acceleration of the nuclear disarmament process. This treaty is incapable of contributing to the process of limiting and reducing nuclear arms."
China too defended its outlook on nuclear capabilities, with Foreign Ministry spokesperson Hua Chunying calling Beijing "an advocate for the comprehensive prohibition and complete elimination of nuclear weapons." She also made clear that China had no intention of signing the TPNW.
"It is China's view that nuclear disarmament cannot lose sight of the reality of the international security landscape," Hua said. "Progress should be sought step by step under the principle of maintaining global strategic stability and undiminished security for all. The process must be consensus-based and stay within the framework of the existing international disarmament and non-proliferation regime."
The TPNW, Hua argued, "runs counter to the above-mentioned principle and is detrimental to the international disarmament and non-proliferation regime with the NPT as a cornerstone."
France emphasized its commitment to the NPT, a treaty that a Foreign Ministry spokesperson argued the TPNW "undermines."
"It will not contribute to reducing growing tensions or effectively address the proliferation of weapons of mass destruction that characterize it," the spokesperson said of the TPNW. "This treaty will not make it possible to eliminate any nuclear weapons."
India also dismissed the TPNW as unhelpful.
But Fihn disagrees.
She sees the TPNW as a game-changer for the seven-decade international movement to eliminate nuclear weapons. She gives credit to the hibakusha, the survivors of the U.S. atomic attacks on Hiroshima and Nagasaki that introduced the world to such weapons of mass destruction, and touts Friday's accomplishment as historic.
"This treaty is the first to achieve entry-into-force that bans the most destructive weapons in human history; outlaws nuclear testing; prohibits all efforts to develop nuclear weapons or in any way support them," Fihn told Newsweek. "It does not just ban the weapons, but outlaws the entire nuclear weapons structure — drastically changing the state of play on nuclear weapons abolition."
She called nuclear weapons "immoral, illegal and tremendously unpopular," and offered new data to support her argument.
A poll published Friday by the YouGov research firm showed that support for banning nuclear weapons among the populations of six members of the U.S.-led NATO Western military alliance, Belgium, Denmark, Iceland, Italy, the Netherlands and Spain ranged between 77% and 89%.
Additionally, majorities living in countries hosting nuclear weapons wanted them out, according to the survey. This included 74% of Italians, 58% of Dutch, 57% of Belgians and 83% of Germans. More than half the survey respondents in Belgium, Italy and the Netherlands also didn't want nuclear-capable jets, and at least three-quarters polled in those countries didn't even know about them.
With these figures in mind, Fihn argued that "opposition to this treaty is politically untenable."
"Change is coming," she told Newsweek, "and it is coming faster than most expect as the treaty forces research universities, financial institutions and weapons producers to support our mission or find themselves outside international law and facing legal, financial and political risk."