'Hamilton' Fans Mobilize to Stop Texas Church's 'Unauthorized' Performance
What's the story of tonight? Do not mess with Hamilton fans.
The Door Christian Fellowship Ministries of McAllen, Texas, is under fire for not only performing Hamilton without acquiring the rights but also for reportedly changing the text, including tacking on religious messaging and concluding with a sermon that espoused allegedly homophobic views.
Writer Hemant Mehta documented some of the church's changed lyrics on Twitter. One is from the song "That Would Be Enough" in which the original lyrics were changed from "But I'm not afraid/I know who I married/So long as you come home at the end of the day/That would be enough" to "But I'm not afraid/I know who I married/My hope is in Jesus/If you could just give him a chance/That would be enough."
Another lyric, from "Who Lives, Who Dies, Who Tells Your Story" was allegedly changed from "I help to raise hundreds of children. I get to see them growing up" to "I introduce hundreds of children to Jesus as they're growing up."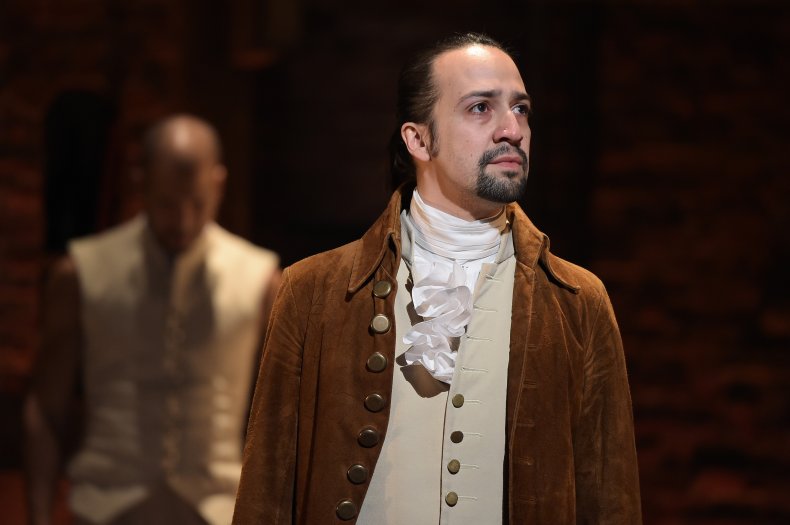 In addition, after the Friday, August 5, performance of the show, as produced by Door Christian Fellowship Ministries and RGV Productions, a pastor delivered a sermon in which he said, in part, "I don't know what you're going through," mentioning alcohol, drugs and homosexuality, then adding, "God can help you."
In a statement to Newsweek, a spokesperson for Hamilton said, "Hamilton does not grant amateur or professional licenses for any stage productions and did not grant one to The Door Church. On Saturday, August 6, we were made aware of the unauthorized staging of HAMILTON by The Door Church in McAllen, TX that took place on Friday, August 5, and their plans for additional performances. We issued a cease and desist letter for the unauthorized use of Hamilton's intellectual property, demanding the immediate removal of all videos and images from previous productions from the internet, including YouTube, TikTok, Facebook, Instagram, their own website, and elsewhere."
The statement concluded, "We would like to thank our devoted fans for bringing this to our attention."
The critically acclaimed Tony-winning show, which debuted on Broadway in 2015 with lyrics, book and music by Lin-Manuel Miranda, is widely considered to be a reclaiming of American history, reframing the story of Alexander Hamilton and the Founding Fathers with a mostly BIPOC cast, and hip-hop, jazz and other deliberately anachronistic genres of music.
Howard Sherman, an arts administrator, writer and advocate who wrote the 2021 book Another Day's Begun: Thornton Wilder's Our Town in the 21st Century, explained how the Texas production could have happened.
"There seem to be in some quarters a lack of understanding or respect for copyright," he told Newsweek. "That can be simply performing shows without the rights or adding or subtracting from the text."
Even when someone has the rights to perform a piece of theater, which Door Christian Fellowship did not have in this case, "the rights are a license to perform a work as written...not the rights to deface it," said Sherman.
Sherman added, "Some people will say, 'It's just a school [or church], why does it matter?' Schools should not be undertaking to advocate for what is illegal. But the laws that protect filmmakers and Broadway productions are the same laws that protect brand-new writers. This is about making sure that creative artists have a right to make a living. It's identical. They need their rights protected."
Reached by phone, an unnamed party at the Door Christian Fellowship McAllen Church told Newsweek, "We are not able to give a statement at this time."