Andrew Garfield Met Real Mormon Detective for 'Under the Banner of Heaven'
Andrew Garfield's Under the Banner of Heaven character was inspired by an "insightful" interaction he had with a real Mormon detective who had experienced a similar case, the actor told Newsweek.
Garfield portrays fictional detective Jeb Pyre in the FX true-crime drama, which recounts the 1984 murder of Brenda Wright Lafferty (Daisy Edgar-Jones) and her 15-month-old daughter Erica.
As he digs deeper into the horrific murder, and the connection it has to the Church of Jesus Christ of Latter-day Saints (LDS), he begins to struggle with his faith—something Garfield's source had also experienced.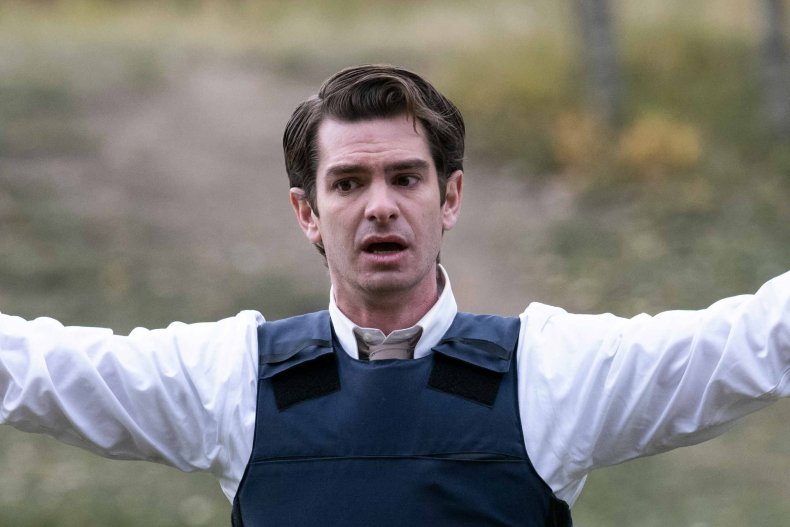 Andrew Garfield on His 'Insightful' Interaction With a Mormon Detective
The detective wished to remain anonymous, which show creator Dustin Lance Black also confirmed to Newsweek, but he proved to be an indispensable source for the actor.
"I managed to speak to someone in Utah who had been through something similar," Garfield said.
"He talked to me under anonymity, but he was a detective that was Mormon and that was on a case that really tested his faith. A horrific case that had connections to the early days of Mormonism, and he gave me lots of insight."
"His experience of struggling with his own faith while he was working on this particular case was kind of the thing that put the flesh on the bone for me, in terms of making Jeb feel as if he was a real human being going through something that human beings go through.
"That was an incredibly insightful relationship that I managed to develop with this person."
How 'Under the Banner of Heaven' Was a Perfect Project to Take After 'tick, tick...BOOM!'
The tick, tick...BOOM! star added that he wanted to be a part of the gritty true-crime drama because it was the furthest thing from the musical he could find.
Garfield explained: "For me, I really wanted to be a part of telling the story, being a part of this ensemble, I love the book, I love Dustin Lance Black, I love this cast of actors and for me...the attraction of playing the part was I've never done anything like it before.
"Recently I've been doing much more physically expressive, emotionally expressive, more theatrical characters, wearing their hearts on their sleeves," he explained.
"There was something exciting for me about being a more stoic internal [character], a Mormon detective doesn't get further away from a musical theatre, flamboyant writer.
"That was an exciting muscle for me to work and see if I could express a lot without expressing very much, and the struggle that he goes through is fascinating, it's extreme."
Of Pyre's internal struggle to keep his faith, he added: "How can you be a man of integrity when, if you're a man of integrity and you go off to find the truth, then it's possible you're going to lose everything that you hold dear?
"How do you be that self-sacrificial, how do you lose all of your personal needs in order to serve something greater?
"That tension that causes the kind of almost nervous breakdown the Jeb goes through is really, really interesting to me."
Under the Banner of Heaven airs Thursdays on Hulu.