Amid partisan arguments over how much federal aid should be approved to help ease the financial crisis caused by the coronavirus pandemic, the U.S. national debt has increased by $6.6 trillion under President Donald Trump.
When Trump took office in January 2017, the debt was at $19.9 trillion. As of July 27, according to the most recently available data, that number has grown to $26.5 trillion, Treasury Direct, a division of the Treasury Department, said.
The swelling debt is at odds with promises Trump made before he was elected president. Trump told Washington Post reporters during an April 2016 interview that he would eliminate the nation's debt, which was over $19 trillion, "over a period of eight years."
Trump added that he would cut taxes, "renegotiate trade deals and renegotiate military deals" in his first 100 days in office.
But estimates say the Trump administration will spend $936 billion on its defense budget for the 2020 fiscal year—nearly $100 billion more than the record-breaking defense budget in 2012. And Trump did cut taxes in December 2017 in hopes that the government would recoup its revenue losses in the long term by boosting economic growth, but evidence shows this is unlikely.
Newsweek contacted the White House for comment but did not hear back in time for publication.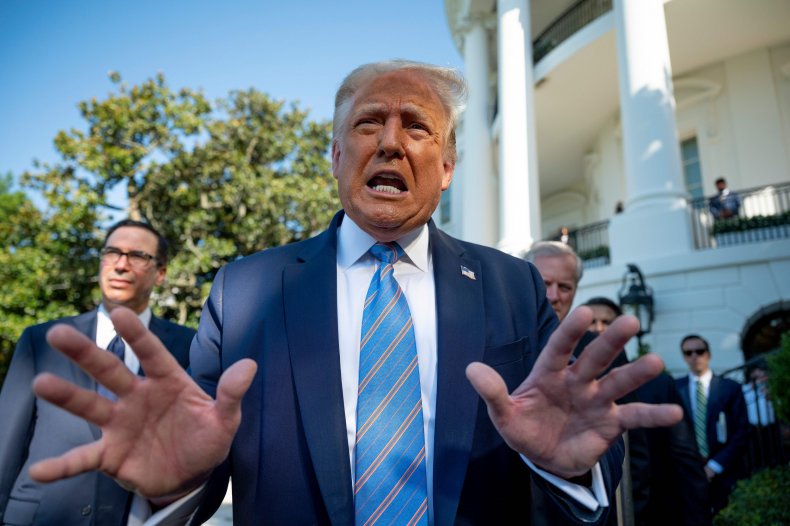 The Congressional Budget Office (CBO) has predicted the national deficit will hit a record-breaking $3.7 trillion for just this federal fiscal year, but the approval of a second economic relief package could raise that amount even higher.
In its projection, the CBO cited the worldwide economic recession caused by the pandemic, which has led to a decrease in the nation's gross domestic product (GDP) and Treasury security interest rates, along with an increase in unemployment numbers.
The economic fallout from the pandemic has already cost the federal government an estimated $1.76 trillion, after Trump signed the Coronavirus Aid, Relief and Economic Security (CARES) Act in late March. That legislative package has provided financial assistance to American families, the unemployed and eligible businesses.
Many CARES Act measures have already expired or are set to expire this week, adding to the pressure on federal lawmakers to pass new relief legislation.
The Democratic-controlled House approved a second package in late May, titled the Health and Economic Recovery Omnibus Emergency Solutions (HEROES) Act. The $3 trillion bill contains unemployment and state aid but has faced opposition from Senate Republicans.
Senate Majority Leader Mitch McConnell announced on Monday the Republicans' proposed relief package, the Health, Economic Assistance, Liability Protection and Schools (HEALS) Act, but the $1 trillion bill has already received significant criticism from both Republicans and Democrats.
While lawmakers across party lines generally agree that another federal package is necessary during the pandemic, there is much disagreement over how much money should be spent.
Before McConnell could officially announce the legislation, Senator Lindsey Graham suggested that half of Republican lawmakers would vote against it. Senator Ted Cruz said Monday that there was "significant resistance" within his party to adding another trillion dollars in federal spending.
"I think it's likely that you'll see a number of Republicans in opposition to this bill and expressing serious concerns," Cruz told CNN.
Democratic lawmakers, on the other hand, have dismissed the HEALS Act as a "pathetic" nonstarter, criticizing Republicans for arguing over whether to extend the extra $600 provided to unemployed Americans each week in federal aid.
"Why are you quibbling over $600 when people need that to buy food, pay their rent?" House Speaker Nancy Pelosi asked Monday during an MSNBC interview. She pointed out that this money would be reinjected into the economy.