Japan's Super Nintendo World Is Getting a New 'Donkey Kong' Area
An entire land devoted to Donkey Kong and his extended family is coming to Super Nintendo World in Japan.
Super Nintendo World is an exclusive area within the Universal Studios theme park in the city of Osaka. Much like the Wizarding World locations found at the Orlando or Hollywood parks, it is included in the price of your admission ticket to Universal Studios itself, but you are not necessarily guaranteed entry if there are capacity issues.
The themed land opened in March 2021, where it debuted with two major rides. The headline attraction is Mario Kart: Koopa's Challenge, which is an interactive dark ride with augmented reality components. Then, there is also Yoshi's Adventure, an omnimover ride in a similar vein to The Haunted Mansion or Spaceship Earth over at Epcot, at Walt Disney World in Florida.
In addition to these rides, there are obviously multiple shops, photo opportunities, character meet-and-greets, and dinning venues (serving plenty of Mushroom dishes that tie in with the Mario theme) to visit.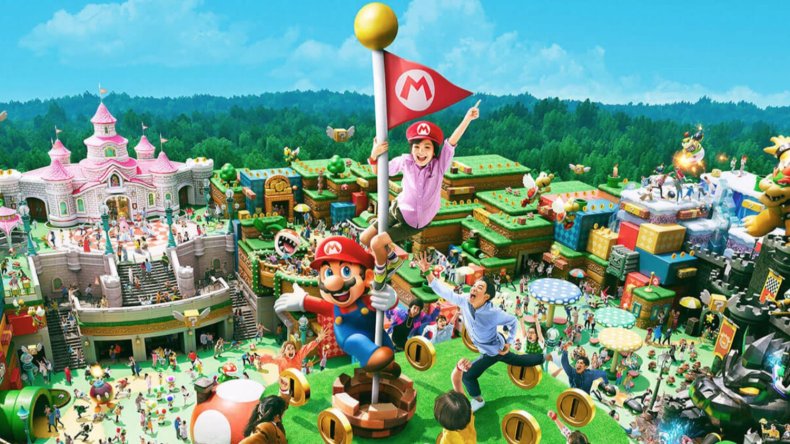 'Donkey Kong' Land Announced for Super Nintendo World
Upon opening, the vast majority of Super Nintendo World was dedicated to the Mario universe. You enter the area through a green warp pipe, you can explore Princess Peach's castle, and most of the merchandise is themed exclusively around the Italian plumber and his friends.
The narrow focus on Mario is quite strange, especially when you consider that Nintendo has countless properties that would be perfect for amusement park attractions, like Pokemon, The Legend of Zelda and Animal Crossing.
To help inject a little more variety into the park, Universal is now expanding the area with a new Donkey Kong land that will sit adjacent to the Mushroom Kingdom. According to the official Nintendo press release, this will increase the overall size of Super Nintendo World by approximately 70 percent.
The announcement explains that Donkey Kong land will be home to a brand new rollercoaster (presumably based on the mine cart sections from the Donkey Kong Country games), as well as an assortment of "interactive experiences" and, of course, original merchandise and food.
You can see concept art for the layout of the land in the image below.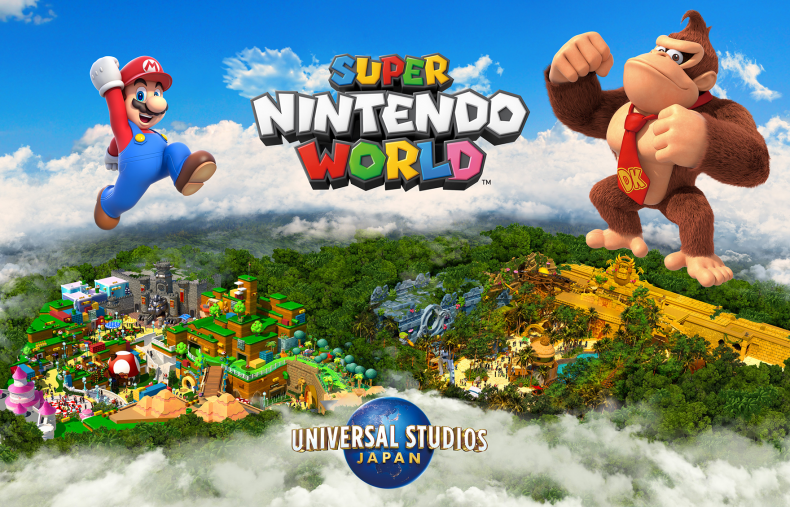 When Will the 'Donkey Kong' Land Open at Super Nintendo World?
After breaking ground earlier this summer, the new area (which will be modeled after Donkey Kong's jungle home) is set to open in 2024.
Of course, these ambitious theme park projects do not always proceed according to schedule, as evidenced by the Space 220 restaurant, which only just opened at Walt Disney World despite originally being slated for fall 2019.
In the aforementioned press release, Shigeru Miyamoto, the original creator of both Mario and Donkey Kong, is quoted as saying: "I am very happy to be able to make the world of Donkey Kong a reality following the world of Mario.
"I am looking forward to creating a thrilling Donkey Kong experience with the amazing team at Universal. It will take some time until it is completed, but it will be a unique area for not only people who are familiar with Donkey Kong games, but for all guests."
A version of Super Nintendo World is expected to be coming to the U.S. when the Epic Universe park opens in Orlando. This was originally scheduled for 2023 but has been delayed owing to the impact of the coronavirus pandemic, so you might need to wait a little longer to ride that Donkey Kong coaster if you are hoping to do it in America.
In related Nintendo news, a Super Mario animated movie is currently in production. More information about this—including its English-language voice cast and North American release date—was recently unveiled.