These 8 Universities Are Mandating Vaccines for In-Person Teaching
At least eight universities across the U.S. have mandated coronavirus vaccines for students and staff returning to campus.
Most colleges and universities nationwide closed their campuses in March last year when the COVID-19 pandemic hit the country.
They reopened to students for the fall 2020 semester with a raft of safety measures and a hybrid of online and in-person learning. However, people gathering on campus to attend classes, as well as parties and dorm living, sparked widespread outbreaks within weeks.
Now universities are looking for ways to avoid a repeat of the fall outbreaks by introducing stringent new measures.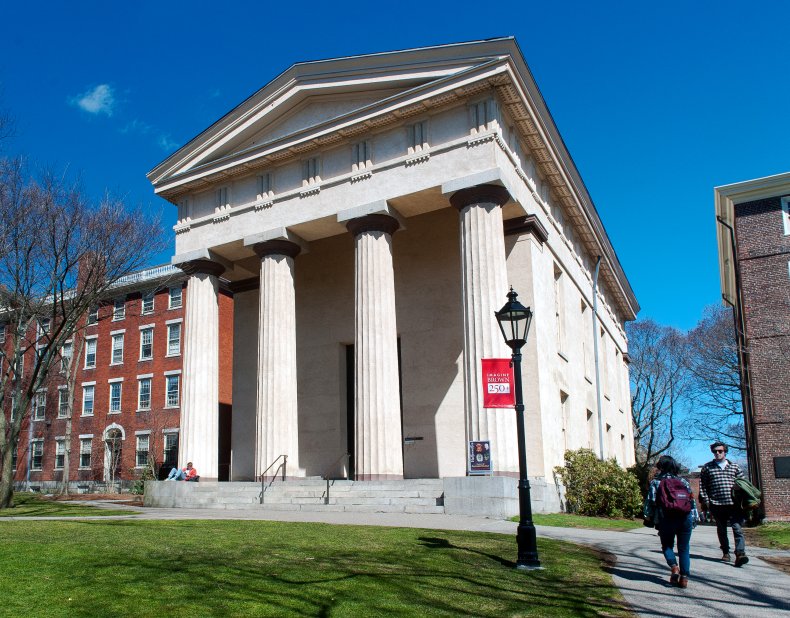 Colleges like Brown, Cornell and Rutger have announced they require students to receive the jab before returning to campus in an effort to stop coronavirus transmission.
More universities could follow suit. However, the idea of "vaccine passports"—proof of receiving the COVID-19 vaccine—has received intense criticism from Republicans over privacy fears.
While President Joe Biden's administration has provided guidance on vaccine passports for private sector businesses, he said there will not be a federally mandated, universal vaccine credential, nor a federal database for storing citizens' vaccination information.
Here we take a look at eight universities that have announced a vaccine requirement for returning to campuses and what they have said.
Brown
Brown University in Providence, Rhode Island, has announced plans to require students to have received a vaccine to go on campus when it reopens in the fall semester.
Brown University President Christina Paxson revealed the new policy in a letter to students on Tuesday, saying: "We have every reason to expect that Fall 2021 at Brown will look and feel much more like Fall 2019 than Fall 2020."
She said the plans are based on the quick rollout of vaccines nationwide, with the expectation that most of the university community will have received jabs by the end of summer.
Paxson wrote: "Starting in the Fall 2021 semester, Brown will require COVID-19 vaccines for all undergraduate, graduate and medical students who will be on campus or engage in any level of in-person instruction."
She added that those with medical or religious exemptions from vaccines will be granted and "reasonable accommodations" will be provided.
Students who do not get vaccinated and do not qualify for an exemption will not be allowed on campus, meaning they will have to petition to study remotely or "take a leave of absence."
Cornell
Cornell University in New York has announced plans to require vaccines for all students, faculty and staff attending the campus in the fall semester.
University president Martha Pollack and provost Michael Kotlikoff wrote a statement online saying Cornell "intends to require" students to be vaccinated.
They wrote: "Cornell intends to require vaccination for students returning to Ithaca, Geneva, and Cornell Tech campuses for the fall semester."
Cornell will also accommodate medical or religious exemptions, they added.
For those who haven't been able to obtain a vaccination before the semester starts, the university says they will need to get the jab as soon as possible after their arrival. "Cornell is investigating ways to facilitate this process," Pollack and Kotlikoff added.
The Cornell community will be able to register their vaccination status through a COVID-19 proof-of-vaccination tool online.
"Beginning April 15, such registration will be required of all Cornell students, faculty, and staff once they have completed the dose schedule for their vaccination," the university said.
"Once we have better data about the degree of community protection that has been achieved, we will offer additional details regarding full campus reactivation in a safe and responsible manner."
Fort Lewis College
Fort Lewis College in Colorado also revealed that its students will need to be vaccinated against coronavirus before enrolling in the fall semester.
President Tom Stritikus wrote in a letter on Friday: "A broadly vaccinated student body provides our best hope for returning to the hands-on, inclusive, experiential, and personalized learning environment that we have all come to love. As such, all students enrolling at FLC for the Fall 2021 semester will be required to get a COVID-19 vaccine."
Explaining the reasons for the new policy, Stritikus said the university has a large population of Native and other students of color and the vaccine will protect not only the students but the communities they come from.
He also said the university has "every reason to believe" students will be able to get a vaccine in time, but if not the university will "host a COVID-19 vaccination clinic on campus the week prior to the start of the Fall 2021 term."
Fort Lewis did not make it clear if staff and faculty are included in the mandate.
Northeastern University
Northeastern University in Boston announced on Tuesday that students attending in-person classes on campus in the fall will need to be "fully vaccinated."
A news story published on the university website last month said: "All students returning to Northeastern University's campuses for the Fall 2021 term will be expected to be fully vaccinated against COVID-19 by the first day of classes, university officials said today. "
Students will be "expected to arrive on campus in September fully vaccinated unless they have a medical or religious exemption," it added.
Ken Henderson, chancellor and senior vice president for learning at Northeastern, said: "We expect to be back fully in-person at regular occupancy, including fully in-person teaching, and normal occupancy in residence halls and dining facilities."
The university did not make it clear whether there is a similar policy in place for staff and faculty.
Nova Southeastern University
Nova Southeastern University in Florida announced that it requires students, faculty and staff to be "fully vaccinated" by August 1—or July 1 for some health profession division programs.
In a statement posted to its website on April 2, the university said it will produce a "formal policy" on limited exemptions for medical conditions or religious beliefs.
George Hanbury, NSU's president and CEO, said: "We have been through a lot together, and I personally look forward to welcoming everyone back to face-to-face classes and activities on our campuses again this fall."
Oakland University
Oakland University in Detroit is mandating coronavirus vaccines, but only for students who live on campus.
School officials said last week that those living in "residence halls, apartments and cottages must be vaccinated prior to fall move-in on Friday, August 27."
"Exceptions will be made for students who seek a religious or medical exemption," it added.
Rutgers
Last month, Rutgers University became the first large U.S. college to announce its vaccines policy for all on-campus students before the fall semester.
In a statement posted online, the university also said: "We continue to strongly urge all Rutgers faculty and staff to get immunized against COVID-19 at the earliest opportunity."
Rutgers said that medical and religious exemptions will be allowed. It also said that students will be required to provide proof of vaccination.
The university said that the state has approved on-campus vaccine clinics for faculty, staff and students, but vaccine supplies have not yet become available. Students must therefore register with the State to get a vaccine as soon as possible, it added.
St Edward's University
At the end of last month, St. Edward's University in Texas said it would require all students and faculty over the age of 16 to be "fully vaccinated" before September 1.
In a statement, the university said: "An individual being fully vaccinated under this policy is defined as receiving all required doses of an FDA (or like non-U.S. entity) approved SARS-COV-2 (COVID-19) vaccination."
The university said that those with certain medical conditions or religious beliefs will be exempt from this requirement.