U.S. Carrier Watched by China Will Maintain 'Warfighting Prowess': Captain
The captain of a U.S. Navy aircraft carrier ordered to monitor China's military activities around Taiwan says the warship will maintain the necessary readiness to win a fight.
"Everything that we do onboard 'Warship 76' is oriented towards the common understanding that not only must we sustain our combat readiness in order to prevail in conflict, but that we also have a responsibility to maintain such a consistently high level of warfighting prowess that those who would otherwise threaten peace in our region understand without any ambiguity that today is not the day they dare pick a fight," said Captain Fred Goldhammer, commanding officer of USS Ronald Reagan, also known as CVN-76.
The Japan-based Seventh Fleet released Goldhammer's statement over the weekend as the Nimitz-class supercarrier continued training exercises in the waters east of Taiwan. Kurt Campbell, the White House's top Asia policy adviser, told reporters last Friday that President Joe Biden had directed the ship to "stay on station" in the Western Pacific as Chinese forces conducted a quasi-blockade of Taiwan and launched ballistic missiles over the island earlier this month.
Beijing's moves, which Campbell called "provocative activities," included the deployment of dozens of fighter aircraft and naval vessels into the airspace and seas around Taiwan, in a dramatic response to House Speaker Nancy Pelosi's high-profile visit to Taipei earlier this month.
Campbell said the U.S. would "ensure that our presence, posture and exercises account for China's more provocative and destabilizing behavior, with a view towards guiding the situation in the Western Pacific towards greater stability."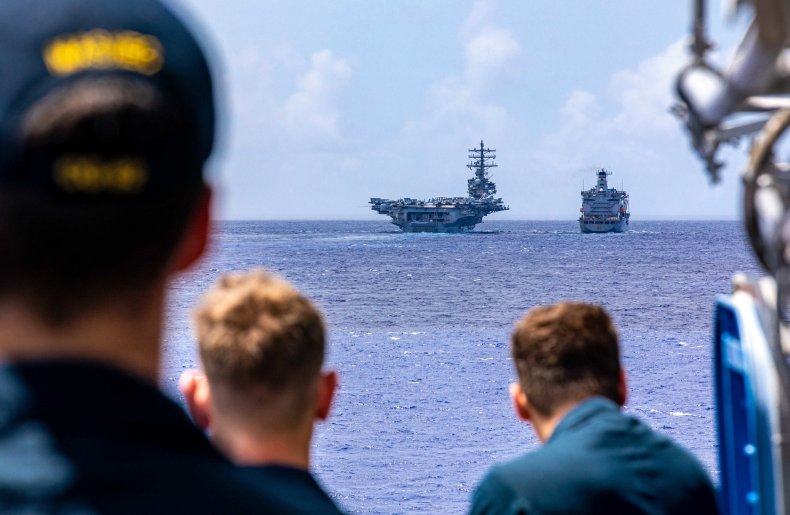 Throughout Pelosi's trip across Asia with other Democratic lawmakers, the Ronald Reagan's movements were of particular interest to members of China's war studies community. The ship's proximity to Taiwan, rightly or wrongly, was interpreted as a sign of American resolve now and in the future.
On Weibo, China's main social media website, topics about USS Ronald Reagan trended with millions of interactions as Pelosi's plane approached, landed and then departed Taipei in the first week of August. When Beijing extended its military drills around Taiwan on August 9, a popular hashtag read: "U.S. Military Aircraft Carrier Ronald Reagan U-Turns Again."
The hashtag, created by a Peking University think tank about the warship's movements near its home port in Japan, has been read 370 million times on Weibo and continues to gain over 1.5 million views a day. Among Chinese discussants, the Ronald Reagan's apparent reluctance to approach Taiwan was viewed as significant.
In an article published in the state-owned Global Times on Saturday, Li Yihu, dean of Peking University's Taiwan Research Institute, described the United States as "a paper tiger" that, given China's military advantage around the Taiwan Strait, would not sacrifice American lives to defend Taiwan.
The Ronald Reagan "left after Pelosi departed Taiwan, which also is a forecast of the future," the article quoted Li as saying.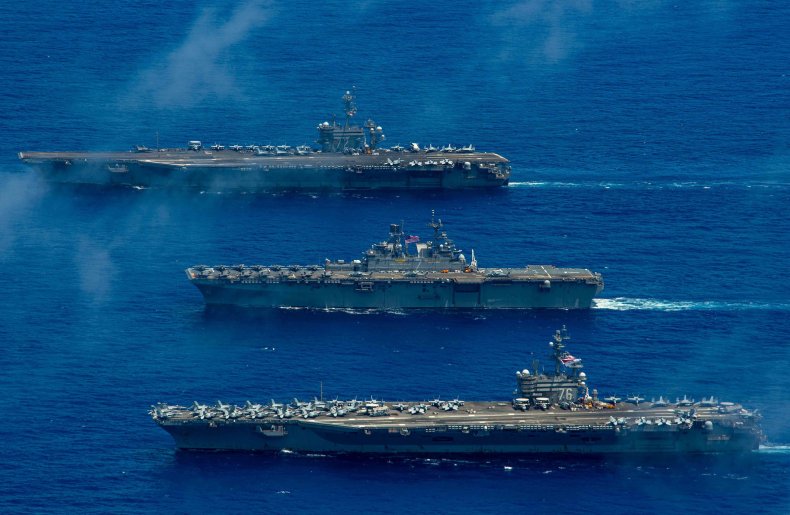 Bonnie Glaser, director of the Asia Program at the Washington-based Germany Marshall Fund, tweeted in response to the comments: "China may misjudge U.S. will to defend Taiwan."
To be sure, the U.S. remains purposely ambiguous about its intention to intervene in a crisis in the Taiwan Strait, despite comments by President Biden suggesting otherwise. But a conviction in China that the U.S. wouldn't assist Taiwan may lead Beijing to miscalculate and take risks with potentially catastrophic results, observers warn.
Rear Admiral Michael Donnelly, who commands the naval and aviation units of Carrier Strike Group 5, of which the Ronald Reagan is the flagship, was quoted as saying in the Seventh Fleet's press release: "Whether there is an increase, or an increased perception, of activity by belligerent or coercive nations in the region, the mission of the United States Navy has not changed, nor has our posture or presence here in the Indo-Pacific."
At last week's press briefing, Campbell said American warships and aircraft would continue "conducting standard air and maritime transits through the Taiwan Strait in the next few weeks."
"We'll continue to fly, sail and operate where international law allows," he said.