U.S., Australia, India and Japan Begin Joint Navy Drills, China Defends Air and Sea Claims Ahead of Election
The United States has partnered with fellow Quadrilateral Security Dialogue states for their first Malabar joint naval drills together as China defended disputed air and sea claims in the Asia-Pacific region—all while a presidential election looms over Washington.
The U.S. Navy Seventh Fleet's Arleigh Burke-class guided-missile destroyer USS John S. McCain jointed warships from Australia, India and Japan to begin the exercises in the Bay of Bengal on Tuesday. Navy Captain Steven DeMoss, commodore of Destroyer Squadron Fifteen, called the three nations "the core of our strategic partners across the Indo-Pacific" in a press statement.
"It is fitting to see our Navies operate in a high end, tactically relevant exercise like Malabar," he added. "It is another opportunity to further strengthen our combined capabilities and enhance our partnerships."
USS John McCain Commander Ryan T. Easterday said that "Malabar provides an opportunity for like-minded navies, sharing a common vision of a more stable, open, and prosperous Indo-Pacific, to operate and train alongside one another," emphasizing that "a collaborative approach toward regional security and stability is important now more than ever, to deter all who challenge a free and open Indo-Pacific."
And while no challenging nations were mentioned by name, the training is widely seen as sending a message to China—with which all four participating countries have been recently locked in tensions, as President Donald Trump called on the international community to rethink their relations with Washington's top strategic competitor Beijing.
As Trump prepared to face off at the ballot with Democratic candidate Joe Biden, Chinese Foreign Ministry spokesperson Wang Wenbin told a regular press conference that his country hoped the Malabar maneuvers could be used for the good of the region, and not to further stir divisions.
"We hope the relevant countries' military exercise could be conducive to regional peace and stability, instead of working in the opposite way," Wang said.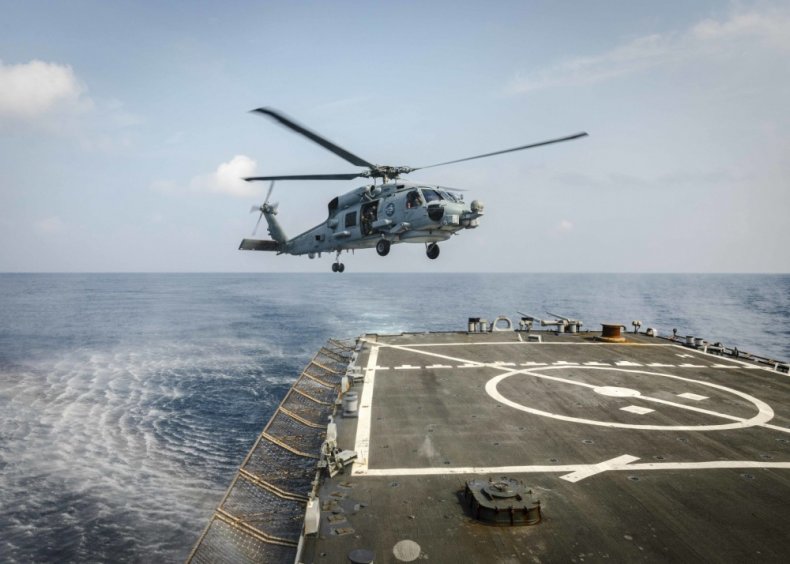 The U.S. has actively tried to portray the Quadrilateral Security Dialogue as a means to counter Beijing, which Secretary of State Mike Pompeo accused the Chinese Communist Party of "exploitation, corruption and coercion" during last month's Quad meeting in Japan.
Beijing's embassy in Washington accused the top U.S. diplomat at the time of "reckless smearing and groundless accusations against China" in remarks sent to Newsweek at the time.
But the Trump administration doubled down on its criticism on Friday, with Assistant Secretary Bureau of East Asian and Pacific Affairs David R. Stilwell described the Chinese Communist Party as "covert, coercive, and corrupting" during a virtual event jointly held by Stanford University's Hoover Institution and the Asia Society.
Chinese officials have repeatedly stated that they planned to work with whoever ended up in the White House, and have denied Trump administration accusations that Beijing sought to influence the vote in any way.
At the same time, the current U.S. leader's approach to the People's Republic has led to a major deterioration in relations between the world's two largest economies, which have fallen out over issues on trade, human rights and geopolitics, among other spats. The attempt to shift U.S. foreign policy priorities from West to East Asia was initiated by former President Barack Obama, under whom Biden served.
Among the most serious points of contention under Trump today has been the U.S.' expanded support of Taiwan, which is still claimed by the mainland after the Chinese Communist Party overcame rival nationalists who were forced to flee to the self-ruling island in 1949.
The U.S. severed its official Taiwan ties four decades ago in favor of China, but retains informal relations, including military assistance. In the past two months alone, the State Department has approved four arms sales worth several billion dollars to Taiwan, whose representatives have told Newsweek they seek to buy and build better equipment to make a potential Chinese invasion "painful."
China has amplified talk of retaking Taiwan by force if necessary and increased patrols and exercises in the contested strait between them, raising concerns among U.S. military officials who spoke to Newsweek.
A report published Sunday by Taiwan newspaper Liberty Times indicated the Chinese People's Liberation Army conducted sorties over the waterway on 25 out of the 31 days in October. These more than a week of consecutive Y-8 flights across the southwest of Taiwan's declared air defense identification zone.
Following the latest incident on Tuesday, the Taiwan National Defense Ministry said it "deployed patrolling aircraft and air defense missile systems to monitor the activity."
This came after Taiwan's Foreign Minister Joseph Wu told Foreign and National Defense Committee lawmakers on Monday of the potential for China to take advantage of U.S. election distraction and unrest to make a move on the island. "We are evaluating many possibilities, one of which is that during a lengthy period of post-election uncertainty," he warned.
The remarks follow a high-level national security meeting convened over the weekend by Taiwan President Tsai Ing-wen, who discussed Chinese military activities and U.S. relations among other major issues.
"The increasing frequency of military activities of the Chinese People's Liberation Army in the Taiwan Strait, the South China Sea and even the East China Sea has impacted the regional security situation," Tsai was quoted by her office as saying.
China and Taiwan have competing South China Sea claims also conflicting with other nations in the region. The U.S. has conducted "freedom of navigation" operations that challenge Chinese territorial assertions in the region.
"U.S. forces operate in the South China Sea on a daily basis, as they have for more than a century," a Pentagon spokesperson told Newsweek last month. "They routinely operate in close coordination with like-minded allies and partners who share our commitment to uphold a free and open international order that promotes security and prosperity."
The spokesperson argued such actions would continue in accordance with international law.
"All of our operations are designed to be conducted in accordance with international law and demonstrate that the United States will fly, sail, and operate wherever international law allows—regardless of the location of excessive maritime claims and regardless of current events," the spokesperson said.
On Thursday, the Chinese military again issued yet another warning to U.S. forces operating areas under Beijing's declared sovereignty. Chinese Defense Ministry spokesperson Senior Colonel Wu Qian dismissed media reports of a potential U.S. plan to conduct MQ-9 Reaper drone attacks on South China Sea islands under People's Liberation Army control, warning such a pre-U.S. elections plot would be met with retaliation.
"Should anyone dare to stir up a conflict on the sea, the Chinese side will fight back resolutely to safeguard its national sovereignty and security interests," Wu said.
In a rare sign of cooperation, however, Wu announced that day that U.S. and Chinese forces jointly participated in a two-day, virtual crisis communications working group later confirmed by the Pentagon. He said more bilateral events were planned, including on maritime security through the end of the year.
Meanwhile, disputes at sea continued in the East China Sea as well, where Chinese vessels have challenged Japanese claims to the Pinnacle Islands—known to Tokyo as Senkaku and to Beijing as Diaoyu—at record rates.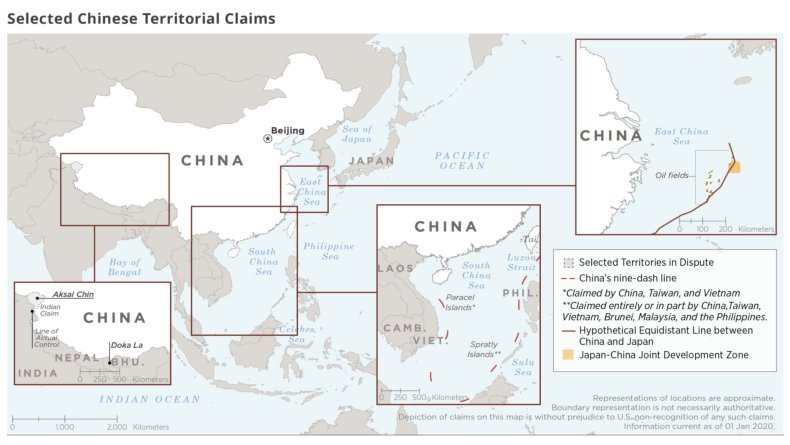 "Diaoyu Dao and its affiliated islands are China's inherent territory," Chinese Foreign Ministry spokesperson Zhao Lijian told reporters amid a spike in incidents last month. "Patrolling and carrying out law enforcement activities in the relevant waters are also China's inherent right. The Japanese side should respect this."
In a statement recently sent to Newsweek, the Japanese Foreign Ministry rejected this position.
"It is extremely regrettable that Chinese government vessels continue navigation within Japan's contiguous zone and intrusion into the Japanese territorial sea around the Senkaku Islands. We have repeatedly lodged strong protests against such activities by China through diplomatic channels."
But Tokyo seeks to avoid confrontation with Beijing.
"Japan continues to deal with the situation in a calm and resolute manner under the firm determination to defend Japan's territorial land, sea, and airspace," the ministry added.
And in an apparent departure from the Trump administration's position, Japan is careful to portray collaboration with the U.S., Australia and India as not aimed at China, with which it seeks to improve relations while striving to defend a common vision for the region.
"The Japan-Australia-India-U.S. framework is a forum in which we have a wide range of discussions to promote concrete cooperation to address common challenges such as the promotion of a 'Free and Open Indo-Pacific,' quality infrastructure, maritime security, counter-terrorism, among others," the ministry said. "As such, it does not focus on a particular country."