Biden's Bear Market Comes After Shortest One in U.S. History
The U.S. has entered a bear market for the first time since 2020—when the COVID-19 pandemic fueled the shortest one in American history—as recession concerns loom.
A "bear market" is a term used by Wall Street for when the stock market drops by at least 20 percent for an extended period, and it typically indicates an economic slump. Since reaching a high in January, the S&P 500 has slid nearly 22 percent, fueled by both domestic financial concerns and the conflict in Ukraine.
It is the first bear market in more than two years, and the first of President Joe Biden's presidency.
The current bear market arrives as the president has already been facing political backlash over the economy, including high inflation and gas prices. Polls have indicated that economic concerns remain the most pressing issues for many Americans—concerns that could be made worse by a bear market.
The most recent previous bear market started on February 19, 2020, and ended just more than one month later on March 23, according to financial content site Seeking Alpha, and was largely caused by the impact of COVID-19 on the U.S. economy. That bear market lasted for 33 days, making it the shortest the economy has ever experienced, as the stock market bounced back later that year and continued strong throughout 2021.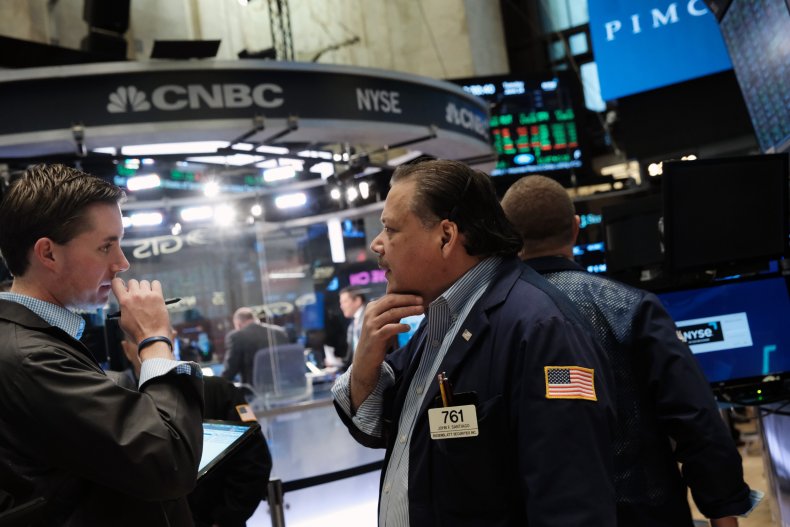 Other recent bear markets lasted longer than the one in 2020. In 2009, a bear market lasted for more than three months. A bear market that started in October 2007, alongside the Great Recession, lasted for more than a year until November 2008, according to Seeking Alpha.
The longest bear market in recent history lasted 630 days from January 1973 to October 1974, according to the service.
The current bear market has been fueled by several factors including inflation, fallout from the Russia-Ukraine war, a slowdown in China's economy and recession fears. All of these concerns have led investors to reconsider how they should invest their money.
Other commodities have also seen a drop in value. Bitcoin, the popular cryptocurrency, fell below $23,000 on Monday—down from nearly $68,000 last year, according to the Associated Press.
Last month, the Federal Reserve signaled it will increase interest rates in the coming months, the AP reported. This would make it more expensive to borrow money and carries the risk of causing a recession if the Fed raises its rates too high or too quickly.
Some economists are sounding the alarm on the potential for a recession. Larry Summers, former President Barack Obama's economic adviser, warned over the weekend that he expects a recession in the next two years. Meanwhile, a poll released Tuesday found that seven in 10 U.S. economists also anticipate a recession.