U.S. Says China's Moves at Sea and World Trade All Support Its 'State National Security'
The top U.S. diplomat claimed that China's growing presence in the South China Sea and its global project to promote Chinese investment abroad were all linked to Beijing's plan to promote its own defense.
Speaking at the National Review Institute's 2019 Ideas Summit in Washington, Secretary of State Mike Pompeo acknowledged Thursday that "there is an important relationship between the United States and China" but warned that "trade's not been remotely reciprocal" due to Chinese state intervention in various business dealings. He argued this meant there was a "security component" to dealing with Beijing anywhere in the world, especially among the growing number of countries signing on to the ambitious Belt and Road Initiative.
"Their moving into the South China Sea is not because they want freedom of navigation," Pompeo said. "Their efforts to build ports around the world aren't because they want to be good shipbuilders and stewards of waterways, but rather they have a state national security element to each and every one of them."
"The Belt and Road Initiative is no different," he added, stating that the U.S. was "happy to compete on a fair, transparent basis under rule of law with the Chinese anywhere in the world" but was opposed to "a noneconomic offer, whether that's through state-facilitated, below-market pricing or handing someone something knowing that you can foreclose on their nation shortly, so predatory lending practices."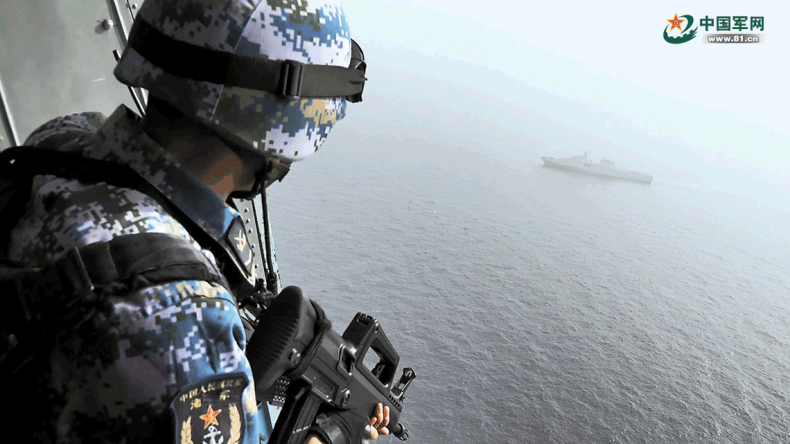 President Donald Trump's administration has come out strongly against Chinese President Xi Jinping's Belt and Road Initiative, which has already seen billions invested in infrastructure projects across Asia and Africa. Despite Washington's warnings and European skepticism, Beijing's plan to reinvent and reimagine the ancient Silk Road has paved its way West, with Italy recently becoming the first of the elite G7 economies to sign a memorandum of understanding during Xi's visit to Rome last week.
Xi then went on to secure multi-billion-dollar deals with France, even in the face of continued suspicions in Germany and the EU. The U.S. has threatened to pull intelligence-sharing agreements with nations entering into contracts with Chinese companies regarding 5G technology, citing security concerns, and the dispute between the two has begun to impact attempts at conflict resolution.
Two weeks ago, Washington and Beijing clashed amid an attempt to extend the United Nations Assistance Mission in Afghanistan, where the U.S. has waged the longest war in its history in an attempt to fend off an Islamist insurgency led by the Taliban militant group. China sought to insert language involving the war-torn country, with which it has been establishing more ties, into the Belt and Road Initiative, something to which the U.S. objected.
Acting envoy Jonathon Cohen said the U.S. was "deeply disappointed that the Council was not able to come to consensus on a resolution renewing the Mission's mandate for a full year," instead opting for a watered down six-month version. He contended that "China held the resolution hostage and insisted on making it about Chinese national political priorities rather than the people of Afghanistan," specifically blaming "China's demand that the resolution highlight its Belt and Road Initiative, despite its tenuous ties to Afghanistan and known problems with corruption, debt distress, environmental damage, and lack of transparency."
Beijing has defended its plans against Washington's charges. Asked about Cohen's remarks, Chinese Foreign Ministry spokesperson Geng Shuang responded to "the U.S. slandering and blame" by once again cautioning that "the U.S. should not overestimate the effectiveness of their rumor-mongering or underestimate other people's ability to make informed judgments."
Afghanistan was not the only heated region through which the Belt and Road Initiative passed. China has joined Russia in supporting the governments of Syria and Venezuela against U.S. intervention, at least partially due to their commitment to Chinese investment.
The feud between the world's two largest economies has produced tense encounters in the disputed South China Sea. Washington has long accused Beijing of sending its armed forces to shore up military installations on various islands and other land formations across waters claimed by multiple nations in the region.
The U.S. has tested Chinese claims of sovereignty in the region by sending warships on "freedom of navigation" operations, which are outlined in the 1982 United Nations Convention on the Law of the Sea ratified by Beijing, but not Washington. U.S. patrols have often been met intercepted by Chinese vessels and aircraft. These frictions have inspired both countries to emphasize building up their maritime might in order to deter a future conflict.