U.S. Could Do More Against China Than Against Russia, Taiwan Official Says
Taiwan's spy chief believes the U.S. has reason to put up a stronger response to a Chinese invasion, in contrast to Washington's indirect military assistance to Ukraine.
Chen Ming-tong, who heads Taipei's National Security Bureau, told lawmakers on Monday that Beijing would've been surprised by the extent of the West's far-reaching economic sanctions against Russia, and as a result will be looking for ways to strengthen the Chinese yuan and reduce its dependency on the dollar.
Asked about any early lessons that China may have drawn from the ongoing conflict in Ukraine, the island's most senior intelligence official pointed to the American response.
"I think [China] will be more cautious because the U.S. hasn't intervened militarily in Ukraine. There are some fears it could trigger World War III, but it has intervened in every other way," said Chen.
U.S. military assets and those of NATO allies run regular reconnaissance missions on Ukraine's western border in order to survey the battlefield, according to open-source data, and presumably provide Kyiv with real-time intelligence about Russian troop movements. This month, the U.S. said it had given Ukraine a total of $2 billion in security assistance since last year, including $1 billion in a single week in March.
"There is no Ukraine Relations Act between the U.S. and Ukraine, but it still intervened to such a degree," Chen said. "Now the Biden administration puts the Taiwan Relations Act [TRA] first. Some call it a domestic law. Whatever you want to call it, it gives [the U.S.] a legal basis to act."
The TRA was passed in 1979, the same year Washington cut diplomatic ties with Taipei in favor of establishing relations with Beijing, a former Cold War foe needed in the geopolitical struggle against the Soviet Union. The law created the basis for continued cultural, economic and defense relations with Taiwan by obligating the sale of arms to the island in order to deter an invasion.
The legislation notes the U.S. expectation that differences across the Taiwan Strait will be resolved by peaceful means, failing which any hostile measure, including boycotts or embargoes, is to be considered "a threat to the peace and security of the Western Pacific area and of grave concern to the United States."
The TRA also requires the U.S. to maintain its own military capacity to "resist any resort to force or other forms of coercion" against Taiwan. A threat against the island's population and subsequent danger to American interests is to trigger urgent discussions between the White House and Congress, which will jointly determine any "appropriate action," according to its text.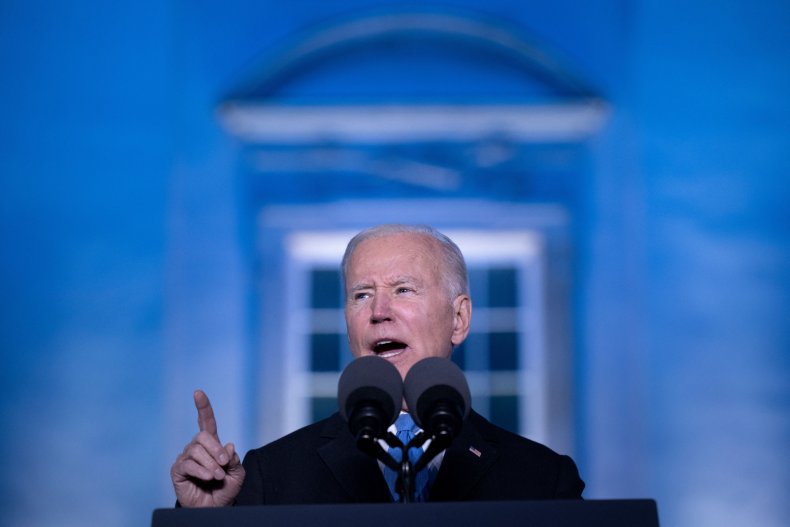 While the law's potential applications are many, it is notably not the type of ironclad security guarantee offered to NATO members under the Article 5 collective defense clause. Successive American administrations have been purposely ambiguous about whether the U.S. would come to Taiwan's defense in the event of an invasion by China. It is why observers were shocked last October when Joe Biden answered "yes" at a CNN town hall when asked whether America would intervene.
"Yes, we have a commitment to do that," the president said, stunning host Anderson Cooper at the time. As a senator, Biden voted for the TRA 43 years ago. Alongside Democrat Sen. Patrick Leahy of Vermont, he remains one of only two officials from the Senate of the 96th Congress still holding public office today.
China, which claims Taiwan as part of its territory despite having never governed it, will be "considerably enlightened" by the U.S.'s ability to "intervene even further" than it has in Ukraine, said Chen, Taipei's intelligence chief.
Taiwan says it, like Ukraine, will defend itself, a sentiment increasingly reflected in public opinion surveys, which also find that faith in U.S. assistance fluctuates based on American responses to crises in other parts of the world, such as in Afghanistan and Ukraine. Before the outbreak of war last month, a poll found nearly 60 percent of Taiwanese were confident the U.S. would help. Last week, another survey returned just 34.5 percent confidence on the same question.
During a March 9 hearing at the House Armed Services Committee, Ely Ratner, the Pentagon's assistant secretary of defense for Indo-Pacific security affairs, said America's response to a Taiwan contingency would be "would be different."
At the same session, Adm. John Aquilino, the U.S.'s top military commander in the Pacific, said Russia's invasion of Ukraine had been a wake-up call that surprised many in Europe.
"We have to look at this and say: 'Hey, this could happen,'" Aquilino said of a Taiwan crisis. "And I have a sense of urgency to execute the mission the secretary has assigned, which is to prevent this conflict."
A year ago this month, Aquilino attended his confirmation hearing at the Senate Armed Services Committee, where he said a failure to intervene in a Taiwan Strait conflict would damage U.S. credibility among American allies in Asia.