As U.S.-China Tensions Rise Ahead of Summit, Marines Train for Taiwan Crisis
At a time when U.S.-China tensions are once again on the rise over President Joe Biden's decision to invite Taiwan to an upcoming virtual conference, the U.S. Marine Corps is preparing for the outbreak of a potential crisis by returning to its roots as an elite island-hopping force.
But whether this would be enough to win a war, or even deter an attack, remains a question looming between the world's two top powers and, by extension, the rest of the world.
News of the Marines' shift to a more traditional mission with echoes of the World War II Pacific Campaign was first undertaken by Commandant General David Berger, appointed in 2019 by then-President Donald Trump, under whom a severe downturn in relations with China first occurred. The new techniques have since been demonstrated in a series of exercises, including this April's Noble Fury off the coast of Japan and July's Summer Fury off the coast of California.
One of these techniques is a new training program called the Infantry Marine Course (IMC), which a U.S. Marine Corps Training and Education Command official told Newsweek was "a direct reflection of the Commandant's Planning Guidance that dictates the requirement for smarter, better-trained multi-disciplinary infantry Marines."
"IMC creates a more flexible force that will be able to operate and persist in austere conditions while thriving in contested environments," the official said. "IMC creates a better trained and more lethal entry-level Infantry Marine who is prepared for 21st century competition and conflict, contributing to the overall lethality and capability of infantry battalions upon arrival."
Essentially, a branch that describes itself as the military's "premier crisis response force" is restructuring from tactics primarily suited for countering insurgencies to taking on near-peer competitors, with China on the top of the list of powers closing the gap of U.S. supremacy at sea.
"We are optimizing the Marine Corps for the demands of naval expeditionary warfare in the maritime littorals to support Fleet operations and enable joint force access, while imposing significant cost on the enemy," U.S. Marine Corps spokesperson Major Jim Stenger told Newsweek.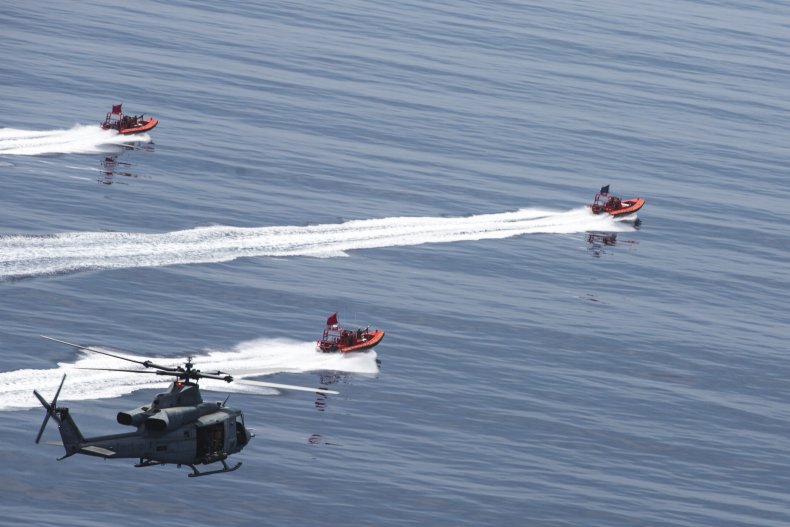 And while both Biden and Chinese counterpart President Xi Jinping have made it clear they did not seek conflict with each other, China has set a clear red line when it comes to Taiwan, an island claimed by Beijing but ruled by a pro-Washington government in the capital Taipei. The U.S. has never officially pledged to defend Taiwan, short of an apparent slip-up by Biden during a town hall in October that was quickly clarified by the White House, but has committed to the island's "self-defense."
Reached for comment by Newsweek on the official U.S. stance of whether it would respond or not to a Chinese attack on Taiwan, a Pentagon spokesperson referred to comments made by Defense Secretary Lloyd Austin during an address at NATO headquarters in Belgium just a day after Biden's supposed gaffe in Washington.
"Well, nobody wants to see cross-strait issues come to blows, certainly not President Biden, and there's no reason that it should," Austin said. "You've heard us say this a number of times, and I'll say it again."
He then reiterated Washington's commitment to the One China Policy, and to "the Taiwan Relations Act, the Three Assurances and the six communiques." The Pentagon later issued a correction to his comments that noted that Austin was "referring to the Taiwan Relations Act, the three U.S.-PRC Joint Communiqués, and the Six Assurances," key understandings that set the stage for Washington's 1979 diplomatic shift from Taipei to Beijing.
But the unofficial relationship between the U.S. and Taiwan has expanded over the years, and the most recent sign of Taiwan's invitation alongside 109 nations to the upcoming Summit for Democracy being hosted virtually by Biden is just its most recent sign — but one that has elicited fury from Beijing.
"China firmly opposes the invitation by the US to the Taiwan authorities to the so-called 'Summit for Democracy,'" Chinese embassy spokesperson Liu Pengyu told Newsweek. "There is but one China in the world, the government of the People's Republic of China is the sole legal government representing the whole of China, Taiwan is an inalienable part of China's territory, and the one-China principle is a widely recognized norm governing international relations. Taiwan has no other status in international law than being part of China."
He argued the move ran contrary to the founding arrangements of the U.S.-China relationship, potentially eroding the cornerstone of what both Washington and Beijing consider the world's most important bilateral relationship.
"We solemnly urge the US to abide by the one-China principle and the stipulations of the three China-US Joint Communiqués, stop providing 'Taiwan independence' forces with any platform, and stop bolstering and emboldening them," Liu added.
Taiwanese President Tsai Ing-wen has never officially cast her support for independence, something that U.S. officials fear would spark an intervention on China's part, but she has sought to reclaim the island's place in the world.
"Taiwan's participation in the Democracy Summit highlights the fact that its efforts to promote freedom and democracy have received international recognition and support," the Taipei Economic and Cultural Office in New York told Newsweek. "Taiwan, standing at the frontline against authoritarianism, is a bastion of democracy in the Indo-Pacific. We look forward to sharing our experience in countering disinformation, which poses grave challenges to democracies around the world."
Given the controversy surrounding its invitation to the summit, the de facto Taiwan consulate said an escalation from its mainland rival would fit an established pattern.
"Whenever there is a surge of international support for Taiwan, China responds with intimidation or coercion," the office said. "This is always a concern given the importance of cross-strait stability; nevertheless, we will not waiver in our determination to safeguard democracy. The people of Taiwan are fully aware that the price of freedom and democracy is eternal vigilance."
Beijing has not laid out any specific threats to accompany its protests over Taiwan's participation, but the sensitivity of the issue means nothing can essentially be ruled out.
Hu Bo, director of China's South China Sea Probing Initiative monitor, said he could not be certain "what action China might take," but stated that "on the Taiwan issue, all options are on the table for the Chinese mainland, it's difficult to anticipate when, how and where."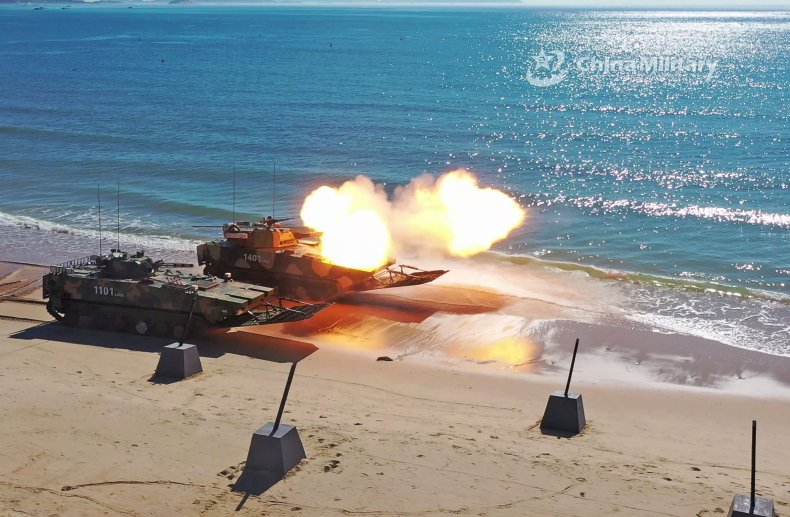 Already, People's Liberation Army warplanes buzz the island's claimed Air Defense Identification Zone on a regular basis, and the Eastern Theater Command has announced new patrols in the Taiwan Strait. Commentaries in The Global Times, a ruling Chinese Communist Party-affiliated newspaper, have also recently called for Chinese warplanes to fly directly over Taiwan to test the resolve of both Taiwanese and U.S. forces.
Meanwhile, Xi has repeatedly asserted his nation's right to take the island by force if it does not reunify with the mainland through diplomatic means.
The Beijing-Taipei feud has produced three major crises since the Communist victory over nationalists who fled to Taiwan at the end of China's civil war in 1949. The first two occurred in the 1950s and produced hundreds of casualties on both sides. It also created one of the world's first major nuclear crises, as the U.S. debated how far it would go to roll back communist advances toward the likes of Taiwan and Korea.
The third crisis came just 25 years ago, as then-Taiwanese President Lee Teng-hui accepted an invitation from his alma mater, Cornell University in New York, to deliver a speech on Taiwan's democratic transformation. Then-U.S. President Bill Clinton's administration initially halted the visit but relented upon congressional action, leading to Chinese missile launches and a massive display of U.S. military firepower in response.
With temperatures once again high, Amanda Hsiao, senior Asia analyst for the Belgium-based International Crisis Group, said "the situation has not reached the level of crisis. Tensions have certainly risen, but both U.S. and Chinese officials are signaling restraint on the issue as well."
She highlighted the recent virtual summit between Biden and Xi, the readouts of which appeared softer in tone and more geared toward de-escalation than previous U.S.-China interactions this year.
"Taiwan's invitation to the Summit for Democracy should be understood as one of many signals the Biden Administration has been sending to Beijing to demonstrate its support to Taiwan as a democratic partner," Hsiao told Newsweek. "In doing so, the U.S. is hoping to temper any impulse on the part of China to adopt more aggressive actions toward Taiwan."
As for China's response, she said that "Beijing will continue to be critical of the Summit for Democracy in its rhetoric, and is likely to turn to military signaling to demonstrate its ire, including perhaps by announcing a live-fire exercise was conducted near Taiwan or by sending more military aircraft into the island's air defense identification zone."
"A more below-the-radar option China has is to turn up on the pressure on Taiwanese businesses operating in China," she added, referring to an already ongoing campaign of Taiwan-based businesses being asked by Beijing to choose a side or face punishment.
One other reason Hsaio said China may not rush to kinetic action now is for the sake of the Winter Olympic Games set to begin in February in Beijing. China has invested heavily in promoting the upcoming event, especially in the face of a boycott campaign being launched by mostly Western activists accusing the People's Republic of mass human rights abuses.
The ambiguity regarding the participation of the U.S. and its allies, along with the general notion that China would not escalate ahead of the Olympics, may actually prove the perfect opportunity to strike, however, according to Lyle Goldstein, who served for 20 years as a research professor at the Naval War College up until October, and now holds the position of director of Asia engagement at the Defense Priorities think tank.
He argued that the fourth Taiwan Strait crisis was already upon us, a crisis that essentially started when Trump broke protocol to answer Tsai's congratulatory post-2016 election call five years ago. Since then, Goldstein said, "we've been pretty much in a continuous crisis that has just gotten worse and worse."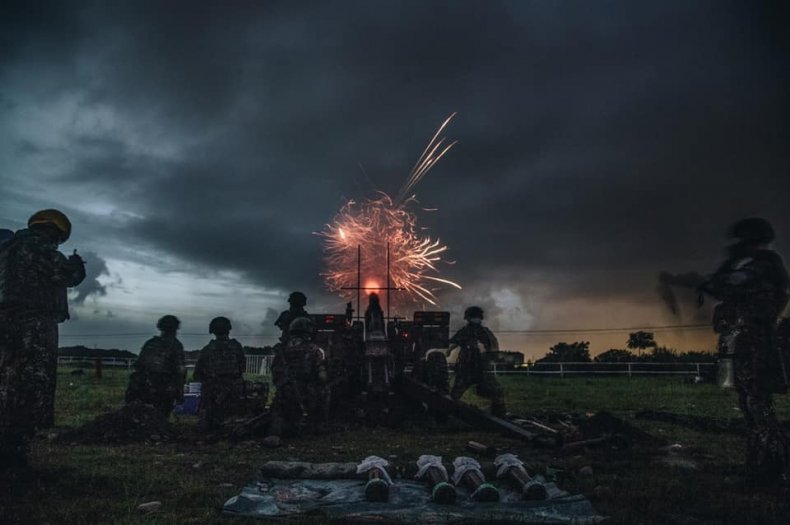 And while Goldstein too felt Beijing was more invested in a successful Olympics than an intervention against Taiwan, he added that he has "been telling people to expect an attack when you least expect it, and right before the Olympics is when we'd least expect it."
The unpredictability of such a strike is exactly what keeps U.S. military planners on edge. Goldstein outlined the case for what a two-stage Chinese surprise attack on Taiwan would like.
"The first stage, they go ahead and attack Taiwan," Goldstein told Newsweek. "I do believe, by the way, it would be more or less a bolt from the blue, I don't think we'll have hardly any warning at all."
He argued that over the course of the next 48 hours China would be "looking to see if the U.S. will intervene." If the U.S. does actively step in, "we could move to stage two, which is a large war," and "at that point, I do believe China would probably initiate attacks, potentially throughout the whole Asia-Pacific region."
This includes potentially crippling attacks by submarine-launched ballistic missiles or bombers against strategic points such as U.S. bases in Japan or even Alaska. This is where Goldstein felt the Marines would most likely come in, not to enter a hot war on Taiwan itself, but to secure strategic island chains such as those in the Luzon Strait between Taiwan and the Philippines, as well as Japan's remote Yaeyama Islands.
In Stenger's comments to Newsweek, he laid out some of the core changes being made by the Marines with the "main focus of effort" being the III Marine Expeditionary Force, which was formed during the Pacific war against the Japanese Empire and is now based in Okinawa.
The modernization campaign includes the mobilization of "three Marine Littoral Regiments (MLR) organized, trained, and equipped to accomplish sea denial and sea control within actively contested maritime spaces." To augment this force will be three "globally deployable Marine Expeditionary Units (MEU) that possess both traditional and Expeditionary Advanced Base capabilities that can deploy with non-standard Amphibious Ready Groups."
Meanwhile, the I and II Marine Expeditionary Force "will generate forces to support the MLRs and the MEUs, while also being able to apply their forces against other challenges across the globe, consistent with Title 10 roles and missions," referring to the U.S. code pertaining to the military.
The MLRs consist of a Littoral Combat Team, Littoral Anti-Air Battalion and a Littoral Logistics Battalion.
The Littoral Combat Team "is designed to provide the basis for employing multiple platoon-reinforced-size expeditionary advance base sites that can host and enable a variety of missions such as long-range anti-ship fires; forward arming and refueling of aircraft; intelligence, surveillance, and reconnaissance of key maritime terrain; and air-defense and early warning."
The Littoral Anti-Air Battalion "is designed to train and employ air defense, air surveillance and early warning, air control, and forward rearming and refueling capabilities."
The Littoral Logistics Battalion "provides tactical logistics support to the MLR by resupplying expeditionary advance base sites, managing cache sites, and connecting to higher-level logistics providers" and "provides expanded purchasing authorities, limited Role II medical forces, distribution of ammunition and fuel, and field level maintenance."
"The persistent presence of these stand-in forces will enable the Marine Corps to effect the entire range of competition with the Nation's adversaries," Stenger said. "Forward positioning will allow for the development of cross- domain efforts with allies and partners, building coalitions capable of deterring aggression and furthering the collective interest. Where competition crosses the threshold of violence, the forward postured Marine Corps will provide combat credible capabilities to deter and blunt or deny enemy adversary success."
But Goldstein also noted that the People's Liberation Army has been carefully studying the shift in Marine tactics as well, and that Chinese military literature has presented some counterpoints.
The first concerns the likely use of multiple rocket launchers called High Mobility Artillery Rocket System (HIMARS) that could be dropped down on islands via aircraft to target Chinese assets from a distance. Goldstein said China's strategists see these subsonic weapons as "slow" compared to the supersonic cruise missiles on their top-line destroyers, which would likely take out airstrips and launch platforms at the onset of a direct fight with the U.S.
Other Marine Corps staples such as Osprey helicopters and amphibious vehicles transported via large U.S. Navy carrier vessels would also be particularly vulnerable to Chinese salvos if they chose to join what he described would be "a very desperate fight" for Taiwan.
"Although I do embrace the change in Marines strategy, I'm a little skeptical," Goldstein said. "I think we have to rethink parts of it and make it a little more defensive, a little more realistic."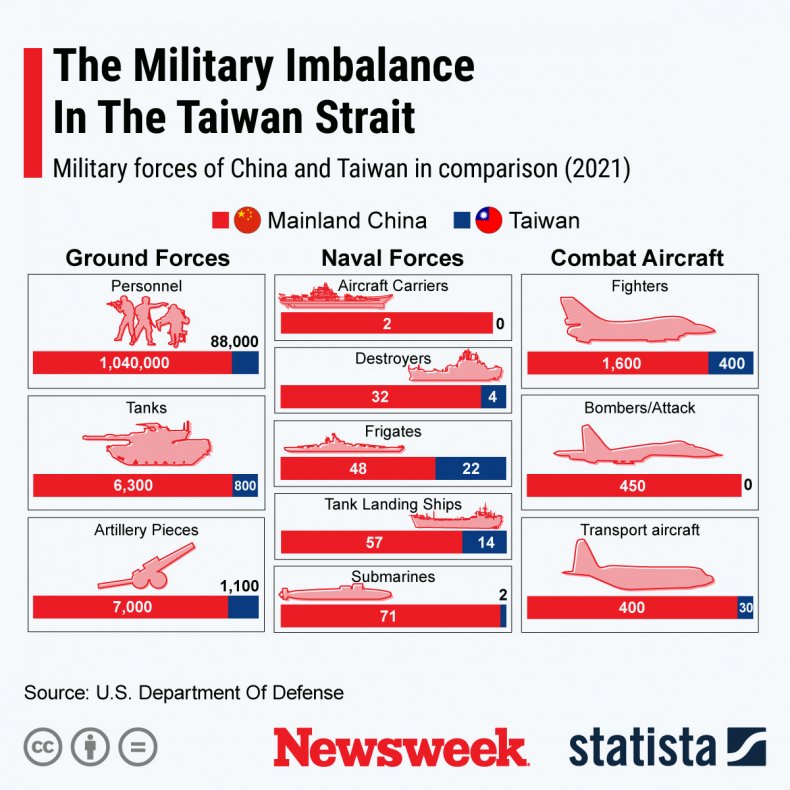 The above graphic was provided by Statista.