U.S. Economic Recovery 'Not Charging Ahead,' Job Openings Report Indicates
Hiring and job openings are falling short of pre-recession numbers, according to a report released Tuesday by the Bureau of Labor Statistics (BLS).
According to an analysis of the report by Elise Gould, senior economist at the Economic Policy Institute (EPI), the BLS Job Openings and Labor Turnover Survey (JOLTS) for December provides a "clear sign that recovery is not charging ahead."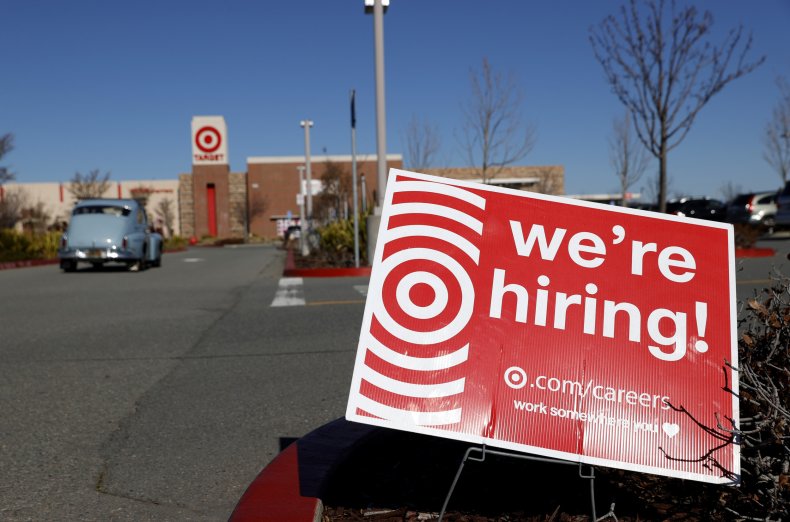 The random survey of 20,700 business and government organizations found that "little changed" in the number of U.S. job openings—it stayed at around 6.6 million— but the number of people hired fell to 5.5 million over the course of the month.
The phrase "little changed" is mentioned 17 times throughout the survey, Gould noted in a tweet, illuminating the point that that job market has seen weak recovery for millions of unemployed Americans.
"Along most of the [BLS] measures, we are not seeing improvements," Gould told Newsweek. "Hopes for recovering, that's not what's happening now."
She said the survey shows the recovery pace in December was far behind that from last May and June. Gould explained the difference between now and last summer is likely due to the continuation of the COVID-19 pandemic, coupled with exhausted unemployment benefits and temporary layoffs shifting to permanent separations.
"Without that money in their pockets [unemployed people] are not making ends meet and aren't breathing any life into the economy," Gould said.
Before the pandemic, U.S. job openings peaked in November 2018 at 6.8 million.
BLS numbers released Friday also find that the labor market is 9.9 million jobs below pre-pandemic levels. For every 16 unemployed workers in December, Gould wrote, there were only job openings for 10 of them.
In her analysis, Gould said that Congress needs to act according to the "scale of the problem" in order to ensure steps are taken to address "a massive hole" in the U.S. labor market.
Congress is trying to reach an agreement on President Joe Biden's robust $1.9 trillion stimulus proposal, which includes a third stimulus check of $1,400, support for small businesses and additional unemployment benefits.
"I'm calling on Congress to act quickly and pass the American Rescue Plan," Biden tweeted Monday. House Speaker Nancy Pelosi said recently Congress could get something approved by the end of the month, but lawmakers remain divided on who gets stimulus checks, among other issues.
Treasury Secretary Janet Yellen said on Sunday that if the American Rescue Plan is passed, the U.S. should reach full employment next year. Otherwise, Yellen said the unemployment rate will "stay elevated for years to come."
Gould told Newsweek the realization of Yellen's statement "depends on the policy response" to spearhead vaccination efforts and relief across state and local governments. If that legislative work occurs, she said she's optimistic of a "significant bounce back."
Robert Hughes, senior research fellow at the American Institute for Economic Research, said the growth of private-sector job openings in the survey is a "modestly positive" indication of recovery.
"This cycle is unlike any other in that it was caused by government lockdown polices, and the impacts were heavily concentrated in a few industries," Hughes wrote to Newsweek Tuesday. "Digging a bit deeper, some areas of the economy are doing quite well and others are still struggling."
The JOLTS numbers found that hiring fell across a number of industries, especially accommodation and food services, transportation, and warehousing, in addition to arts, entertainment and recreation. The greatest increase in hiring occurred in the trade and manufacturing sectors.
"Ultimately, it will be the ability to contain the spread of the virus through herd immunity and the easing of restrictions on consumers and businesses that will drive economic recovery," Hughes noted.