White House Says Economy Is Strongest in History
President Joe Biden's approval rating has reached a new low as Americans continue to struggle financially amid inflation and rising food and gas prices.
Biden spoke to iron workers in Cleveland, Ohio Wednesday about keeping his promises to rebuild the middle class, restore the economy with the American Rescue Plan and cut the federal deficit. Biden also said he was the "most pro-labor, pro-union" president in U.S. history.
One expert warns that the Federal Reserve is at risk of crashing the U.S. economy.
While people are seeing some relief at the pump, AAA said the falling wholesale gas price may be "short-lived."
The Department of Labor is set to release the May jobs report Friday as jobless claims rise to highest figure in almost six months.
The live updates for this blog have ended.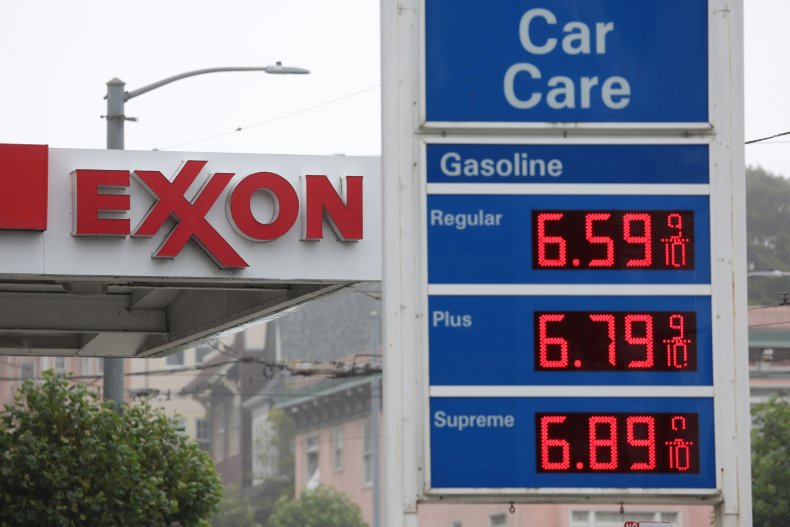 White House Says Economy is Strongest in History
The White House said the U.S. economy is the strongest it has ever been, even as Americans struggle to keep up with rising food and gas costs.
During Thursday's press briefing, White House Press Secretary Karine Jean-Pierre said President Joe Biden "understands what the American people are going through" amid inflation and high prices.
Fox News's Peter Doocy asked about a recent poll that found 88 percent of people think the U.S. is "on the wrong track."
Jean-Pierre responded that the White House knows the American people are "feeling" the high costs, but assured reporters that the U.S. economy is doing well.
"We stronger economically than we have been in history," she said, pointing to decreasing unemployment numbers and new jobs creation.
She blames the high costs on Russian President Vladimir Putin's "price hike" amid the war in Ukraine and the "once in a generation pandemic."
Jean-Pierre dismissed claims that Biden's plans are "unpopular" and said the president is doing everything he can to "blunt" prices, including the Strategic Petroleum Reserve release.
Earlier in the briefing, Jean-Pierre said that recent drops in gas prices at the pump are a "good thing," and show a "cool down."
She called on gas retailers to pass on lower costs of wholesale gas to consumers and encouraged Congress to pass legislation to suspend the federal gas tax.
Jean-Pierre added that "more work needs to be done" to curb inflation and lower costs.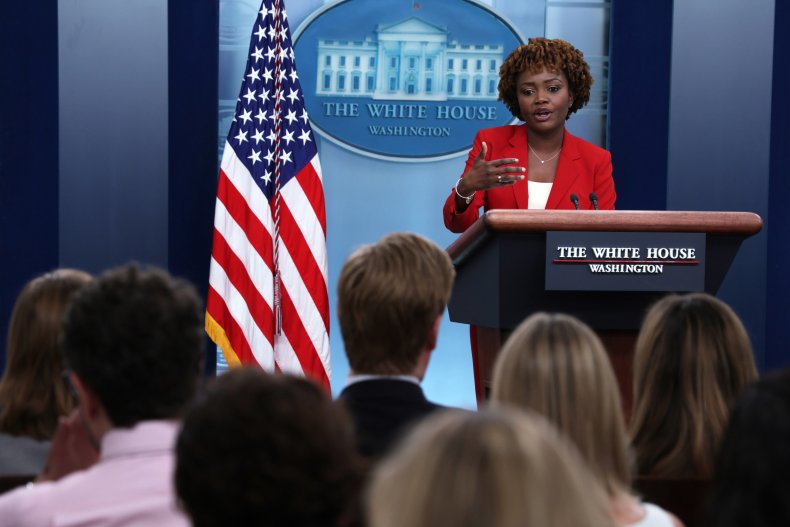 McCarthy Blasts Biden for Sending Oil Overseas
House Majority Leader Kevin McCarthy blamed high gas prices on President Joe Biden following reports that the administration is sending U.S. oil reserves overseas.
McCarthy said U.S. gas price are high because the Biden administration has "made it hard to produce oil here at home."
In March, Biden announced he would release 1 million barrels of oil a day from U.S. reserves to reduce U.S. gas prices and pressure oil companies to increase supply.
More than five million barrels of the oil from that release, however, were exported to Europe and Asia last month, Reuters reported.
McCarthy said sending oil to countries like China is "reckless" and "won't solve the problem."
"We must produce more U.S. energy to lower prices," he said in a tweet.
Since Biden announced this plan, the Strategic Petroleum Reserve is now at the lowest levels since 1986.
The Energy Department said the Strategic Petroleum Reserve "remains a critical energy security tool to address global crude oil supply disruptions" and that the emergency release helped ensure stable supply of crude oil.
Popular Jobs in Major Metro Areas
A new assessment of Bureau of Labor Statistics data breaks down common jobs in major metro areas across the U.S.
A map published Thursday by Insider allows visitors to hover over major metro areas and see which job is most disproportionately popular and identify the median wage those positions offer within a region. Insider previously released a similar breakdown of disproportionately common jobs by state.
The new map is based on data from May 2021 and assesses positions American workers had in 383 metro areas, according to Insider.
New York was the most populous city in the country as of 2020, according to World Population Review. Subway and streetcar operators were the most disproportionately common positions among workers based in the New York metro area, with a median salary of $81,980 per year.
The metro area incorporating Los Angeles, the country's second-most populous city, had an unusually common prevalence of agents for entertainers and professional athletes, Insider found. The median annual salary for those positions was cited as just below $100,000.
New Minimum Wages in Effect in 3 States
Three states and Washington, D.C. raised the minimum wage for workers at the start of July.
Connecticut, Nevada and Oregon pushed their state minimum wages further above the federal minimum wage last week, as did Washington, D.C.
In Connecticut, the minimum wage increased from $13 to $14 per hour. Nevada's minimum wage increased from $9.75 to $10.50 per hour for workers who are not offered qualifying health benefits, and from $8.75 to $9.50 per hour for workers with the ability to take advantage of health benefits. Oregon's standard hourly minimum wage increased 75 cents to $13.50, and the hourly minimum wage increased in Washington, D.C. to $16.10 from $15.20.
Several other states raised their minimum wages at the start of 2022, and Florida is expected to do the same this fall, according to AARP.
Though President Joe Biden has encouraged Congress to consider boosting the federal minimum wage, states have led the drive for increases over the last several years.
The federal minimum wage has been set at $7.25 per hour since the summer of 2009. Thirty states had statewide minimum wages above the federal minimum wage amount at the start of this year, according to the National Conference of State Legislatures.
Job Security a Concern for About 4 in 5 Workers
Nearly 80 percent of American workers have expressed concern about job security in the event that a new recession takes hold in the U.S., according to a June survey by Insight Global.
The survey, which Bloomberg reported on Thursday morning, found 78 percent of the more than 1,000 American workers polled have concerns about potential job loss, if the recession some economic experts have warned could be on the way does in fact occur.
"With an uncertain economy and record-high inflation, American workers are feeling a growing unease about their job security during the next recession (if there is one) at an alarming rate," the staffing company said in a blog post about the survey's results.
Nearly one in four respondents—about 23 percent—described themselves as "extremely worried" about the possibility of losing their jobs if a recession occurs, with managerial-level workers appearing to be most concerned.
More than half of the workers polled—56 percent—also said they are either not ready for a recession or unsure of how to make financial plans for one.
Insight Global's assessment of its survey results also pointed to an earlier poll conducted by The Financial Times among economists. That poll, the results of which were released last month, found seven in 10 economists believe the U.S. will officially acknowledge a recession in 2023.
U.S. Dollar Nears Euro in Value
The U.S. dollar is now almost equal in value to the euro for the first time in two decades.
The U.S. Dollar Index measures the value of American money against six major foreign currencies. The Index jumped nearly 12 percent this year, a 20-year high. The euro is now worth just under $1.02.
The last time the euro was valued at less than one dollar was in July 2002.
This trend may hurt American companies, as their products become more expensive for foreign buyers. This, in turn, may weaken the U.S. economy.
Americans struggling to deal with rising inflation could also benefit from this rise in the dollar's value. The increased value of the dollar makes products imported into the U.S. less expensive.
The rise in the dollar's value comes after the Federal Reserve increases interest rates last month.
Higher rates cause yields on the U.S. Treasury to rise. This then attracts investors who can get better yields that other places around the world. The dollar's value is increased when demand for dollar-dominated securities increases.
The euro's value has dipped this year amid fears that 19 countries that use this currency face a recession and the increased oil and gas prices in the face of the Ukraine war has hurt European consumers and businesses.
Mortgage Rates Drop, Home Prices Remain High
Long-term mortgage rates in the U.S. decreased this week.
The 30-year mortgage rate fell from 5.70 percent to 5.30 percent since last week, according to mortgage buying Freddie Mac.
The average rate on 15-year, fixed-rate mortgages dropped from 4.83 to 4.45 in a week. This is still about double what it was a year ago, when the rate was at 2.26 percent.
This comes after the Federal Reserve raised its benchmark rate in June by three-quarters of a point amid rising inflation.
House prices continued to increase in May as sales slowed. The national medium home price climbed to $407,600 in May, a 14.8 percent jump from last year. This is an all-time high according to the National Association of Realtors (NAR).
With higher borrowing rates, fewer people are looking for new home, which is impacting the housing market. Sales of previously occupied U.S. homes slowed for the fourth consecutive month in May, the Associated Press reported.
The Mortgage Bankers Association reported that mortgage applications dropped 17 percent from last year and refinancings are down 78 percent.
U.S. Anticipates June Jobs Report
Experts are predicting the June jobs report will continue to show employment gains, but at a slower pace than those reported the month before.
The U.S. Department of Labor is expected to release the June jobs report on Friday.
The last monthly jobs report was released on June 3. It showed a gain of 390,000 jobs in May and an unemployment rate of 3.6 percent.
President Joe Biden released a statement last month celebrating the May jobs report. Biden's statement acknowledged the pressure inflation has brought to consumers but said the country's "enormous progress" with its economy meant Americans "can tackle inflation from a position of strength."
While the Labor Department said there were "notable job gains" in the leisure and hospitality sectors in May, it said retail employment experienced a decline.
Several major U.S. retailers have indicated they are recruiting fewer people amid concerns about a potential economic downturn and ongoing inflation, according to The Associated Press. With these factors at play throughout the economy, experts have said they anticipate the June jobs report will show a slowing in employment since May.
Dow Jones has predicted the June jobs report will reflect gains of about 250,000 jobs and an unchanged unemployment rate, according to CNBC.
Unemployment Claims Recovering Faster in Blue States
Unemployment claims in blue states are recovering faster than those in red states, according to a report released on Thursday by WalletHub.
WalletHub's periodic assessment of unemployment claims throughout the country found states that President Joe Biden won in the 2020 presidential election were "recovering the quickest."
The personal finance site said 37 states had lower unemployment claims last week when compared with unemployment claims reported before the onset of the coronavirus pandemic. Forty-six states had lower unemployment claims last week than those reported during the same week in 2021.
When assessing states' unemployment claims standing last week compared with jobless rates reported before the pandemic, WalletHub found Pennsylvania was recovering the fastest, followed by Iowa, Vermont, Maryland and Delaware. Indiana was recovering the slowest in terms of its unemployment numbers.
Week-over-week comparisons showed Indiana was also the state that had the slowest unemployment claims recovery between last week and the week prior. Kentucky's unemployment numbers last week showed the greatest week-over-week progress, the assessment found.
Jobless Claims Rise to Highest in Six Months
U.S. jobless claims increased to 235,000 last week, the highest figure in almost six months.
This is the fifth consecutive week that claims were above the 230,000 mark.
Application for jobless aid for the week of July 2 were up 4,000 from the prior week, the Labor Department reported Thursday.
The total number of Americans collecting jobless benefits the week of June 25 rose by 51,000 from the previous week to a total of 1,375,000.
U.S. employers advertised fewer jobs in May, the Labor Department reported. There were 11.3 million job openings posted at the end of May, down from almost 11.7 million in April.
Companies are rushing to increase staffing amid a rise in demand for travel and entertainment services in a post-COVID restriction society.
The Labor Department will release its May job report Friday. Analysts expect employers filed more than 276,000 jobs, the lowest monthly figure in more than a year.
Retailers Show Signs of Slowing Recruitment
Some U.S. retailers are beginning to demonstrate indications that they are slowing down efforts to recruit new workers.
Retail recruitment surged during the first two years of the coronavirus pandemic as Americans quarantining at home placed a greater number of online orders. But the pace of retail recruitment has started to change amid high inflation and ongoing supply chain issues.
Concerns about a potential economic downturn paired with increasing costs of retaining workers could also be contributing to the shift in recruitment, according to The Associated Press.
Two of the country's largest employers—Walmart and Amazon—said in recent months that they had too many workers on staff, the AP reported. An internal email obtained in May by Business Insider showed the retail business portion of Amazon was lowering its recruitment goal for the year.
FedEx also indicated in June that it was starting to recruit fewer people, according to the AP.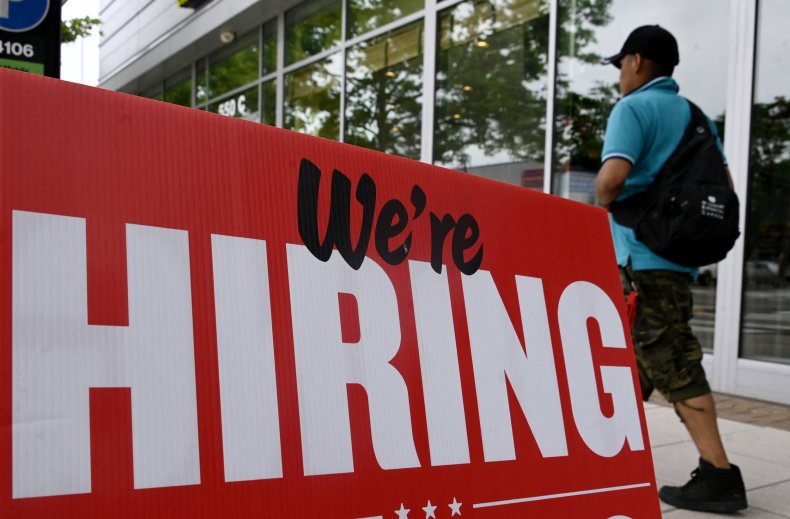 National Average Gas Price Drops Thursday
The average national gas price has dropped to $4.752, as of Thursday.
This is down from $4.779 Wednesday and down from $4.919 a month ago, according to AAA.
Prices at the pump still remain high in some states.
The average price for regular gas remains above $5 in 10 states, with the average price in California at $6.185.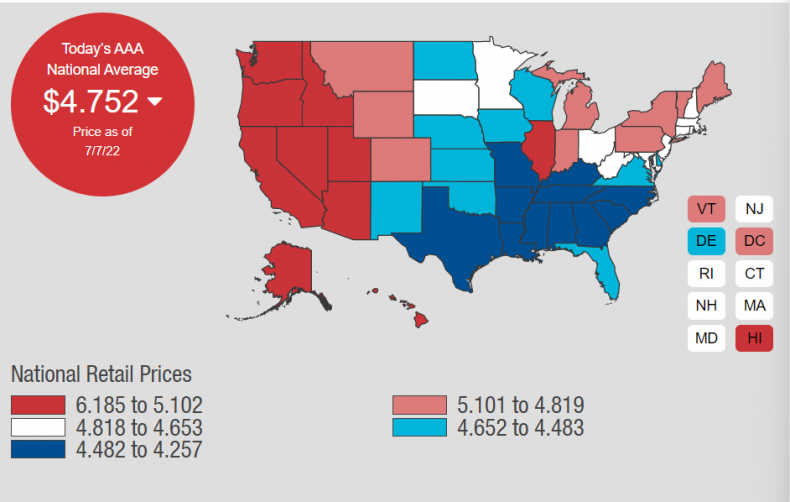 These states have the highest average gas prices:
California
Regular: $6.185
Mid-Grade: $6.412
Premium: $6.542
Hawaii
Regular: $5.617
Mid-Grade: $5.832
Premium: $6.075
Alaska
Regular: $5.540
Mid-Grade: $5.742
Premium: $5.925
Nevada
Regular: $5.477
Mid-Grade: $5.715
Premium: $5.932
Oregon
Regular: $5.447
Mid-Grade: $5.656
Premium: $5.864
Washington
Regular: $5.426
Mid-Grade: $5.656
Premium: $5.836
Illinois
Regular: $5.232
Mid-Grade: $5.721
Premium: $6.098
These states have the lowest average gas prices:
South Carolina
Regular: $4.257
Mid-Grade: $4.650
Premium: $4.999
Georgia
Regular: $4.260
Mid-Grade: $4.672
Premium: $5.031
Mississippi
Regular: $4.273
Mid-Grade: $4.674
Premium: $4.976
Louisiana
Regular: $4.314
Mid-Grade: $4.683
Premium: $5.021
Arkansas
Regular: $4.331
Mid-Grade: $4.682
Premium: $5.011
Texas
Regular: $4.333
Mid-Grade: $4.723
Premium: $5.041
Alabama
Regular: $4.347
Mid-Grade: $4.729
Premium: $5.104