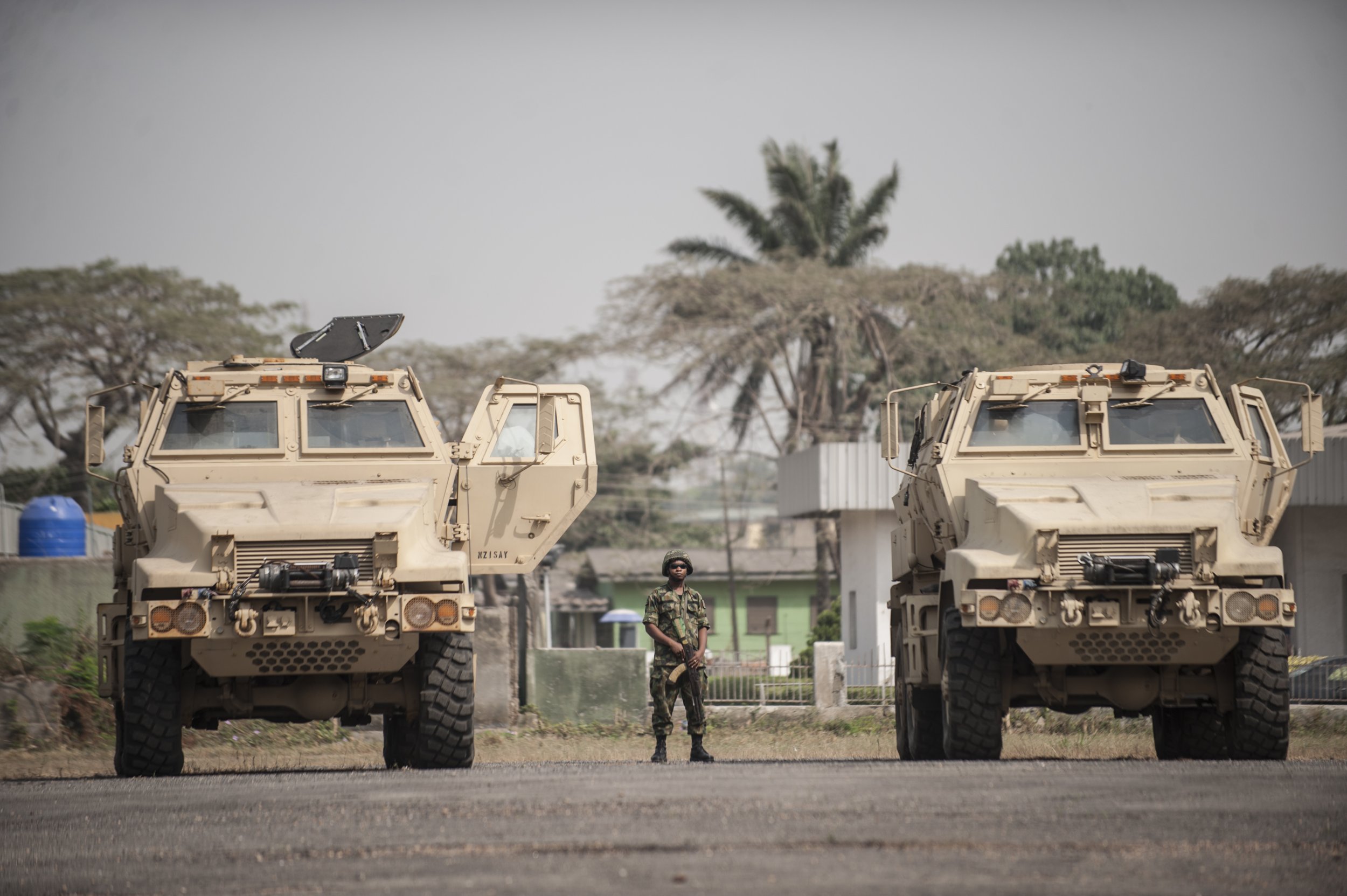 The U.S. is donating 24 armored vehicles to the Nigerian military for its fight against Boko Haram, AP reports.
The U.S. consulate in Lagos announced on Thursday that it was donating the mine-resistant, ambush-protected (MRAP) vehicles, worth a total of $11 million.
Boko Haram has continued carrying out sporadic attacks in northeast Nigeria, despite claims by President Muhammadu Buhari that the Nigerian military had "technically" defeated the insurgents. AP reported that 30 people were killed between Monday and Wednesday in Borno state, where the group retains a presence and carried out several deadly suicide bombings in December 2015.
U.S. Department of State spokesperson Temitayo Famutimi said that the donation "represents part of the continuing U.S. commitment to Nigeria and its neighbors to counter Boko Haram's senseless acts of terror and promote regional security."
The vehicles were donated at the Ikeja Cantonment in Lagos, according to New York-based outlet Sahara Reporters. Nigerian Major General BT Ndiomu said that the donation "couldn't have come at a better time especially considering the challenges that confront our armed forces in the northeast."
In October 2015, U.S. President Barack Obama signed off on an initial deployment of 90 American military personnel to Cameroon after a request from the government in Yaounde, with the number expected to reach 300. Obama said the personnel were being deployed to "conduct airborne intelligence, surveillance and reconnaissance operations in the region". Cameroon has been subject to Boko Haram attacks as the group expanded its operations outside Nigeria during the second half of 2015.
Cameroonian residents in the north of the country, however, are reportedly bemused by the lack of activity by U.S. troops in the region. Military leaders in Cameroon said the U.S. personnel had provided valuable intelligence for preventing Boko Haram attacks. In his end of year message in December 2015, Cameroon President Paul Biya thanked the U.S. for the decision to send personnel to his country, which he said constituted a "mark of confidence in our country and our army".
Newsweek contacted the U.S. Embassy in Cameroon to enquire whether American military personnel were engaged in fighting Boko Haram, but no one was available immediately to respond.
Boko Haram launched military operations in Nigeria in 2009 and has rebranded itself as the Islamic State West Africa Province (ISWAP) since pledging allegiance to the Islamic State militant group (ISIS) in March 2015. According to the BBC, its six-year insurgency has led to the deaths of some 17,000 people.