As U.S. and Iran Tensions Get Worse, Iraq Steps In and Tries to Help
The feud between the United States and Iran deepened Monday as Iraqi Prime Minister Adel Abdul-Mahdi traveled to Tehran in a bid to calm worsening tensions between his country's two allies.
Abdul-Mahdi and senior Iraqi officials met with an Iranian delegation led by President Hassan Rouhani, who stated that "the development of comprehensive cooperation between Tehran and Baghdad will surely be effective in enhancing the security and stability of the region," according to his office. Abdul-Mahdi was cited as saying that the two "must strive to safeguard and protect the interests of our two nations by expanding our relations and striving to accelerate the implementation of the agreements in the interests of the two nations."
In a readout provided by the Iraqi premier's own office, the pair were said to have "discussed relations between the two countries and the two neighboring peoples, developments in the region and ways to defuse the current crisis" involving Iran and the U.S.
Decades-long hostilities between Washington and Tehran were renewed last May with President Donald Trump's decision to leave a 2015 nuclear deal still backed by its other signatories—China, the European Union, France, Germany, Russia and the U.K.—and begin imposing sanctions on the Islamic Republic. A year later, the Persian Gulf region has become wrought with unrest involving the capture of international oil tankers and the targeting of drones at the center of recent moves viewed as escalatory by the opposing sides.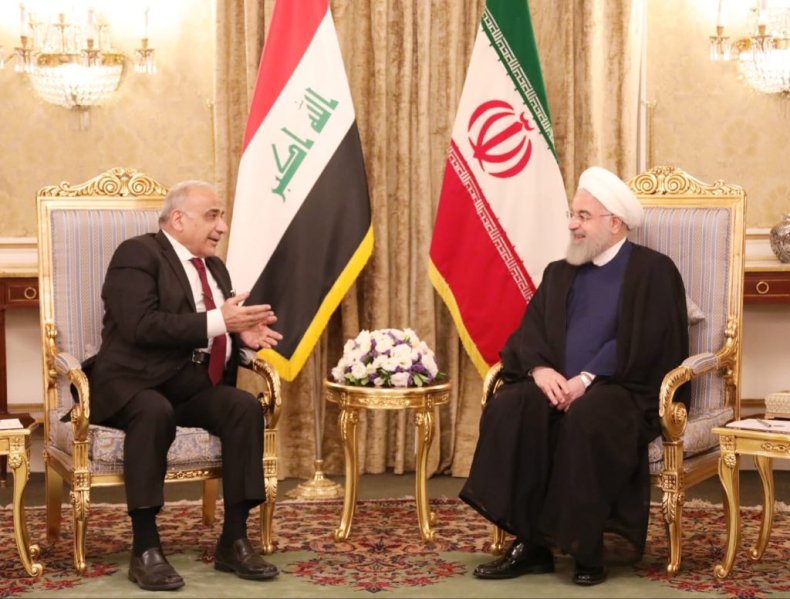 Iraq too has a lengthy, troubled history with neighboring, fellow majority-Shiite Muslim Iran, but ties improved after the U.S. invasion that toppled former Iraqi President Saddam Hussein and led to a Sunni Muslim insurgency that drew both U.S. and Iranian military action. Now Baghdad, in its latest effort to play regional peacemaker, was attempting to court both powers while at the same time refusing to allow Iraq to become a battlefield between them.
Even still, the country has been dragged into the spat. As a series of two similar attacks hit foreign oil tankers May and last month in the Gulf of Oman, rocket attacks targeted Iraqi bases and oil sites associated with the U.S. presence in the Arab country. The U.S. has blamed Iran and its allies, which include scores of Iraqi state-backed militias collectively known as the Popular Mobilization Forces, two of whose leaders were blacklisted Thursday by the Treasury Department's Office of Foreign Assets Control.
The following day, reports emerged of a drone strike inflicting casualties among Iraqis and Iranians at a Popular Mobilization Forces base near the city of Amerli in Salaheddin province. U.S. Central Command quickly issued a statement saying that "US Forces were not involved."
An investigation later conducted by the Popular Mobilization Forces, which have joined other branched of the armed forces in a sweeping campaign to defeat the remnants of the Islamic State militant group (ISIS), later determined that the explosion occurred as a result of solid fuel catching fire "due to an internal malfunction."
Much of the recent regional unrest was focused on the strategic Strait of Hormuz, where, also on Thursday, Iran seized a U.K.-flagged oil tanker after accusing it of turning off its transponder, endangering maritime traffic and ignoring repeated warnings. The move came weeks after the U.K. seized an Iranian ship charged with attempting to transport oil to Syria via the Strait of Gibraltar, an apparent violation of European Union sanctions, and a day after the U.S. claimed to have taken out an Iranian drone about a month following Iran's shootdown of a U.S. Navy drone in the same restive region.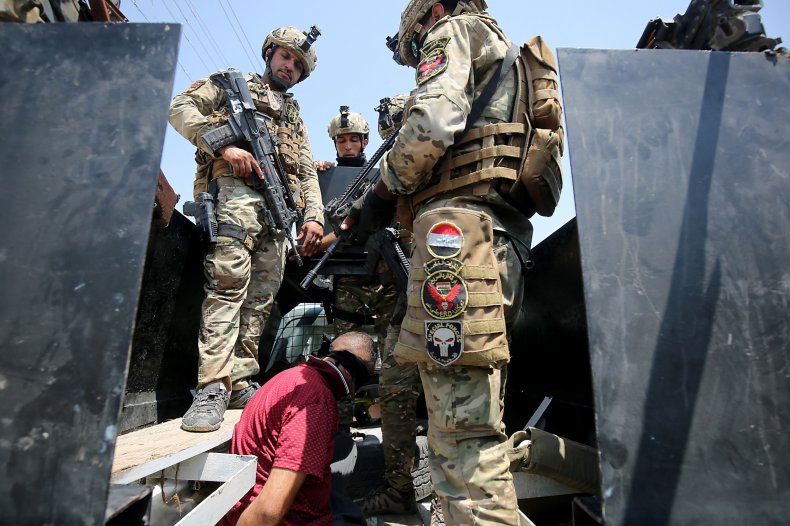 As the U.K. attempted to get its ship back, Iranian "Peace Be Upon Him" Central Headquarters military commander Major General Gholam Ali Rashid warned Monday that "Iran's defense and offense powers would have surprising and incalculable aspects for the aggressors" and that "we hope that American provocations will not endanger the stability and security of the region," according to a press release by the elite Revolutionary Guards.
That same day, the Iranian Intelligence Ministry released a statement regarding the arrest of 17 officials said to be part of a CIA spy ring. Trump responded to the charge on Twitter, calling it "totally false" and having "Zero truth."
"Just more lies and propaganda (like their shot down drone) put out by a Religious Regime that is Badly Failing and has no idea what to do. Their Economy is dead, and will get much worse. Iran is a total mess!" the president wrote before doubling down on this stance at a press briefing following talks with Pakistani Prime Minister Imran Khan at the White House.
"Iran doesn't know where they are. I've been watching and reading a lot of reports. Right now, they're a very mixed-up country. They don't know whether they're coming or going​," Trump said, adding that "they have a lot of problems, so whatever it is, it is, I'm just going to sit back and wait, let's see what happens."