U.S. Military Aircraft Circles Taiwan As China Warplanes Alarm Island
A U.S. Navy aircraft appeared to fly a circle around Taiwan early on Tuesday following 48 hours of intense Chinese warplane operations involving more than 50 aircraft.
Plane spotters watching the skies around the democratic island, which China claims as part of its territory, picked up one of the Navy's P-8 Poseidon maritime patrol aircraft as it departed an air base in Okinawa, Japan, before making a beeline for the Bashi Channel, south of Taiwan.
At approximately 10 a.m. local time, the aircraft turned northeast and headed through the Taiwan Strait, the narrow body of water separating Taiwan and China, according to a flight pattern published by the South China Sea Strategic Situation Probing Initiative, a Peking University think tank tracking American military movements around China.
The rare 30-minute maneuver along China's eastern coastline was not the only U.S. operation in the region; Taiwan-based plane spotters tracked a U.S. Air Force RC-135W Rivet Joint, an intelligence-gathering aircraft, loitering southwest of Taiwan around the same time. A KC-135 Stratotanker, which performs aerial refueling for the Air Force, was also seen in the area, according to publicly available data on flight-tracking services.
The Bashi Channel forms part of the strategically important Luzon Strait between Taiwan and the Philippines. The waterway connecting the Western Pacific to the South China Sea is frequented by American warships and aircraft, but in recent years has also seen regular training exercises by China's People's Liberation Army (PLA).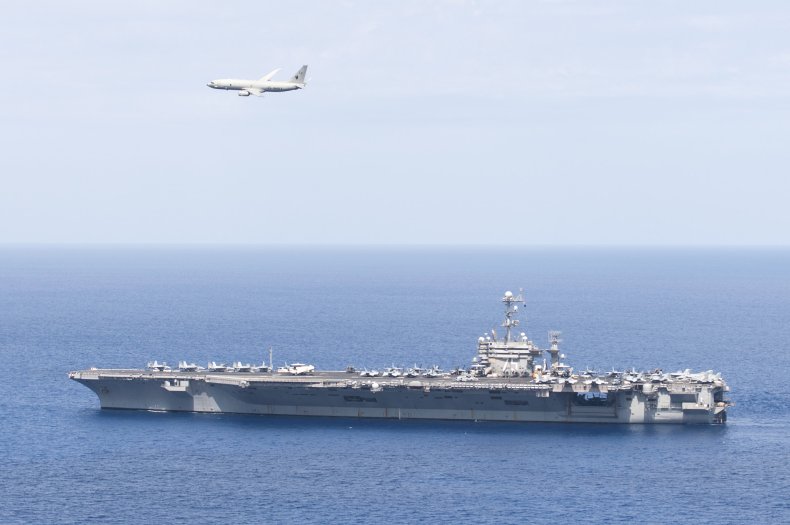 Taiwan's Defense Ministry said it detected 52 PLA aircraft in the island's southwest air defense identification zone (ADIZ) in the past two days. Sunday's 39 sorties were the highest number this year, while Monday's 13 included a first appearance by China's newly commissioned J-16D, an electronic warfare variant of the PLA's J-16 multirole strike fighter, the aircraft type that has flown the most sorties into Taiwan's ADIZ since records began in September 2020.
When the Navy's maritime patrol aircraft transited the Taiwan Strait on Tuesday, plane spotters also saw Taiwan's air force scramble a fighter jet to monitor its movements.
Taiwan reported two ADIZ incursions on January 25, bringing the month's total to 124 sorties, according to data compiled by Washington, D.C.-based analyst Gerald Brown. Brown's figures showed nearly 1,000 such flights in 2021—nearly triple the number for 2020.
In the last 12 months, China's more dramatic warplane maneuvers near Taiwan have followed a similar pattern—it dispatches large fleets of aircraft whenever American forces are in the vicinity. Sunday's PLA sorties coincided with two Navy aircraft carrier groups crossing the Luzon Strait into the South China Sea. Analysts previously speculated that the Chinese military uses these deployments to simulate attacks on U.S. carriers.