U.S. Military Confirms Airstrike Hit Explosives-Packed Vehicle Headed for Kabul Airport
The U.S. military confirmed that it carried out a drone strike on Sunday, successfully taking out what appeared to be an explosives-packed vehicle heading toward Kabul's international airport.
Captain Bill Urban, a spokesperson for U.S. Central Command, confirmed the air strike in a statement emailed to Newsweek.
"U.S. military forces conducted a self-defense unmanned over-the-horizon airstrike today on a vehicle in Kabul, eliminating an imminent ISIS-K threat to Hamad Karzai International airport," Urban said.
"We are confident we successfully hit the target. Significant secondary explosions from the vehicle indicated the presence of a substantial amount of explosive material," the military spokesperson explained.
"We are assessing the possibilities of civilian casualties, though we have no indications at this time. We remain vigilant for potential future threats."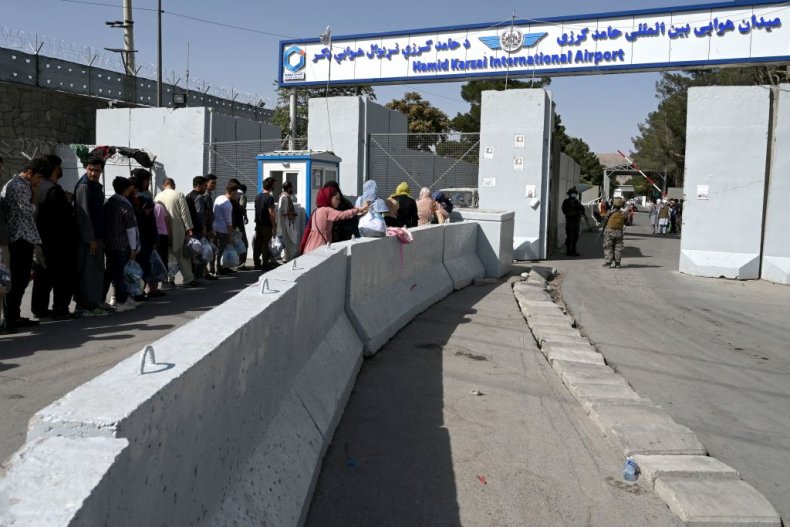 The airstrike came after the U.S. military said on Saturday that it took out two prominent members of the militant extremist group ISIS-K in a drone strike. ISIS-K claimed responsibility for a Thursday attack at the Kabul airport that left more than 170 people dead, including 13 U.S. service members.
In the wake of the Thursday attack, President Joe Biden vowed to take revenge against the militant group, which is opposed to the U.S. and the Taliban.
"To those who carried out this attack, as well as anyone who wishes America harm, know this: We will not forgive. We will not forget. We will hunt you down and make you pay," Biden said in a speech.
During an interview with Fox News Sunday, Biden's national security adviser Jake Sullivan asserted that the administration planned to continue targeting ISIS-K despite the U.S. withdrawal from Afghanistan.
The president "will ensure that we get the people responsible for this, that we continue to put pressure on the groups responsible for this, and that we continue to take targets off the battlefield," Sullivan said.
The U.S. military has been withdrawing all its forces from Afghanistan after two decades of war in the country. Former President Donald Trump's administration signed a peace deal with the Taliban in February 2020, agreeing to withdraw U.S. troops by May 1 of this year. After Biden took office, he pushed that deadline back to September 11 and then moved it forward to August 31.
But the Taliban regained near total control of Afghanistan by August 15, two weeks ahead of Biden's full withdrawal date. The U.S. military has maintained control of the Kabul airport, however, and has been swiftly evacuating tens of thousands of Americans, allies and Afghan refugees fleeing the country. Overall, the Taliban has largely allowed the evacuation to proceed with relatively little hindrance.
In the wake of the Thursday attack by ISIS-K, a Taliban spokesperson condemned the violence.
"The Islamic Emirate strongly condemns the bombing of civilians at Kabul airport, which took place in an area where US forces are responsible for security," Taliban spokesperson Suhail Shaheen wrote on Twitter.
Despite the strong military response from the Biden administration to ISIS-K, Republican critics argue that the threat from terrorists has increased substantially.
"The chance of another 9/11 just went through the roof. These drone attacks will not degrade ISIS," Senator Lindsey Graham, a South Carolina Republican, told CBS News' Face the Nation on Sunday.
Senate Minority Leader Mitch McConnell, a Kentucky Republican, issued a similar dire assessment during an interview with Fox News Sunday.
"Just because we decided to stop fighting doesn't mean the terrorists go away. So they're still out there. They're invigorated. They're emboldened. They're excited about the success they see in bringing America to its knees in Afghanistan," McConnell said.
This article has been updated with additional information and background.