The U.S. military told Newsweek it rejects Russia's warning over recent rocket drills held in the neighboring NATO alliance nation Estonia. The rocket drills are the first of their time, and are taking place during a time of heightened tensions across the Baltics and neighboring Belarus.
U.S. Army Europe's 41st Field Artillery Battalion began deploying a battery of multiple launch rocket systems Tuesday near Estonia's village of Tapa to conduct training exercises as part of Operation Rail Rush. The drill, held jointly by about 70 personnel from U.S. Army 1st Battalion, 6th Field Artillery Regiment and Estonian Defense Forces' 1st Infantry Brigade, is the U.S. battalion's first outside of Germany and caught international attention.
Hours after U.S. Army Europe announced the drills on Monday, the Russian Foreign Ministry issued a statement criticizing the maneuvers said to be taking place about 70 miles from the country's border.
"The Russian Federation has repeatedly offered to the United States and its allies to limit training activities and to divert exercise areas from the line of contact between Russia and NATO," the statement said. "We consider the actions of the US Armed Forces in Estonia provocative and extremely dangerous for regional stability."
Moscow's foreign service accused the U.S. and its Western coalition allies of "saber-rattling" and of stoking regional tensions Washington would not want to see in its own corner of the world.
"What signal do NATO members want to send us? Who is actually fueling tensions in Europe? And all this is taking place in the context of an aggravated political situation in that region of the European continent," it added. "Rhetorical question: how would the Americans react if such shooting were carried out by our military near the US borders?"
In fact, U.S. military agencies reported on interceptions Thursday of Russian patrol planes off Alaska's coast as well as the surfacing of a submarine recently involved in anti-ship missile tests ranging roughly 200 miles.
But, speaking to Newsweek, 41st Field Artillery Brigade spokesperson Army Major Joseph Bush said U.S. rocket drills in Estonia were not intended to target Russia nor any other nation.
"This exercise is a demonstration of partnership between NATO Allies aimed at improving interoperability, and is not directed toward a particular country or adversary," he said.
"The exercise only utilizes the Estonian Defense Forces artillery ranges within the Tapa Training Area," Bush added. "To our knowledge the amount of equipment or troops involved does not require any notification as defined by treaty. We've been transparent in terms of the dates, location and amount of troops and equipment involved."
U.S. Army Europe spokesperson Beth Clemons concurred, telling Newsweek that "the size of the exercise does not require notification," yet "we make every attempt to be transparent and therefore provided prior notice."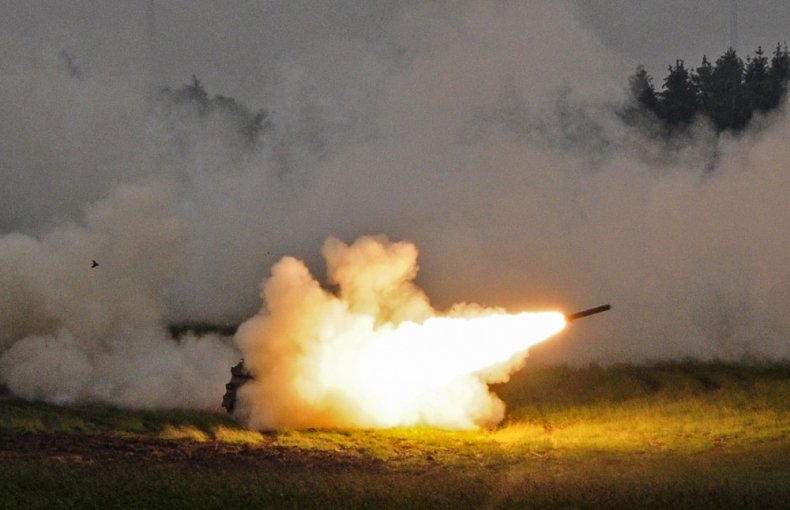 While the Baltic states have long been a geopolitically sensitive spot for the NATO-Russia rivalry in the wake of the Cold War, the past month has proven especially fraught with tensions as mass protests erupted in nearby Belarus after the re-election of longtime President Alexander Lukashenko in a vote his critics at home and abroad say was rigged. The 26-year leader has reacted by cracking down on demonstrations, sending troops to his borders and reaching out to Russian President Vladimir Putin for support.
The two heads of state have held regular discussions that have led to the establishment of a Russian law enforcement unit prepared to respond, but only should the security situation devolve into destruction mayhem, Putin has said. Both he and Lukashenko blame NATO for provoking the opposition.
Latvia, Lithuania and Poland have expressed to Newsweek concerns about Belarus' political unrest and have said they were monitoring the country's border drills and the potential role of Russia there. In an interview Monday with Germany's Der Spiegel, Estonian Defense Minister Jüri Luik said, "Russia is never part of the solution but always part of the problem."
U.S. Deputy Secretary of State Stephen Biegun condemned "post-election brutality" in Belarus and urged its people be allowed "self-determination to choose their own leaders through a truly free and fair election under independent observation." He said the situation should not be considered a contest between the U.S. and Russia.
Other U.S. officials previously cautioned to Newsweek that Moscow may use the situation in Belarus to bolster Russia's defenses there against NATO.
On Tuesday, Bush said his forces were tracking the crisis but that planning for the live-fire drills in Estonia far predated the situation in the country.
"We're aware of current events in Belarus, but the planning for this exercise started six months ago in March," Bush told Newsweek. "There were logistical movements that took several months to plan to facilitate the training."
"The 41st Field Artillery Brigade has been working closely with the Estonian Defense Forces to coordinate a live fire exercise here in Estonia," he added. "This is one of many such exercises we hope to accomplish across Europe with our NATO allies and partners in the coming years."
Clemons echoed these remarks.
"U.S. Army Europe monitors all activities that may have an effect on European security, but as the public announcement stated, this long-planned exercise is not in any way tied to current events in the region," she told Newsweek.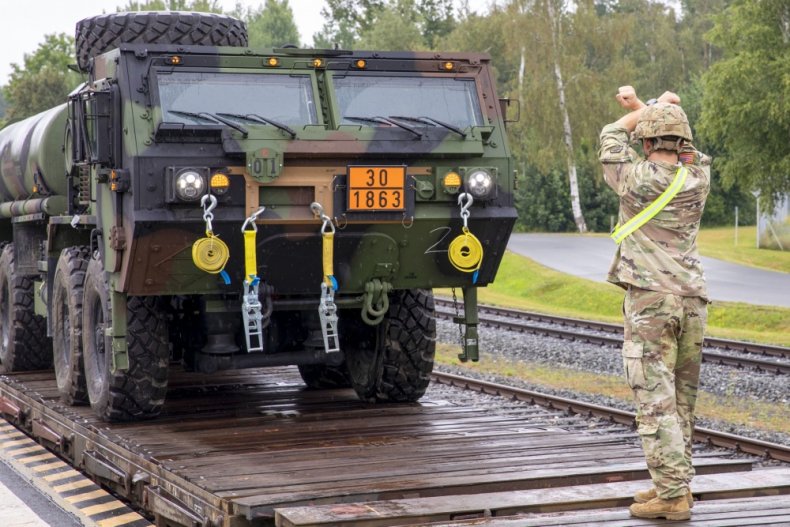 Estonia is one of four countries along with fellow Baltic states Latvia and Lithuania as well as Poland to which NATO has deployed multinational battle groups to counter Russia in the wake of a destabilizing series of events involving Ukraine in 2014. The country's leader was overthrown and fled amid widespread political violence that year and Moscow sent forces in to safeguard interests at Crimea, where Russia's Black Sea Fleet is headquartered.
Russia later annexed the territory in an internationally-disputed referendum accompanied by an eastern insurgency that Ukraine and Western countries linked to Moscow.
Belarus hosted talks to resolve the conflict but developments surrounding recent Lukashenko's election have led Kyiv to cut all contacts with his government. Now he saw a NATO plot to establish a friendly corridor from the Baltic to Black Seas by toppling Moscow-friendly leadership.
While concurrent Russian and U.S.-led exercises in the Black Sea took the spotlight late last month, this month has seen an uptick in aerial interactions between Russia and NATO forces, including the U.S. and especially near the Baltic Sea. In the most recent incident, the Russian Defense Ministry said it intercepted a German P-3C Orion maritime patrol aircraft on Tuesday.
In the latest sign of Belarus' deepening alliance with its Union State partner, Russian Foreign Minister Sergey Lavrov was set to pay a working visit to what his ministry called "Russia's closest ally" on Wednesday.
"Russia is closely following the situation after the elections, emphasizes the inadmissibility of attempts to destabilize it from the outside and interference in the internal affairs of the Republic, and advocates the normalization of the situation while observing constitutional norms and respecting the rule of law," the Russian Foreign Ministry said in a statement Tuesday.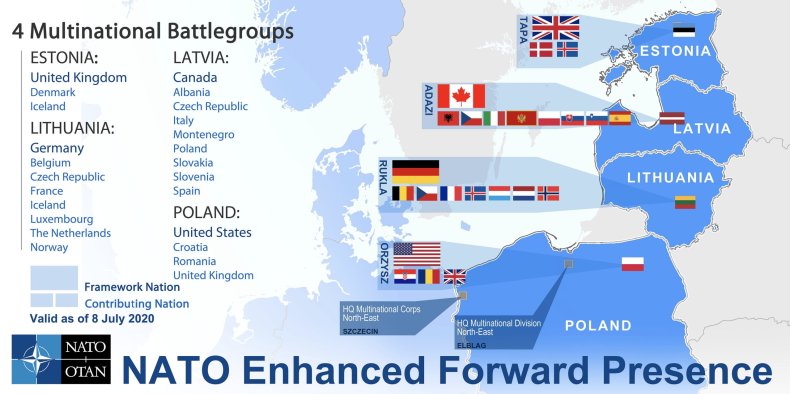 This article has been updated to include comment from a U.S. Army Europe spokesperson.