U.S. Military to Expand Drone War to Niger, Where Four American Soldiers Were Killed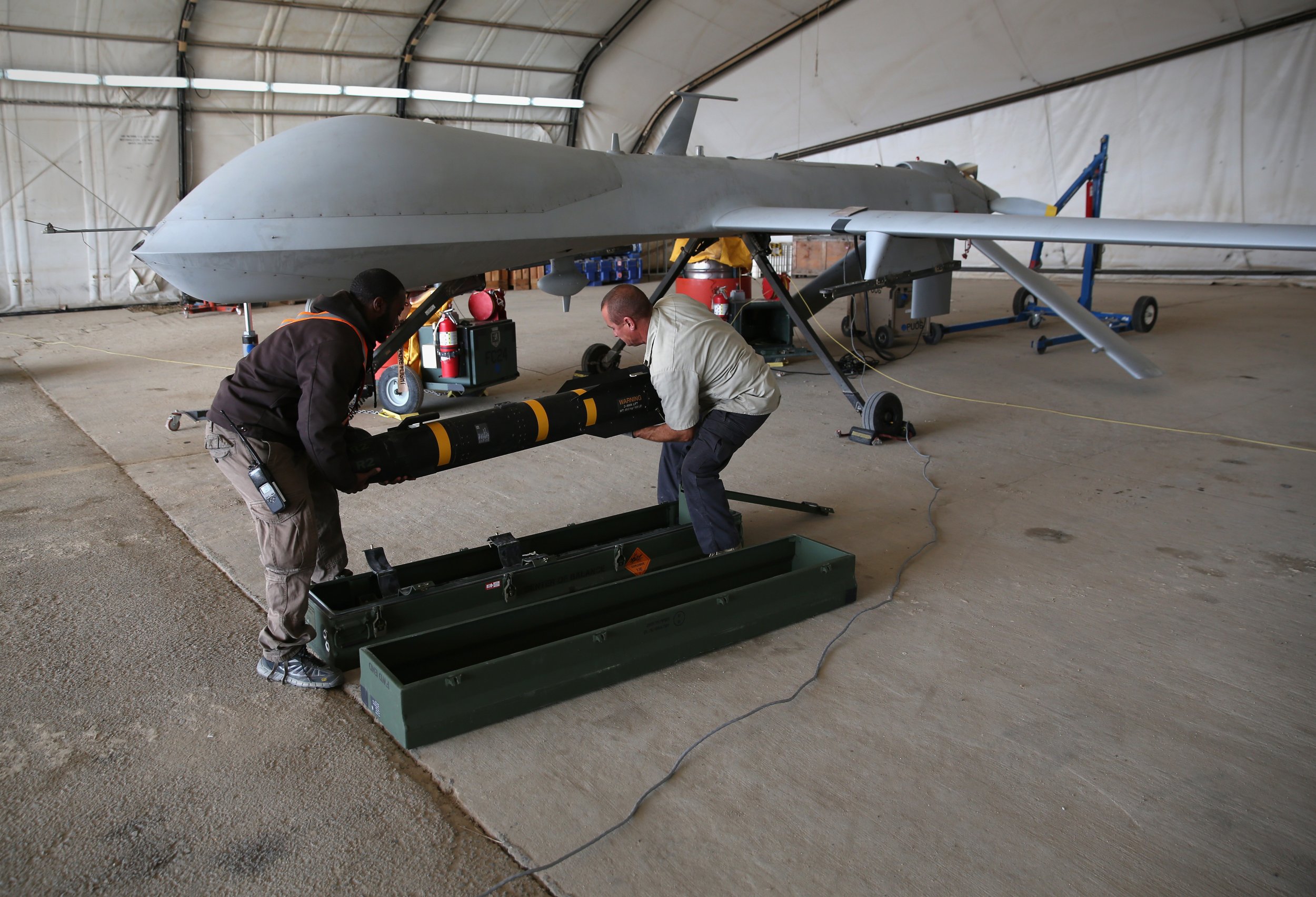 Updated | The U.S. military is expanding its drone war to Niger amid scrutiny over the deaths of four U.S. special forces soldiers who were killed there in October, marking a major escalation in America's fight against terrorism in Africa.
Pentagon officials said Thursday the government of Niger had given the U.S. military permission to fly armed drones out of the Nigerien capital, Niamey, The New York Times reported. The Pentagon reportedly wants to begin flights soon––possibly in the next few days. The approval for the U.S. to conduct drone strikes could lead to an increase in U.S. military personnel in Niger, to ensure the right people are there to support and operate the equipment.
When questioned about this by Newsweek, Robyn Mack, a spokesperson for U.S. Africa Command (AFRICOM), declined to offer details on "specific military authorities or permissions" granted in Niger due to "operational reasons," but also didn't deny such authority had been given. "The Government of Niger and the U.S. stand firm in working together to prevent terrorist organizations from using the region as a safe haven," Mack added.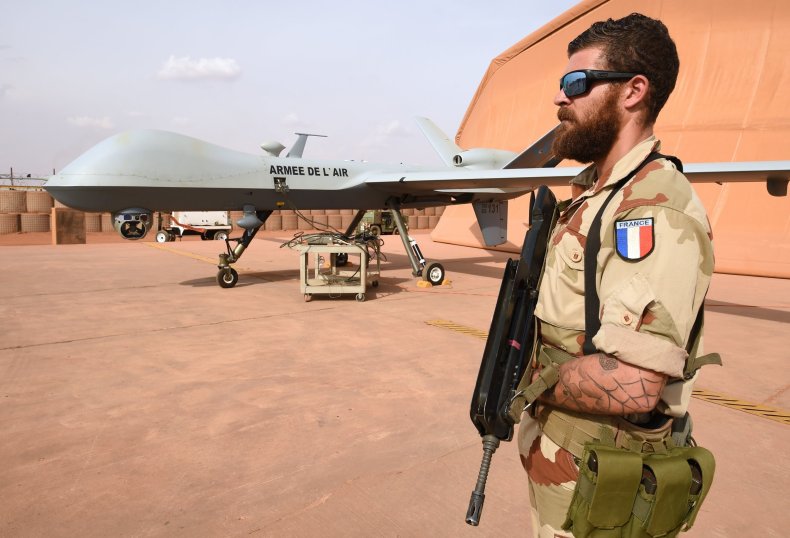 Read more: Is Niger Trump's Benghazi? Four U.S. soldiers died and it took him 12 days to respond
After the four U.S. soldiers were killed on October 4, some top members of Congress expressed shock that the U.S. military even had troops in Niger. Roughly two months later, it now seems the U.S. military is expanding its activities in the country drastically. The U.S. has roughly 800 troops in Niger and is building a major drone base near the city of Agadez, situated in the center of the country.
There's an ongoing investigation into the deaths of the soldiers, who were ambushed by a group believed to be linked to the Islamic State––ISIS in the Greater Sahara––during what the Pentagon has claimed was a reconnaissance mission. Details on what occurred are still hazy and many questions remain, including whether an armed drone could've helped prevent their deaths.
In addition to ISIS in the Greater Sahara, Al-Qaeda is quite active in the region, and several United Nations peacekeepers were recently killed in dual attacks in the neighboring country of Mali––though no group has claimed responsibility as of yet.
Read more: Remains of U.S. soldier found in Niger after widow questioned what was in coffin at funeral
In military circles, drones are seen as a shrewd way to bring the fight to terrorists without risking the lives of U.S. troops, given that they aren't manned aircraft and reduce the need for boots on the ground. But the use of drones and drone strikes by the U.S. as part of its broader fight against terrorism has long been controversial. The U.S. has been using drones as both a surveillance tool and as a means to target and kill suspected terrorists since 2002 under the Bush administration, but former President Barack Obama expanded America's drone program exponentially. Obama was criticized for the drone strikes that occurred during his tenure, and though he made efforts to reduce civilian casualties by setting certain limitations, some feel he could've done more.
Meanwhile, President Donald Trump has sought to roll back such limitations and has granted the military broad autonomy when it comes to drone strikes and airstrikes more generally. Consequently, there's been a big uptick in civilian casualties in the Middle East under Trump.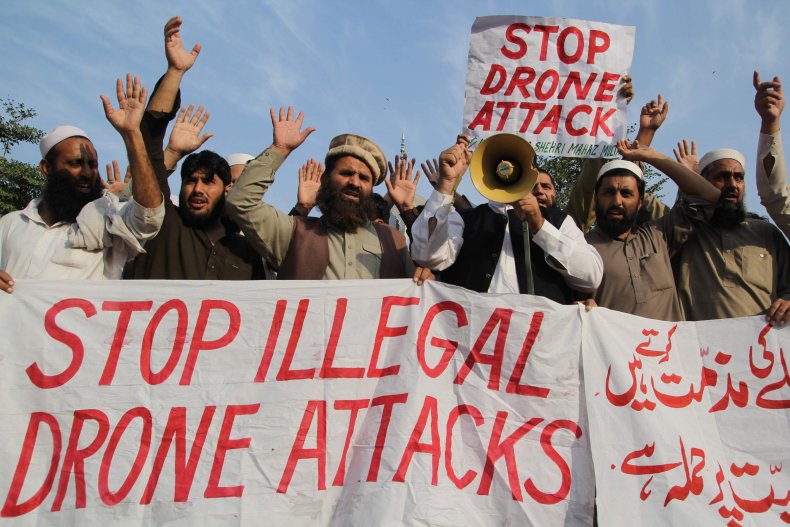 Some experts contend U.S. drone strikes are not only immoral and illegal, but also ineffective and actually more likely to increase terrorism due to civilian casualties and the enmity they breed toward America. In 2010, a man named Faisal Shahzad attempted to bomb Times Square in New York City and later cited drones as his inspiration.
In Niger, some locals are reportedly worried the U.S. drone base being built near Agadez will make it a target for extremists and place them in danger. "It's a magnet for the terrorists," Anastafidan el Souleymane Mohamed, a tribal elder in Agadez, told The Washington Post.
Read more: U.S. soldiers were set up for ambush by ISIS-sympathetic village in Niger, officials say
Drone strikes could also potentially place Niger's capital in danger if it's to serve as the base of operations. If strikes lead to civilian casualties, U.S. troops in the country could also be in further danger. The U.S. military is already conducting drone strikes against an Al-Qaeda affiliate––Al Shabab––in Somalia amid scrutiny over allegations civilians were killed in a joint raid by American and Somali troops in August. The Pentagon has maintained those who were killed were "enemy combatants."
Despite some of the concerns that might arise from this move, experts seem to see the decision to arm drones in Niger as in line with recent trends in modern militaries.
"The approval to arm drones in Niger demonstrates the way drones are an increasingly normal part of the toolkit that countries use when confronting terrorist groups and insurgencies," Michael C. Horowitz, professor of political science at the University of Pennsylvania, told Newsweek. "How often armed drones will be used is an open question, but this decision will give the U.S. more operational flexibility."
This article has been updated to accurately reflect the details surrounding the rent deaths of U.N. peacekeepers in Mali.