Is Donald Trump Right? U.S. Military Should Be Permanently Stationed in Eastern Europe to Protect NATO From Russia, Allies Argue
President Donald Trump has said that Europe needs the North Atlantic Treaty Organization and U.S. military support more than anything, despite France's calls for a European military to defend itself from China, Russia and even the U.S.—and the president may be right.
Europe could better defend itself from Russian aggression if the U.S. sent a permanent deployment of troops to NATO's eastern flank, security experts argue.
Speaking on the sidelines of a security conference held in Serbia's capital of Belgrade on November 8-9, just days before Trump went on Twitter to berate France for suggesting that Europe could defend itself without the U.S., former director of NATO's cybercenter Sven Sakkov laid out a case for why many defense experts in Europe are asking for a permanent U.S. military presence in Eastern Europe.
"What I think is missing now is a U.S. military presence in the Baltic States. And this I think is very unfortunate. That is not to say that we are not thankful in Estonia for the fact that we have a British battalion, which is right now supported by Denmark, they are great allies. But the simple fact is that the military deterrence value of American soldiers is the highest in the world," Sakkov told Newsweek.
"When the Russian military or political leadership says NATO, they mean the U.S. And in a way, any price in terms of an increased deployment of U.S. forces on the Eastern flank of NATO is absolutely nothing if you compare that to the prospect of a war with the Russian Federation. We need to be much more in the business of deterrence, through deployment, not only preparing for defense," Sakkov continued.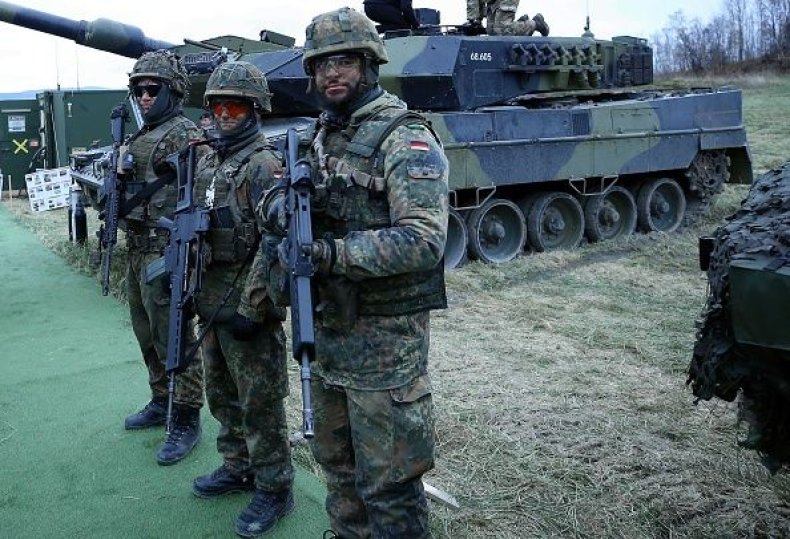 European NATO officials confirmed to Newsweek that they would fully support the decision to open a permanent U.S. military base in Poland. In September, Poland's President Andrzej Duda visited Washington and publicly requested that a permanent U.S. military base be established in his country. Duda even offered to name the base after President Donald Trump. And in March, Poland finalized the purchase of a U.S. patriot missile defense system. The $5 billion purchase was the largest in Poland's history.
"It's a lot of money, but we also know from our historical experience that security has no price," Duda said at the time.
Former and current European officials confirm that a U.S. presence would be especially welcome now that the Trump administration plans to cancel the Intermediate-Range Nuclear Forces Treaty (INF), which was signed between the U.S. and Russia in 1987. Russia has repeatedly been found to be in violation of the treaty, but the risk of Moscow stockpiling weapons with which to threaten its European neighbors will likely increase once the treaty is no longer in force. Some experts have warned that a new arms race may be imminent.
Despite the important role the U.S. plays in Europe, some experts also note that the EU must work more closely with NATO institutions to make Europe more secure.
"If you look in the cyber arena, laying aside the disinformation operations, if you look at the traditional cyber attacks that we worry about, the attacks on our national critical infrastructure and so on, a lot of the tools you would need to deal with some of these things are not NATO tools, they are the kinds of tools the EU has or is developing, to deal with the resilience of electrical grids that stretch across Europe and so on," said Ian Bond, director of foreign policy at the Center for European Reform.
"One of the things that NATO and EU members have to grapple with is how do we get the two working together more closely. We now have in excess of 70 common actions that NATO and the EU are working on together, but we still have a long way to go before the two are working together rather seamlessly," Bond continued.
Trump, meanwhile, has railed against NATO allies and accused them of not spending enough of their national budgets on defense. But Sakkov said that doesn't make the U.S. an unreliable partner.
"It reminds me of what Mark Twain said about Wagner's music—'It's better than it sounds.' If you just listen, or rather read what Trump is tweeting, it sounds bad," Sakkov said. "But on the ground, when it comes to substance, things are moving well."