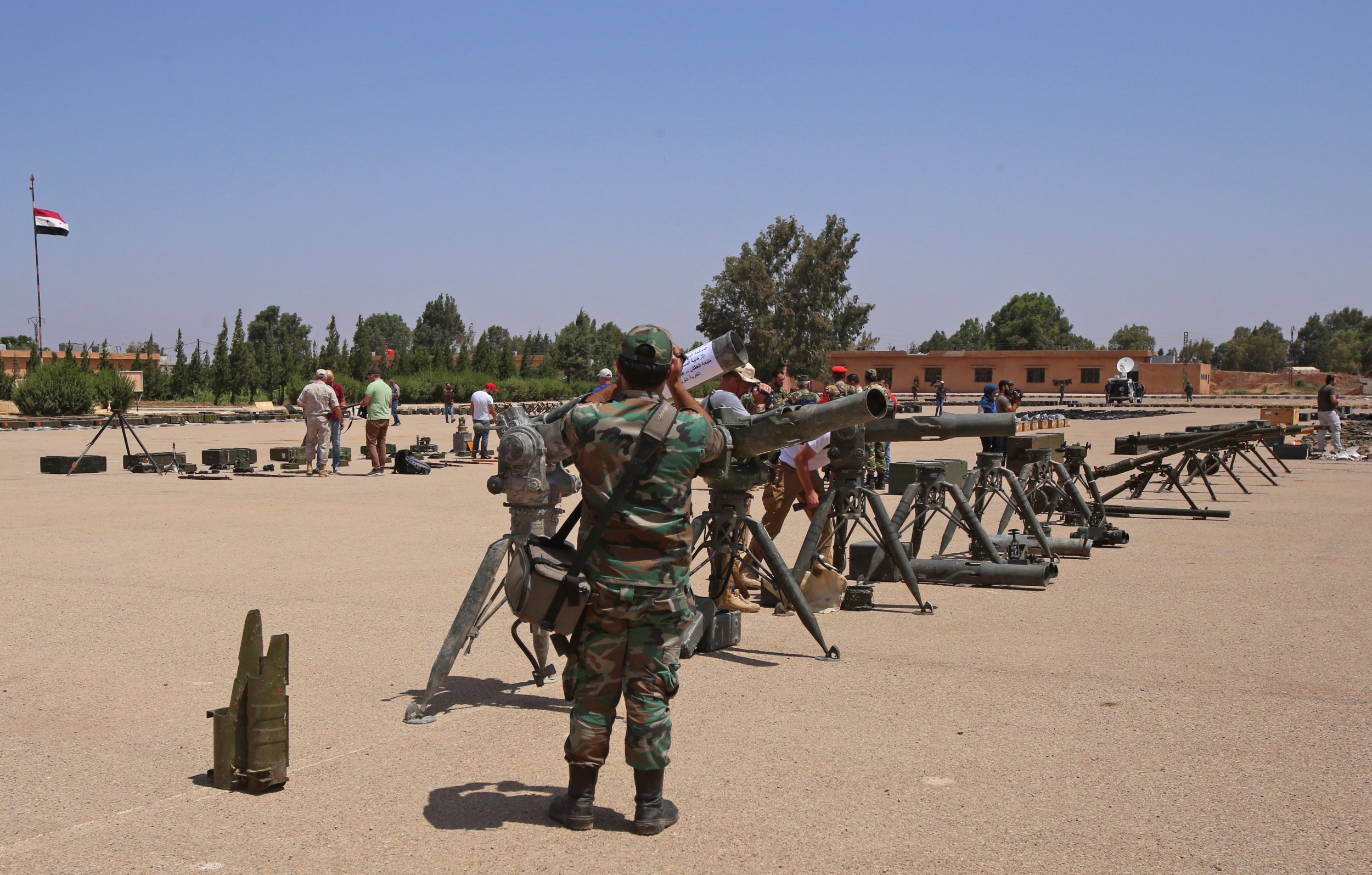 Advanced weapons capable of piercing through armored vehicles and developed by the United States have been found in the hands of insurgent groups across the Middle East and may pose a threat to U.S. forces there.
The anti-tank guided missile, or ATGM, is a type of rocket launcher that can be used to guide a projectile toward its target via console controls and thin wires or laser technology. One of the most popular U.S.-made systems is the BGM-71 TOW, which stands for "Tube-launched, Optically-tracked, Wire-guided," a weapon that has been used in combat since the Vietnam War and in the Middle East at least since the 1982 Israeli invasion of Lebanon.
By the time the Syrian civil war broke out in 2011, the Syrian military had amassed its own arsenal of Soviet-era ATGMs, a number of which fell in the hands of rebels and jihadis attempting to overthrow the government. The insurgency's stockpile grew, however, as the U.S. began to send TOW missiles to opposition fighters, a move that would have devastating results for Syria's tank force.
In the years since, Russian and Iranian backing has helped the Syrian military regain most of the country and foreign powers such as the U.S., Israel, Qatar and Saudi Arabia have largely abandoned their support for rebels, some of whose stockpile would go on to be used by militants such as the Islamic State (ISIS) and Al-Qaeda.
Even as these groups were mostly defeated in Iraq and Syria, many of these weapons remain unaccounted for, or have been acquired by other groups opposed to U.S. presence in the region.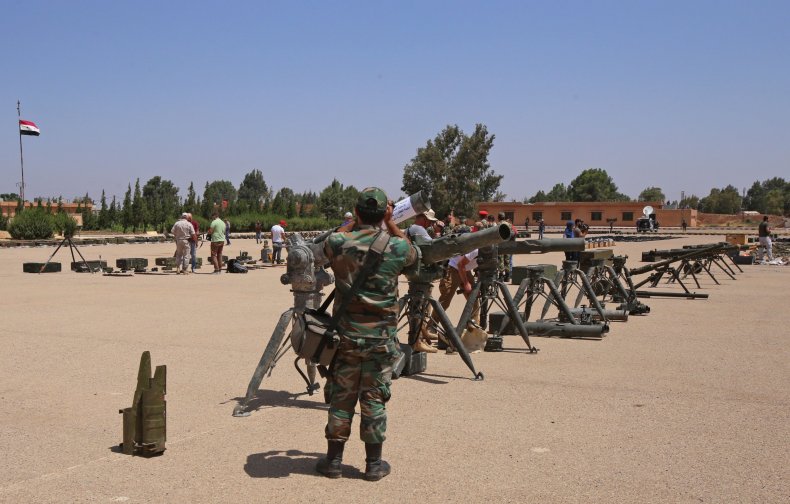 In a report about ATGM proliferation in the Middle East published Tuesday, The Wall Street Journal cited a senior military analyst for defense-intelligence firm Stratfor, Omar Lamrani, as saying, "There is absolutely the possibility that the U.S. may face some of the same ATGMs it has delivered in the past to the Middle East."
This was already in the case in Iraq, where ISIS had its origins in the Al-Qaeda-led Sunni Muslim insurgency that followed the 2003 U.S. invasion. By 2014, ISIS had taken up to half the country and looted government caches that included TOW missiles as the U.S.-led coalition scrambled to battle the group in Iraq and in neighboring Syria, where the jihadis took advantage of the ongoing civil war to further their gains.
That same year, the CIA approved the distribution of TOW missiles to certain groups of the insurgent Free Syrian Army battling government forces. Toward the end of 2015, Russia entered the fight on behalf of Assad and the U.S. began to focus more on the mostly Kurdish Syrian Democratic Forces' campaign against ISIS as the opposition grew increasingly Islamist, but Saudi Arabia still delivered up to 500 TOW missiles to rebels around this time, according to BBC News.
As Syrian rebels now primarily sponsored by Turkey turned against the Kurdish elements of the Syrian Democratic Forces, embedded U.S. troops found themselves being targeted by the very same groups they once supported. President Donald Trump, a longtime critic of his predecessor's efforts to arm non-state actors in Syria, officially cut U.S. support for the opposition in 2017, telling The Wall Street Journal that some weapons had ended up with Al-Qaeda.
An investigation released in May by investigative website Bellingcat found at least 1,070 confirmed TOW missile launches in seven years of Syria's civil war, making it more active than all other ATGM variants combined. In another case, a 9M111MB-1 ATGM was bought by the U.S. Army from Bulgaria in December 2015 only to be recovered by Iraqi troops battling ISIS in Ramadi two months later in February, according to a report published in December 2017 by the U.K.-based Conflict Armament Research group. The report matched the supply chain to the same weapons being sent to the Jaysh al-Nasr rebel group in Syria.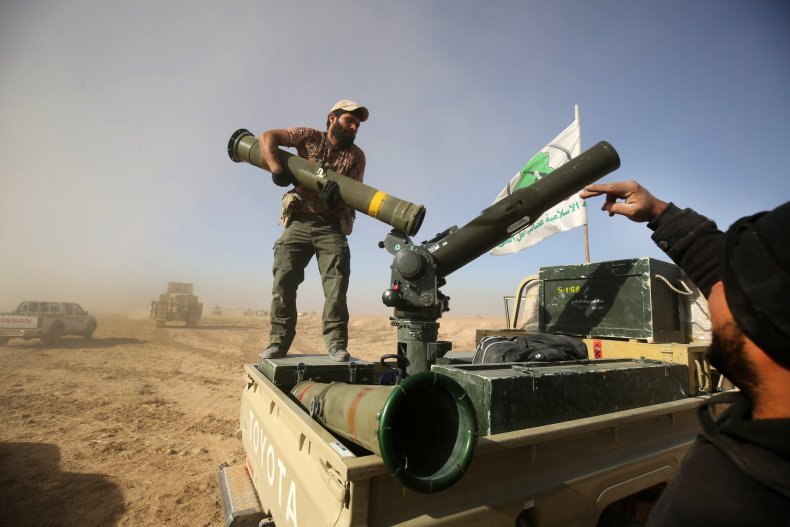 ISIS no longer holds territory in Iraq and has been reduced to a mere pocket of control in eastern Syria, where Trump announced last month that he would begin withdrawing U.S. troops. The Syrian government has regained control of most of the country, leaving the Syrian Democratic Forces with about a third and the Syrian opposition with only the northwestern province of Idlib, dominated by the Hayat Tahrir al-Sham coalition and other jihadi groups.
While Sunni militants now pose only a limited threat to U.S. forces in Iraq and Syria, Shiite Muslim forces supporting the local governments on behalf of Iran now claim a vast presence in both nations. Such groups as the Lebanese Hezbollah movement have echoed Assad's call for U.S. troops to exit Syria immediately, while Trump's recent surprise visit to Iraq highlighted local opposition to ongoing U.S. military presence there too, a sentiment voiced by both rival political blocs as well as members of local militias who have threatened to expel U.S. troops by force if necessary.
These militias, part of the majority-Shiite Muslim collective Popular Mobilization Forces, have officially joined the Iraqi military, giving them further access to TOW missiles and other U.S. weapons already seen in their ranks throughout the fight against ISIS.