Donald Trump Did 'Not Feel Safe' in Iraq and Neither He Nor U.S. Troops Should Be There, Some Local Officials Say
President Donald Trump's debut visit to Iraq was met with mixed reactions at best, as a number of local officials protested ongoing U.S. military presence there.
Trump's trip to Al Asad Air Base kept up the tradition of every U.S. leader visiting Iraq over the Christmas holiday since December 2002, a year after the 9/11 attacks that compelled Washington to launch a global "war on terror" and only months before the U.S. invaded and overthrew Iraqi President Saddam Hussein in 2003. The U.S. has been involved in the majority-Shiite Muslim country ever since as the intervention gave rise to a Sunni Muslim insurgency led by Al-Qaeda and, later, the Islamic State militant group (ISIS).
While the U.S. has worked alongside the Iraqi government to battle these groups, many—including forces allied to neighboring Iran—blame the Pentagon's involvement for stirring up the unrest that has gripped Iraq for 15 years. Trump's unannounced visit was also notable because it did not include meetings with Iraqi leadership.
Iraqi Prime Minister Adel Abdul Mahdi's office said in a statement that there "was supposed to be a formal reception and a meeting between the Prime Minister, Mr. Adel Abdul Mahdi and the US President, but a divergence of views on how to organize the meeting led to it being replaced by a telephone conversation."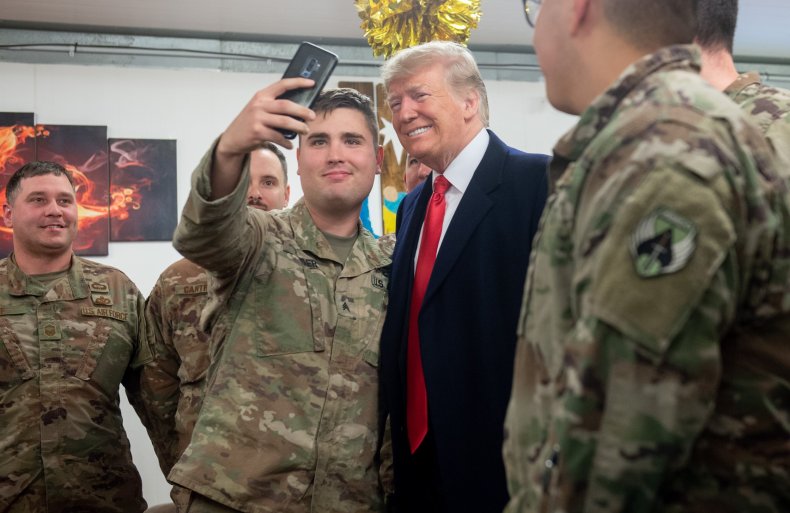 While Mahdi has been an independent since last year, he was formerly aligned to the Islamic Supreme Council of Iraq party, which has since joined the Al-Binaa or "Building" alliance. The bloc described Trump's surprise visit as a "blatant violation of the clear and diplomatic customs and shows his arrogance and hostility in dealing with the Iraqi government, calling it "unacceptable" in a statement Thursday. It added that the Iraqi government should "reject this visit, inform the United Nations and call the U.S. ambassador in Baghdad urgently" while the group called "on all political parties to unite in the demand for national sovereignty and to put an end to the suspicious U.S. military presence in Iraq."
The bloc was announced in September by Hadi al-Amiri, a former leader of the Iran-backed Badr Organization militia and head of the Al-Fatah political party, and Nouri al-Maliki, a former prime minister who led the State of Law party. The bloc is rivaled by the Reform and Reconstruction alliance, which was formed by influential Iraqi cleric and former militia leader Muqtada al-Sadr, whose Al-Sairoun alliance came out on top in May's elections, alongside fellow cleric Ammar al-Hakim's Hakim alliance and secular leader Ayad Allawi's Wataniya coalition.
The Islah coalition also condemned Trump's visit, with its leader Sabah al-Saadi saying Wednesday that the Republican leader came "as if Iraq was one of his states." He called for an emergency session of the House of Representatives in order to "discuss this blatant violation of Iraq's sovereignty and stop these aggressive actions from Trump, who must know his limits, the U.S. occupation of Iraq is over."
"The withdrawal of U.S. troops from Syria is no justification or grounds for U.S. forces remaining in Iraq and making it one if their bases in the region and the Middle East," the statement added.
Trump's visit also came just days after the 10th anniversary of the infamous shoe-throwing incident during former President George W. Bush's trip to Iraq. In May, Newsweek spoke to the perpetrator, journalist Muntazer al-Zaidi who has since joined the Al-Sairoun coalition and called on Trump "to withdraw American soldiers." Amid Trump's appearance at Al Asad Air Base, a number of Twitter users called on Zaidi to repeat his act, which he said he was "ready" to do, though the president was ultimately not targeted.
During his visit, Trump said that he had "no plans at all" to remove U.S. troops from Iraq, as his visit also came one week after he announced the withdrawal of U.S. soldiers from neighboring Syria, where ISIS also spread in the wake of a rebel and jihadi uprising. Since 2014, the U.S. has been battling ISIS in both Iraq and in Syria, whose government is backed by Russia and Iran and has deemed the U.S. an occupying force. This view was shared in Iraq by a number of militia groups looking to oust the Pentagon.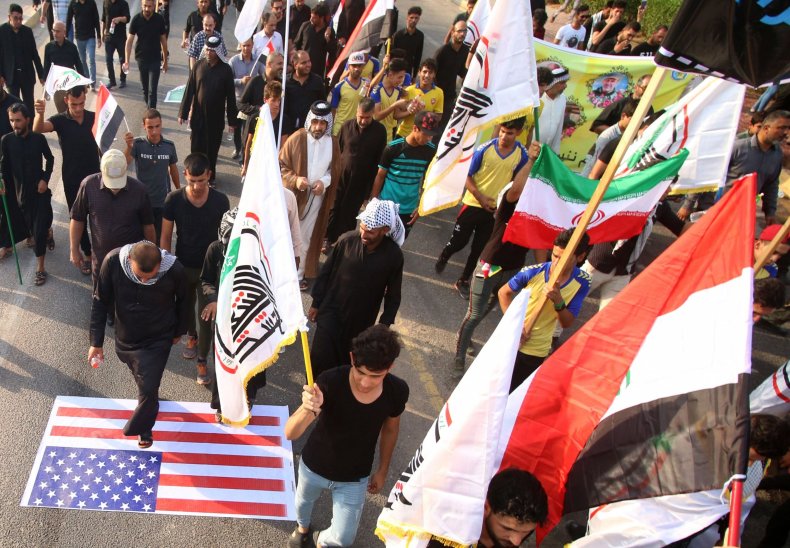 Although Iran-backed Shiite Muslim militias that once fought against U.S. troops briefly aligned with them during the battle against ISIS, the near-total eradication of the jihadis has once again compelled these groups to turn against U.S. forces. Complicating the regional equation, a number of these groups—known collectively as the Popular Mobilization Forces—have been officially inducted into the Iraqi armed forces. At least one of these groups, the Hezbollah Brigades, has been designated as a terrorist organization by the State Department, while the Hezbollah al-Nujaba Movement and Asaib Ahl al-Haq have been subject to sanctions.
"Trump must be aware that Iraq's sovereignty came with blood and not the building of bases in this country of resistance and martyrs. The government has a duty to expel U.S. troops as a violation of the country's sovereignty," Hezbollah al-Nujaba Movement spokesperson Hashim al-Musawi told Al Mayadeen, a Beirut-based outlet often critical of U.S. foreign policy in the region.
"The decision to withdraw U.S. troops belongs to the will of the people and its parliament, the resistance will force the United States to withdraw its troops from Iraq," Hezbollah Brigades spokesperson Jafar al-Husseini told the same outlet. "Leaders in the Iraqi resistance vowed to cut the hand that extends to neighboring countries including Syria. Trump's surprise visit to Al Asad base means he does not feel safe announcing his visit to Iraq."
Sheikh Qais al-Khazali, leader of Asaib Ahl al-Haq said in tweet Thursday that "despite Trump's arrogance and foolishness and the revelation of the true reasons for the U.S. military presence in Iraq, we highly commend the position of Iraqi Prime Minister Adel Abdul Mahdi when he refused to go to receive [Trump] and we declare our solidarity with him, as well as our solidarity with the House of Representatives in convening an emergency session and making a brave Iraqi national decision."