U.S. Open Commentator Explains Dionne Warwick and Gladys Knight 'Mistake'
A U.S. Open tennis commentator sought to clarify the circumstances around an alleged "mistake" that sparked fury on Twitter.
Women's tennis star turned commentator Chanda Rubin took to social media to offer some context to a viral video appearing to show her and her co-commentator misidentifying Dionne Warwick as fellow singer Gladys Knight.
Footage of the incident was shared to Twitter by the account Stevies_Wonder who captioned the clip: "Unacceptable, from both of them." An identical version of the video was also reposted to the platform by Stefan Simonowitz. The clip has already been viewed over 1.4 million times.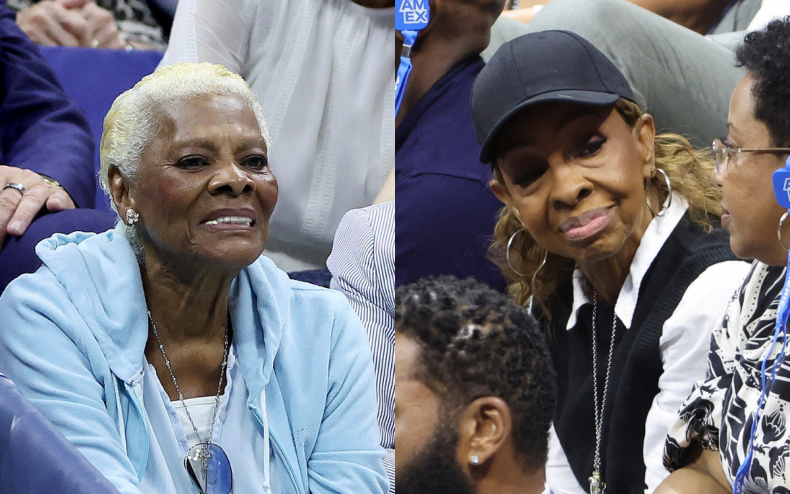 According to Simonowitz, the incident occurred during Serena Williams' second-round U.S. Open victory over second seed Anett Kontaveit.
The clip initially sparked outrage, but Rubin insisted there was an entirely logical explanation to the apparent mistake, namely that she was "initially looking at the court" where she could see Knight, rather than on her monitor, where Warwick was visible.
In the video, Rubin can be heard breaking off mid-sentence to point out a celebrity watching from the stands.
"Oh, got some more stars!" she says. "Gladys Knight," her co-commentator Mary Carillo interjects. "Gladys Knight!" Rubin repeats. "Hel-lo!" Carillo says by way of confirmation.
Knight was also in attendance to watch Williams' victory at Flushing Meadows but sports a jet black hairstyle, which is in stark contrast to Warwick's bright head of hair.
The clip, which seemingly showed the pair confusing the two stars, sparked a wave of angry tweets.
"Dionne literally looks nothing like Gladys Knight. Who are these commentators?" one viewer with another commenting: "Seriously? These announcers didn't know the difference between Dionne Warwick and Gladys Knight?!?!"
Elsewhere, one social media user claimed their "jaw literally dropped" when they saw the incident play out, with another commenting "How dare they!"
Another Twitter user posted side-by-side pictures of the two singers alongside a caption that read: "Dear commentators. On the left is Duchess Dionne Warwick and the right is Lady Gladys Knight."
Attorney and Democratic nominee Pam Keith also posted the clip. "I watched it four times looking for Gladys Knight," she wrote alongside the video. Fellow attorney Christine Jones was equally stunned, writing: "I mean, Gladys Knight was there. They showed her earlier. But, this is Dionne Warwick."
Political commentator Amieshia Cross joked: "Gladys must've been on the midnight train to Georgia. That ain't her, that's Dionne Warwick." Journalist Yashar Ali was stunned, noting that "they said it with such confidence too!"
The footage went viral just days after actress Laverne Cox was mistakenly identified as Beyonce Knowles while also watching Williams play her first round match at the U.S. Open.
However, Rubin was keen to stress this was not a repeat of that incident.
In a tweet responding to the viral clip, Rubin, who is a commentator for the Tennis Channel, explained she was "initially looking at the court" where Knight was present in the stands and "not our program monitor" which was showing Warwick.
She was also keen to stress that the "mistake was immediately corrected."
Newsweek has contacted Rubin for comment.
Update 9/1/22, 2:47 p.m. ET: This article was updated to identify Rubin's co-commentator as Mary Carillo.