George Soros Conspiracy Resurfaces Using Old 'Paid Protestor' YouTube Video: 'How Gullible Can You Be?'
A YouTube video of an interview with a "paid protester" who claimed to be funded by billionaire philanthropist George Soros is currently circulating on social media, as waves of protests continue to erupt across the U.S.
The footage—uploaded to the platform in 2017—has been circulating on Facebook and Twitter in recent days amid demonstrations sparked by the death of an unarmed black man, George Floyd, after an arrest by police in Minneapolis on May 25.
In the two minute clip, originally aired on the The Young Turks (TYT) news show, the unidentified man claims to have organized protests with money provided by Soros, a common trope used by conspiracy theorists—and president Donald Trump.
The video has this week been shared on social media as evidence of nefarious behavior taking place during the most recent outburst of demonstrations in the country.
Michael Tracey, the journalist who conducted the original TYT interview, tweeted today to stress the segment was not to be taken seriously—despite it being shared by Greg Raths, a veteran running for California's 45th Congressional District.
"People are... circulating this old interview I did with a 'paid protester' who said he was funded by George Soros. The guy was obviously trolling! It was a schtick. Anyone who actually believes this was authentic is incredibly gullible," he tweeted.
"The guy was an oddball doing an obvious shtick. If you are not delusional, you can tell I was playing along in the video," Tracey told Newsweek via direct message. "It's hilarious to me people have suddenly latched onto this over three years later, including a random Republican congressional candidate in California. How gullible can you be?"
There are some very clear signs in the original news segment that the unidentified man in the vox-pop was not a completely reliable source of information, including the claim he signed up to be a paid protester via a form on George Soros' website.
"You just sign up, right there, you put your name in, you put your email address and there's an empty box there where you say how many times you are willing to protest and how much you want to get paid," the man says in the interview.
The interviewee claims the check came directly from Soros, and had been signed by the billionaire himself. "Does he sign it in blood?" Tracey responds.
"He even invited me to lunch," the man continues. "He said if I'm willing to gather some more friends I can get paid, like, twice as much for every friend that I gather and kind of set up a pyramid scheme. I already have [got rich]. So basically I have been organizing most of the protesting you see in California so far, and it's all due to being paid."
With a smirk, he added: "If I wasn't being paid I would be, you know, skiing. I just wish more people knew about it because then we could actually start a movement."
An earlier upload of the clip, dated March 21, 2017, attracted more than 627,900 views. It was re-uploaded to the platform by a conspiracy theory-filled account on May 30 this year, gaining close to 55,000 more YouTube views in just two days.
On Facebook, the clip was shared to a public group titled "Dan Crenshaw for President 2024" which has more than 70,000 members—potentially explaining the surge.
On Twitter, the video is being shared in response to uploads about the recent protests, despite being wholly unrelated and uploaded void of context.
Google, which owns YouTube, and Facebook have been contacted for comment by Newsweek.
Both videos, the original and the re-upload, remain online at the time of writing.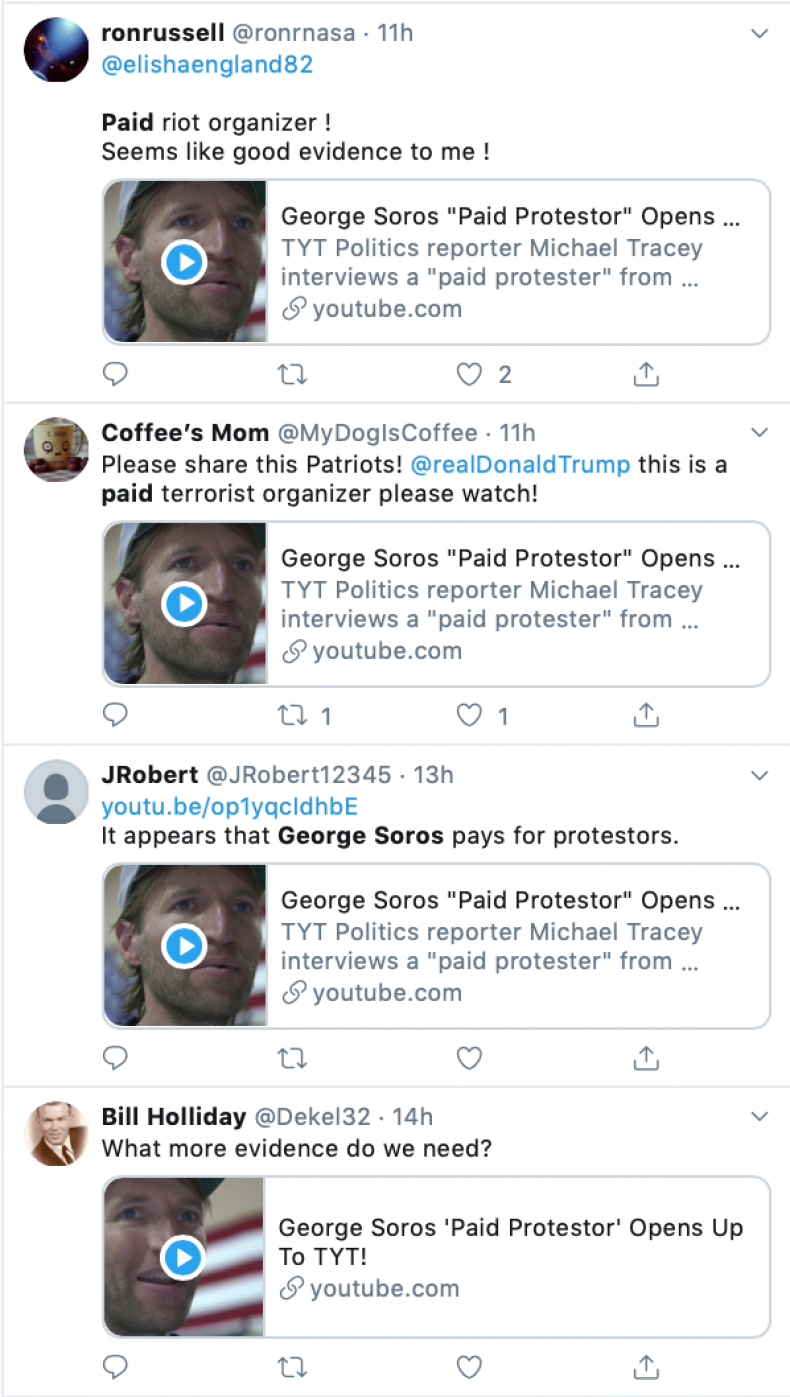 Conspiracy theories focused on Soros and his global network of partner operations—known as the Open Society Foundations—are well-documented.
Speculation in some corners of the internet—and some right wing media outlets—has long suggested that his support of progressive causes is tied to the financing of protest groups. He is often referred to as a "political bogeyman" of the far right.
The Hungarian-born philanthropist's website says he believes that "societies can only flourish when they allow for democratic governance...and respect for individual rights."
But his wealth and far-reach has only fueled global conspiracies.
Fringe no longer, in 2018 president Trump tweeted that "Soros and others" were tied to some of the public protesting his Supreme Court nominee, Brett Kavanaugh. The same year, Trump associated Soros with funding of the so-called "migrant caravan."