U.S. Public Response to Ebola Could Echo Early Days of AIDS Epidemic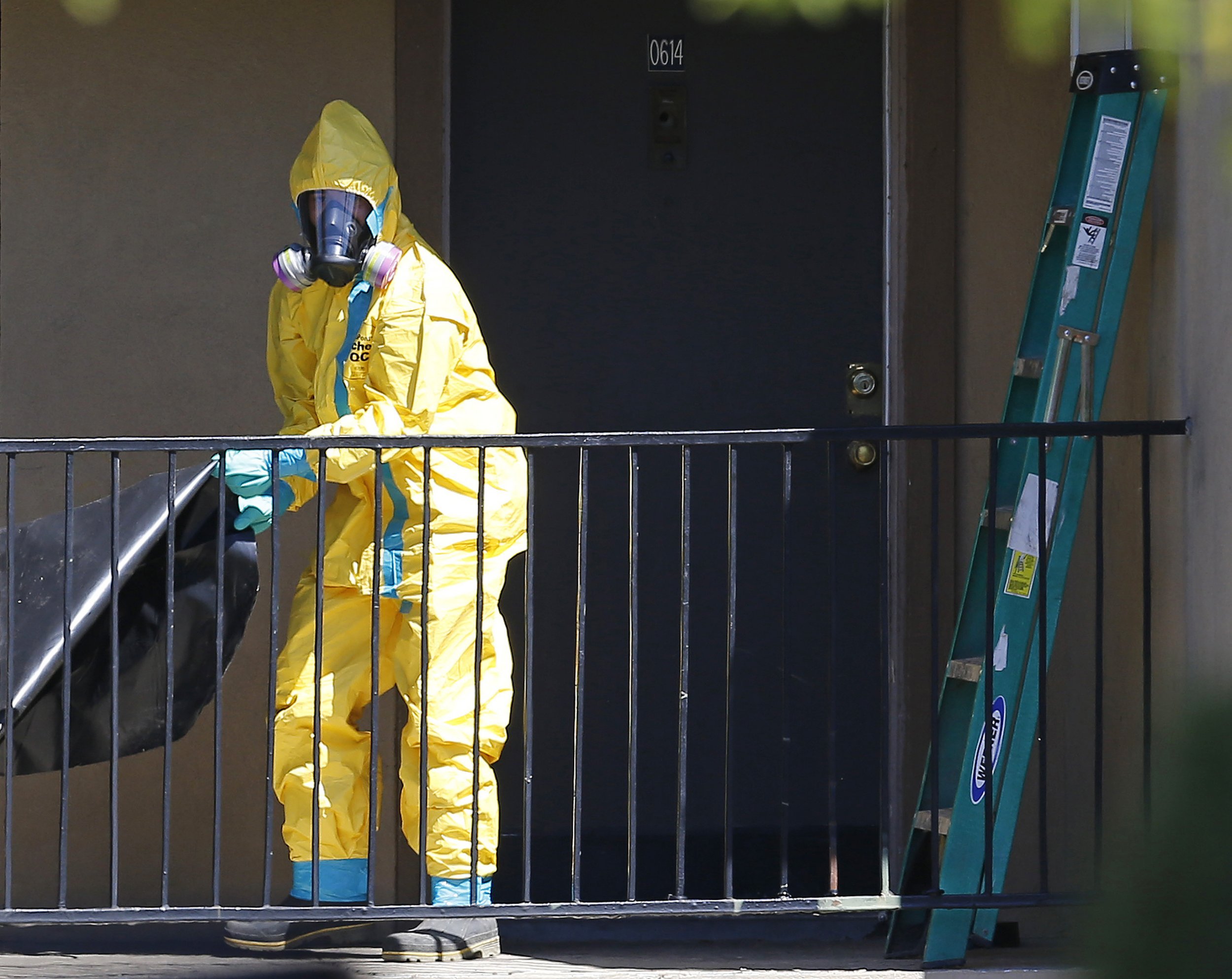 The outbreak of Ebola that has become a humanitarian crisis in West Africa finally reached the U.S. last week when a patient in Dallas, Texas was diagnosed with the virus. Ebola is not an airborne disease and is only transmitted through close contact with bodily fluids like saliva, feces and urine, but that hasn't stopped a minor panic from setting in now that it has reached American shores. Global health experts are concerned that now, in the U.S., stigmatization of people from the three most affected countries in the region — Sierra Leone, Guinea and Liberia — could follow.
"On a large scale, we're seeing a stigmatization of the three countries," Laurie Garrett, senior fellow for global health at the Council of Foreign Relations, told Newsweek. "There's all sort of talk, whether it's the shipping industry, the airline industry or neighbor nations, of ceasing shipments to, refusing flights to and from these countries." But essentially this lets the disease fester inside already-affected countries, as it restricts health care workers' access to the sick and inhibit the process of containing the disease.
On Friday, Washington's Howard University Hospital said they had admitted a possible Ebola patient "in an abundance of caution." That news followed the Centers for Disease Control and Prevention's (CDC) announcement on Tuesday that Thomas Duncan, the first person diagnosed with Ebola in the U.S., had been admitted to a hospital in Dallas.
Around 50 people in Dallas who came into contact with Duncan are being monitored on a daily basis, including 10 who are considered high-risk, said David Lakey, commissioner of the Texas Department of State Health Services, during a CDC press briefing on Friday. Members of Duncan's family quarantined in their apartment and Duncan's bedsheets remain on the mattress and haven't yet been removed from his apartment.
The latest figures from the World Health Organization (WHO) puts the death toll from the disease a more than 3,430, with more than 7,470 infected as of Oct. 3. Thousands of children in West Africa have lost at least one parent to the virus and are being shunned by family members afraid of taking them in and catching the disease themselves.
The Canadian Broadcasting Corporation met Esther, a girl in Monrovia, the capital of Liberia, who beat Ebola but lost both her parents to the virus. Esther is believed to be between eight and ten-years-old, but no one knows for certain as her mother and father are dead.
"Here in the U.S., there's very real reason to worry" that people from or who have recently visited West Africa will be stigmatized, said Garrett. "I see it just tracking Twitter, it's very, very clear that a lot of Americans are responding by saying nobody who is from these countries should be allowed in America."
West African communities across the U.S. are already anticipating a public backlash, with one woman in Minnesota removing "African" from the name of her restaurant and shopkeepers taking extra hygiene precautions, The New York Times reports.
"There are people out there who think that you can build a wall around an epidemic in the age of globalization and you can use the sorts of tactics to stop Ebola that we would be applied to plagues in the 18th century," says Garrett. "Screen them at the port, don't let them on the ship, then screen them before they get off the ship." But, she adds, that's not realistic. "It doesn't take two weeks to get from point A to point B anymore. It takes hours," she said.
Misinformation about how Ebola spreads and media speculation, including a report in The Telegraph quoting Anthony Banbury, United Nations Secretary General Ban Ki-moon's special representative for Ebola, saying Ebola has the potential to become an airborne disease and Fox News' Elisabeth Hasselbeck grilling medical professionals on why they aren't panicking more, doesn't help.
Jennifer Kates, vice president and director of global health and HIV policy at the Kaiser Family Foundation, told Newsweek she worries that in the coming weeks public response to Ebola in the U.S. could mirror the fear seen during the early days of the AIDS epidemic, when some health care workers refused to treat AIDS patients.
"In the early days of the AIDS epidemic in the U.S., fear and stigma and the refusal to treat people, to touch people, was a big challenge," Kates told Newsweek. "There are already stories of fears and concerns about who has been to these countries in West Africa."
Kates compares this to the attitudes expressed towards the people from Haiti in the early days of the AIDS epidemic. Haitians became part of the "four H club" of "homosexuals, heroin addicts, haemophiliacs and Haitians," according to AVERT, an international HIV and AIDS nonprofit.
Fears that children in Dallas could have been exposed to Ebola will increase the likelihood of a stigmatizing public responses to the disease, Garrett says. Garrett uses the example of the abuse hurled at American boys with hemophilia during the AIDS epidemic, thousands of whom became infected with AIDS from contaminated blood products.
"As soon as you bring children into a story, the level of anxiety skyrockets," she said.
The last public opinion survey on American attitudes about Ebola was conducted before a the Dallas patient was diagnosed. In August, 39 percent of adults were concerned there would be a "large outbreak" in the U.S. and 26 percent concerned their family members would get sick, according to a Harvard School of Public Health and Social Science Research Solutions (SSRS) poll.
Gillian SteelFisher, deputy director of the Harvard Opinion Research Program at the Harvard School of Public Health, told Newsweek new data based on public opinion now there's an Ebola case in the U.S. will be published in the coming weeks.
"It wouldn't surprise me at all now that's there's a case in the community, who did come in on a plane and who was turned away from a health facility, that the public has new and reinvigorated fears about Ebola," says SteelFisher. "What happens in the next few days and weeks is critical about shaping public perception about how big a risk they face."
"If this case is contained then I think we won't see much change. If there are more people who came into contact and more people who became ill, I'd expect it to up quite a bit," she said. President Barack Obama called the threat from Ebola a global security threat when he spoke at the United Nations last week; he didn't, however mention the stigma that will likely face people in the U.S. who are diagnosed.