The United States and Russia separately courted two Latin American countries as the powers pursued rival agendas in a region that has become the latest venue for Washington and Moscow's bout for global influence.
At the White House, President Donald Trump welcomed his Paraguayan counterpart Mario Abdo Benítez on Friday, saying the two countries are "doing a lot of work with Paraguay on terrorism, on drugs, on trade, a lot of different things and we've had a great relationship." Abdo Benítez, for his part, called it an "honor" to be there, for his country, the region and the "ones firmly defending democracy in the region."
The press conference that followed largely centered on Trump's own political struggles with a recently-launched impeachment inquiry against him. One foreign policy issue that did come up was Venezuela, where both heads of state seek to overthrow President Nicolás Maduro and replace him with opposition leader Juan Guaidó, who claimed the position back in January.
"We're with the people of Venezuela 100 percent," Trump said at the press conference. "It's so important to us, and we're going to be discussing Venezuela today. It'll be a big subject."
While much of Latin America followed suit in recognizing Guaidó as the legitimate leader, a number of leftist-led nations held out. Thousands of miles from Washington, the top diplomat of one of Maduro's top allies, Nicaragua, also shook hands Friday with his colleague from one of the U.S.' top global rivals, Russia.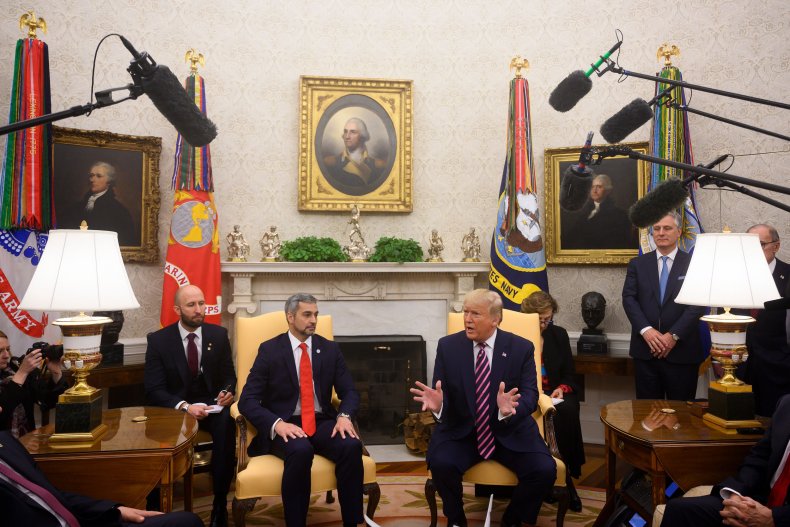 Nicaraguan Foreign Minister Denis Moncada Colindres leda delegation of officials from Managua to meet Russian Foreign Minister Sergey Lavrov in Moscow as the two nations celebrated 75 years of ties. Both sides discussed boosting bilateral cooperation in various fields and, during their conversations, allegations of foreign interference in the region came up as well.
"Regarding the current situation in Latin America and the Caribbean, we noted the development there of complex, sometimes very diverse political and socio-economic processes," Lavrov said. "We have a common opinion that the attempts being made in this region of the world to repeat the scenario of the infamous 'color revolutions' are fraught with dangerous regional tension and, of course, they do not meet the interests of strengthening the position of Latin America as a single center of the emerging multipolar world."
The term "color revolutions" refers to several uprisings and, although colors have been associated with similar events such as the 1986 "Yellow Revolution" in the Philippines, the phrase is mostly used by Russian officials to refer to 21st-century revolutions across former Soviet republics and the Balkans. Moscow has long accused Washington of supporting such movements in a bid to curb Russian influence just across its borders and has grown increasingly critical of U.S. intervention elsewhere in the world.
In addition to checking U.S. moves in the Middle East, Russian President Vladimir Putin has sought to engage more actively with countries off of the U.S. borders, building ties with nations skeptical of Washington's influence. The U.S. has for decades actively tried to suppress leftist currents across Latin America, especially during the Cold War, and recently re-intensified this effort under Trump.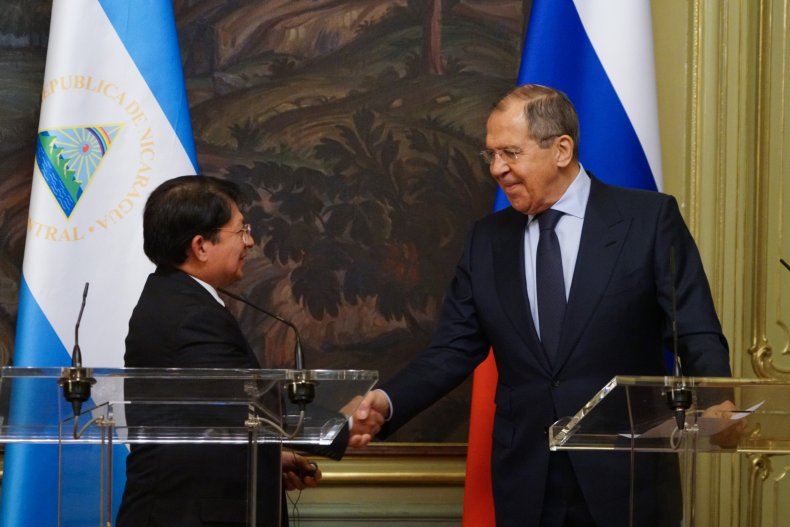 Just months into his first year in office, Trump began undoing his predecessor's efforts to normalize relations with communist-led Cuba and placed new sanctions on Maduro's government in Venezuela, where an embattled economy rapidly deteriorated throughout the following year. In January, Trump cut all ties with Maduro in hopes of bringing in Guaidó.
But Moscow was among the world powers to support Caracas and the Russian military has continued to send personnel and occasionally train with Venezuela as part of previously signed military-technical cooperation agreements. Trump's top officials blamed Russia for allegedly stepping in to keep Maduro in power when Guaidó staged an abortive uprising in late April, but Trump said at the time he accepted Putin's assurances that was not the case.
Since then, Maduro has remained in control. Elsewhere, however, El Salvador lost a left-leaning leader as Argentina gained one in elections, and Bolivian socialist leader Evo Morales was deposed amid demonstrations that critics decried as a coup. Meanwhile, the Trump administration has intensified efforts against Cuba and Nicaragua.
On Thursday, the State Department announced new sanctions against the Nicaraguan president's son, arguing it would "use all economic and diplomatic tools to hold the government of Daniel Ortega accountable for acts of corruption and unconscionable human rights violations, and to support the Nicaraguan people's struggle for a return to democracy."