U.S. Soldier Captures Russian Assault Vehicle in Ukraine: 'Thanks Russia!'
A U.S. Army veteran who volunteered to fight alongside Ukrainian soldiers said Monday that his combat team stole an assault vehicle and several weapons from Russian forces.
James Vasquez, a former U.S. Army staff sergeant, left his home in Connecticut in March to volunteer for Ukraine's International Legion of Territorial Defense. As Newsweek previously reported, Vasquez has been detailing his experience on Ukraine's front lines through Twitter, amassing some 330,000 followers in the past two months.
On Monday, he shared a new video of his team allegedly driving a Russian assault vehicle while stating that "we cleared the Russians out of here." Other voices can be heard joyfully stating "it's ours now!" while another says "thanks Russia!"
Vasquez also tweeted a video of piles of weapons and ammunition that he says his forces stole, captioning the post with the statement "Was a real good day."
A separate photo showed several soldiers standing alongside the Russian weaponry. Vasquez wrote, "All the booty we recovered today, no injuries, no fatalities."
Vasquez is one of tens of thousands of foreigners who have reportedly volunteered to fight for Ukraine after Russia first moved to invade the country on February 24. Throughout his time posting on social media, Vasquez has described negotiating his way through Ukraine's border, traveling through the nation's eastern front, and being targeted by shelling from Russian forces.
Late last month, Vasquez alleged that Russian forces have been trying to get his location from his social media account. He claimed that Russians told him that Elon Musk, who recently purchased Twitter, has blocked him from the social media site and that he would need to share his location publicly to solve the issue.
"These Dumb*** Russians keep tweeting me that Elon Musk has blocked me and I need to put my location on in settings to resolve it," Vasquez wrote on Twitter. "That is more lame than you have an important message about your car warranty," Vasquez added. "Are we really considering this country a super power?"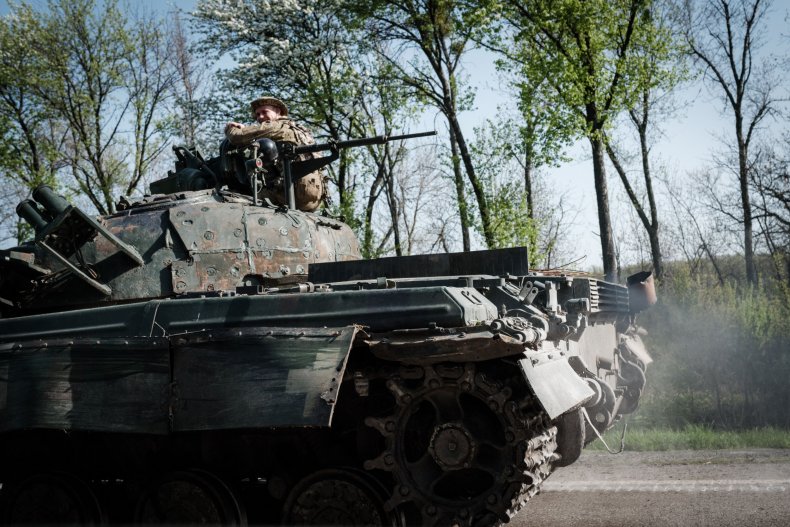 The combat veteran has become well-known for sharing detailed stories about the ongoing war. In a viral video posted earlier this month, Vasquez gave thanks to those who made it possible for him to travel to Ukraine.
"I want to thank everybody and tell you how much I appreciate all your help and your generosity and your well wishes and your prayers and your donations," Vasquez said in his video. "It's just super overwhelming not just for me but for everybody that I'm here with. So, thank you. Thank you."
Vasquez has previously said that "every atrocity, every war crime, every innocent civilian being murdered on a day to day basis gets everyone here more motivated to fight."
Newsweek contacted Russia's foreign ministry for additional comment.